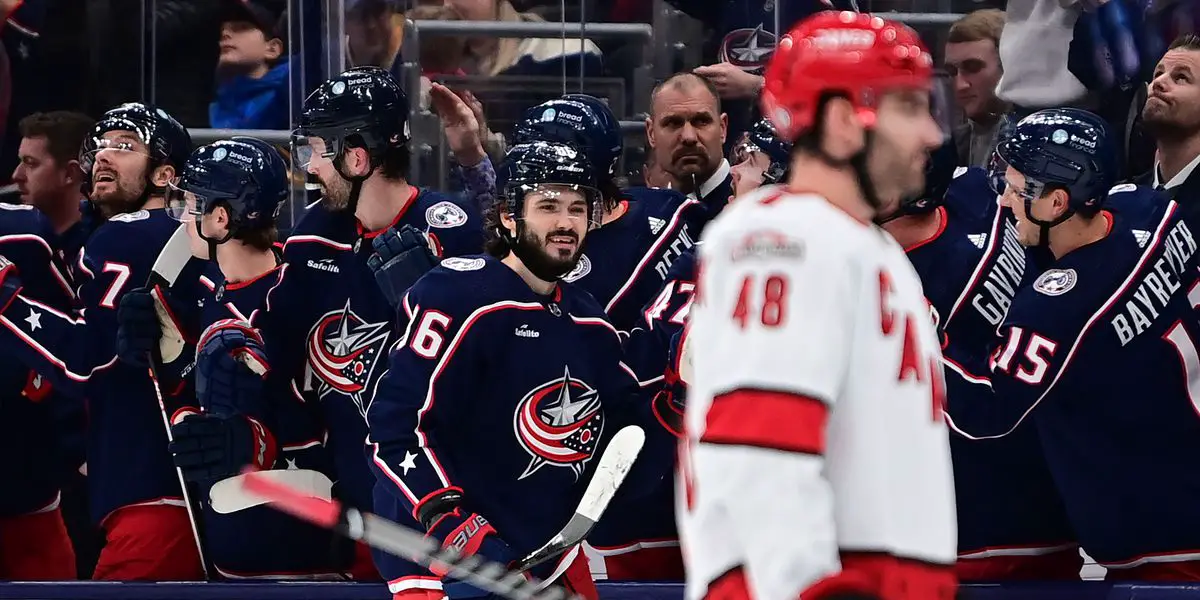 The Columbus Blue Jackets got a rare Metro win in a Saturday afternoon tilt against the Carolina Hurricanes. Rookie RW- Kirill Marchenko brought the near-sellout Nationwide Arena crowd to its collective feet with a hat trick. The game went to a SO, with Kent Johnson hitting the game-winning goal. In a game that was a mixed bag of bad and good, good prevailed for a Columbus team that needed a win in the worst way.
Three players really stood out—two in a good way and one in a bad way. Let's get the bad out of the way; Jack Roslovic continues to struggle mightily with puck control. Skating up ice with no Hurricane within four feet of him, Roslovic lost control of the puck leading to a Carolina goal. This is Roslovic's season in a nutshell. In fact, he was a healthy scratch a short while ago due to this ongoing issue.
On to the good. Gavin Bayreuther played perhaps his best game as a Blue Jacket. Bayreuther boxed his man out, knocked players out of the way, and was reliable the entire game. Breaking up passes that lead to odd-man rushes for the Blue Jackets. The hope is that this sort of play will become more consistent. Bayreuther has been playing much better as of late, and in yesterday's matinee, the young defenseman put it all together.
I know that Kirill Marchenko is an obvious choice for a player that stood out. Yet, Marchenko really stood out. Scoring a wrap-around goal for his first and the team's first goal in the second period on the power play got the Blue Jackets faithful into the game. Yet, Marchenko, who is not strong-suited defensively, played very well in that end of the ice, twice breaking up passes and once with a big check. Marchenko used his speed in the offensive end, and the Hurricanes had no answers for the young RW.
The Blue Jackets had lost nine out of their last ten games. Yesterday against the Metro leading Hurricanes, the Blue Jackets played with both energy and a sense of desperation. During Friday's practice, Blue Jackets head coach Brad Larsen put the team through a brutal session. The question needs to be asked, should the coach have done this sooner? It seemed to have lit a fire under his team for at least one game.
Next game up for the Blue Jackets is Sunday vs the Washington Capitals.
The boys are back after a long break but have plenty to talk about as the playoffs are in full swing. We go series by series, looking at how teams have fared so far and who will come out on top. Thanks for listening! Please rate and review our show on your favorite listening platform. Check out our partner's website at www.insidetherink.com for all your latest hockey news.