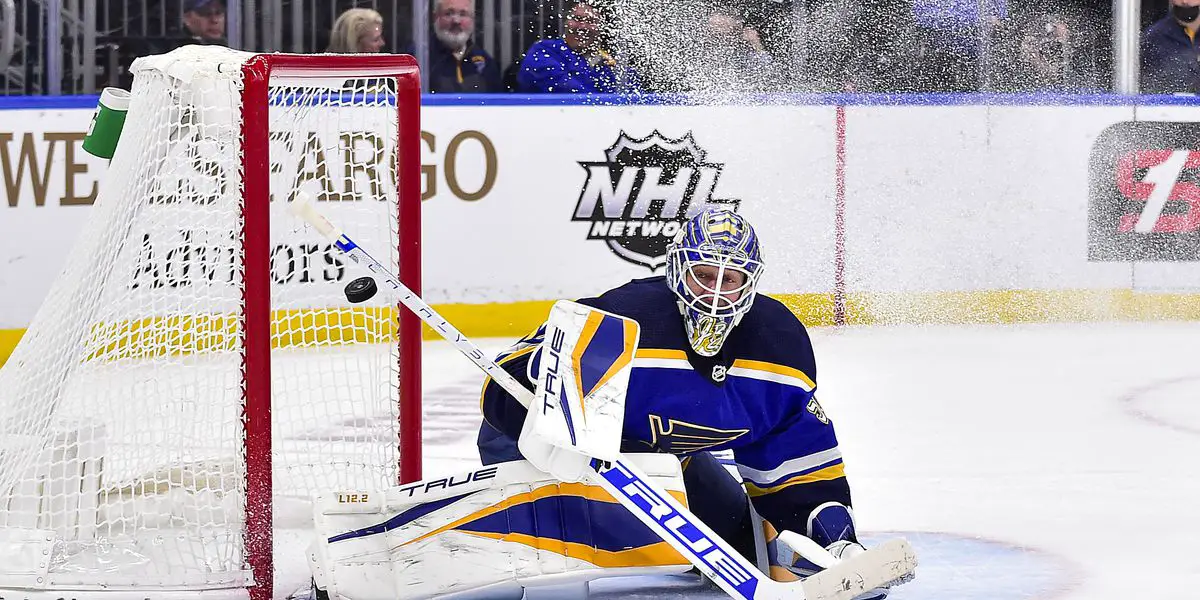 This season was a house of horrors for St. Louis Blues goaltender Jordan Binnington.
For starters, his statistics were dreadful. Binnington, 29, finished the regular season at 27-27-0-6 with a 3.31 goals-against average, a .894 save percentage, and two shutouts.
Binnington's 3.31 goals-against average was 39th out of 52 goaltenders who played in at least 25 games this year. His .894 save percentage was 42nd out of 52 goaltenders, which is also terrible.
These statistics are a far cry from what he has posted so far in his career. He currently has a career 2.78 goals-against average and a .906 save percentage.
Secondly, Binnington's poor play was one of the reasons why the Blues failed to make the Stanley Cup playoffs this year. Year in and year out, hockey fans and pundits alike can usually pencil the Blues into one of the eight playoff spots in the Western Conference, but that was obviously not the case this season.
Binnington also seemed to struggle with his confidence this season. He allowed a lot of soft goals this season, seemed hesitant or unsure of where the puck was or went to after he made a save, or looked uncomfortable between the pipes for much of the season.
Yes, the team in front of him certainly did not help much. There were a lot of games this season where his teammates left him out to dry, but that used to be something that Binnington would be able to handle with more authority.
Lastly, Binnington seemed to be spending less time focusing on his main job, which is stopping the puck, and instead channeling his energy into fighting his opponents. There were a few cases this season where he fought players from the other team after being scored upon or after being interfered with.
By doing so, Binnington made it clear that he was a goaltender that could be rattled easily. When a team is able to get inside a goalie's head and bother him in different ways, it is an absolute nightmare for said goaltender.
If the Blues want to be successful next season, Binnington is going to need to be the goaltender he was when he first came into the league back during the 2019-20 season. That season, Binnington burst onto the NHL scene and went 30-24-0-5 with a 1.89 goals-against average, a .927 save percentage, and five shutouts and led the Blues to their first Cup in franchise history.
In the following season, Binnington was an All-Star. He went 30-13-0-7 with a 2.56 goals-against average, a .912 save percentage, and three shutouts.
During those two seasons, Binnington went out and did what he was supposed to. He won a lot of hockey games, made a lot of saves, got his team into the playoffs, and showed that those were the only things that he focused on.
This is the Binnington that the Blues need moving forward. At the team's end-of-year cleanout, Blues general manager Doug Armstrong alluded to as much when speaking to St. Louis Post-Dispatch reporter Jim Thomas.
"He and I have had some frank conversations about what life's gonna be like for him for the next two years," Armstrong said Saturday during his season-ending news conference. "It's not gonna be easy.
"The NHL, the teams, they perceive that he's a 'gain-able' target. And I've told him that you're gonna have to live with it. You've created it. You own it. You enjoy it. You gotta live with it now.
Blues head coach Craig Berube agreed with Armstrong's sentiments in the same article linked above.
"He started off the season really well. And, like our team, it slipped a bit on him, and he probably takes too much on himself instead of just letting the game come to him. He wants to go out and do it because he wants to win for the team.
"He's just gotta do his job. Does that make sense? You can't do everybody's job. That goes well for everybody. Everybody, just do your job out there, and everything will take care of itself.
Binnington has it in him to be a really successful goaltender in this league. He has already won a Cup, played in an All-Star game, carried the team on his back into the playoffs, and stolen many hockey games for his hockey team.
If Binnington can get back to being that goaltender and the team can improve their play in front of him, next season should be much better for both Binnington and the Blues. 
The boys are back after a long break but have plenty to talk about as the playoffs are in full swing. We go series by series, looking at how teams have fared so far and who will come out on top. Thanks for listening! Please rate and review our show on your favorite listening platform. Check out our partner's website at www.insidetherink.com for all your latest hockey news.