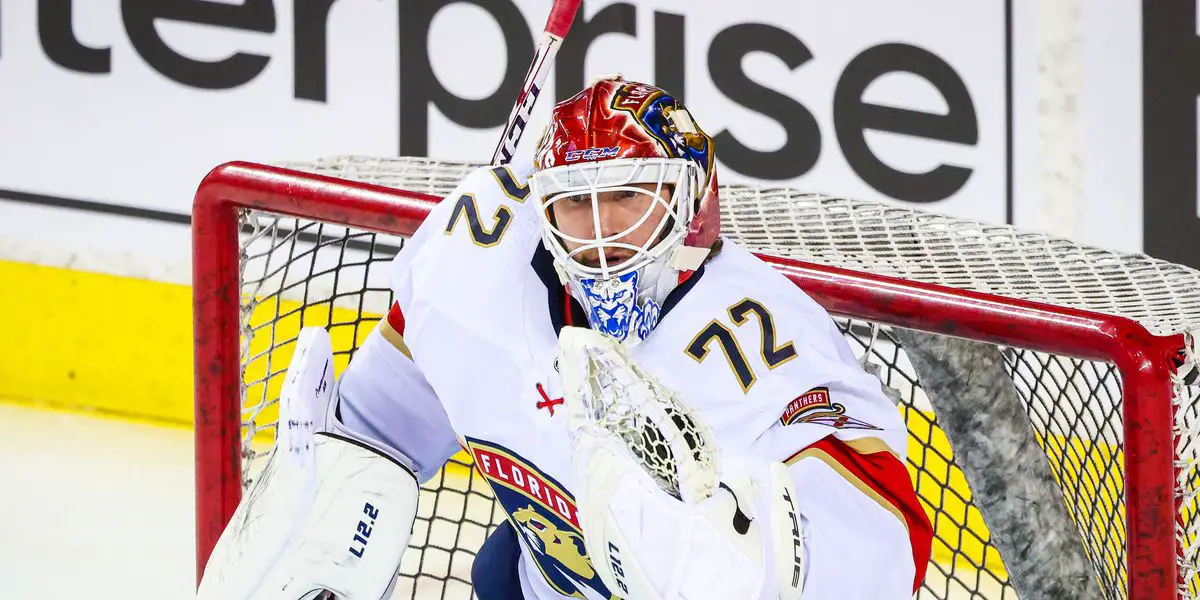 It has been a strange journey when it comes to goaltender Sergei Bobrovsky and the Florida Panthers.
On the first day of free agency in 2019, the Panthers signed Bobrovsky, 34, to a seven-year, $70 million contract. At the time, it seemed like an excellent deal for the Panthers as they were getting a goaltender who won two Vezina Trophies (2013 and 2017 with the Columbus Blue Jackets) as well as someone who would be the first legitimate starting goaltender the franchise had since Roberto Luongo.
Well, at least in the regular season, Bobrovsky has not been worth all the money that the Panthers are paying him, as he has been a mixed bag between the pipes. Here are his numbers in the regular season:
– 2019-20: 23-19-06 with a 3.23 goals-against average, a .900 save percentage, and one shutout in 50 games
– 2020-21: 19-8-0-2 with a 2.91 goals-against average, a .906 save percentage, and three shutouts in 31 games
– 2021-22: 39-7-0-3 with a 2.67 goals-against average, a .913 save percentage, and three shutouts in 54 games
– 2022-23: 24-20-0-3 with a 3.07 goals-against average, a .901 save percentage, and one shutout in 50 games
His numbers in the Stanley Cup playoffs with the Panthers in the three years prior to this one were not exactly great either:
2019-20: 1-3 with a 3.07 goals-against average and a .901 save percentage
2020-21: 1-2 with a 5.33 goals-against average and a .841 save percentage
2021-22: 4-6 with a 2.70 goals-against average and a .911 save percentage
All of the numbers mentioned above do not exactly scream $70 million goaltender. Yes, he was solid in the 2021-22 regular season and even a bit in the postseason, but in every other season with the Panthers, he has been mediocre at best, which is not what the Panthers signed up for when they gave him that big contract back in the summer of 2019.
Fast forward to now, and Bobrovsky is doing everything he can to show the Panthers that he is worth all the money that they are giving him. In fact, he is doing so at the most important time of the year, and that is in this year's playoffs.
After starting this year's postseason on the bench playing behind Alex Lyon, Bobrovsky burst onto this year's playoff scene in Game 5 of his team's first-round series with the league's best Boston Bruins. Not only did he win that game by stopping 44 of 47 shots, but he then won Games 6 and 7 to help his team shock the Bruins and the rest of the hockey world in winning the first round.
Bobrovsky has continued his strong play between the pipes in the second round against the Toronto Maple Leafs. Bobrovsky has the Panthers up 2-0 series, and just two wins away from appearing in the Eastern Conference Final for the first time since 1996.
In seven games in this year's postseason. Bobrovsky is 5-1 with a 3.33 goals-against average and a .908 save percentage. Yes, the goals-against average certainly is not great, but right now, he is playing some of his best hockey since joining the Panthers.
This has especially been the case in Games 1 and 2 against the Leafs. The Leafs have a high-octane offense and, in two games, have thrown 73 shots on Bobrovsky.
Bobrovsky has more than gotten the job done, as he has stopped 69 of those 73 shots. He is the main reason why his team is up two games in this series and is two wins away from cooking up another upset in this year's playoffs.
There are a few reasons why Bobrovsky is playing well right now. For starters, he is playing with confidence.
Bobrovsky is challenging shooters, coming up with big saves when his team needs them the most, and, more importantly, winning hockey games. When you put those three things together, you have a goaltender that feels like he can accomplish anything.
Secondly, he is showing his team and management that he was worth the investment that they made four years ago. They are paying him a ton of money to get this team to the next level, and for the first time in a Panthers uniform, he is doing just that.
Lastly, he is showing his head coach Paul Maurice that he made the right decision to go to him in Game 5. Lyon was the goaltender that got the Panthers into the playoffs, so it was probably a tough decision for Maurice to make, considering that his club was on the ropes.
While there is a lot that can change, considering that the series is still relatively young, the Panthers can take solace in the fact that Bobrovsky is playing extremely well at the right time, something he has not done since signing that massive contract. It is up to Bob whether or not he continues to play at this level and show the franchise that he can still be extremely valuable to them moving forward. 
The boys are back after a long break but have plenty to talk about as the playoffs are in full swing. We go series by series, looking at how teams have fared so far and who will come out on top. Thanks for listening! Please rate and review our show on your favorite listening platform. Check out our partner's website at www.insidetherink.com for all your latest hockey news.