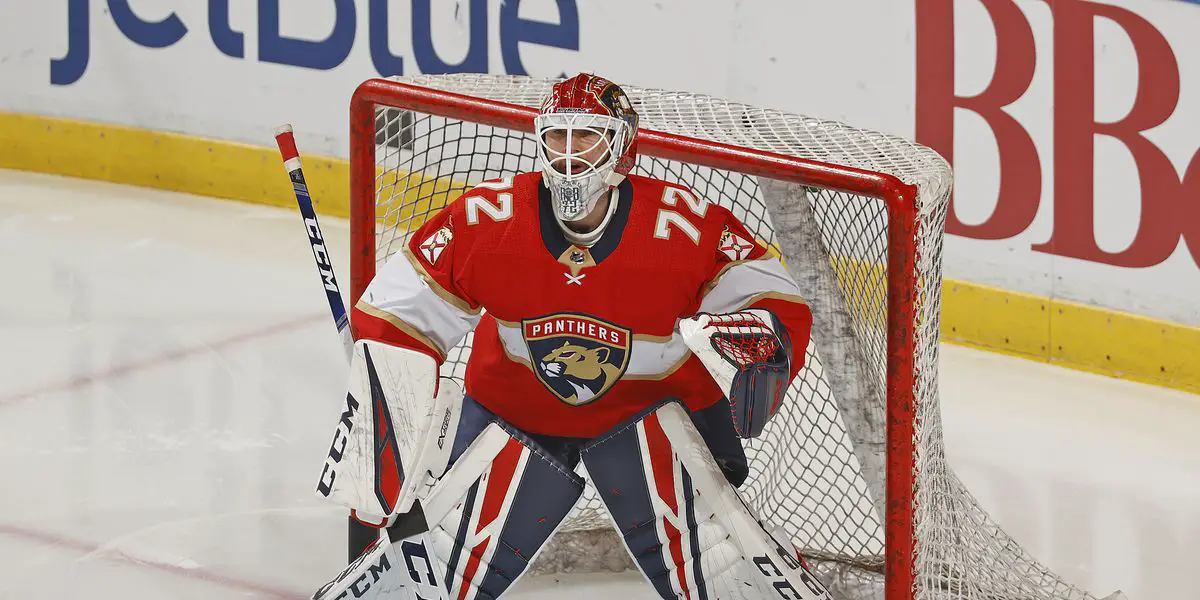 When the Florida Panthers signed then-unrestricted free agent goaltender Sergei Bobrovsky to a seven-year, $70 million contract on the first day of free agency in 2019, a lot was expected of the man they call Bob.
Before joining the Panthers, Bobrovsky, 34, was considered an all-world goaltender. He won the Vezina Trophy in 2013 and 2017 with the Columbus Blue Jackets, and even though he played behind a weak Blue Jackets defense, he put up outstanding numbers.
However, when he joined the Panthers, things changed for the Russian masked man. His goals-against average, save percentage, and shutout numbers all took negative hits, and he was not playing anywhere near the kind of goalie that the Panthers spent a ton of money on.
In fact, when the Stanley Cup playoffs started, Bobrovsky was not even the starting goaltender. That role was being played by Alex Lyon, one of the main reasons why the Panthers found a way to sneak into the last playoff spot in the Eastern Conference.
Well, things have certainly changed. As of this writing (Sunday, May 21st), the Panthers are two wins away from advancing to the Stanley Cup Final for the first time since 1996.
While Matthew Tkachuk deserves a ton of credit for what he has done for the Panthers this year as a whole, it has been Bobrovsky's strong play that has gotten them to this point. Bobrovsky's numbers in this year's Stanley Cup playoffs are outstanding.
He is currently 9-2 with a 2.32 goals-against average and a .931 save percentage. His numbers in his team's last three games are something to marvel at:
May 12th against the Toronto Maple Leafs: Bobrovsky stopped 50 of 52 shots and helped knock the Leafs out of the playoffs in the second round.
May 18th against the Carolina Hurricanes: Bobrovsky stopped 63 of 65 shots to help his team beat the Hurricanes in four overtimes.
May 20th against the Hurricanes: Bobrovsky stopped 37 of 38 shots to help his team beat the Hurricanes in overtime.
Secondly, Bobrovsky has made big saves after big saves to keep his team in games. He stonewalled Boston Bruins forward Brad Marchand with less than ten seconds to go in Game 5 of the first round to send the tilt into overtime, where the Panthers would find a way to score and avoid elimination.
He then went on to make outstanding saves against the likes of Auston Matthews, John Tavares, Mitch Marner, and William Nylander in his team's second-round win over the Leafs. The Leafs had the league's ninth-best offense in the regular season, and Bobrovsky allowed just nine goals in the whole series.
Lastly, Bobrovsky has been consistent for the first time since putting on a Panthers uniform. He is not allowing soft goals. He is stopping the shots he should stop, is coming up with the big saves when his team needs them the most, and, more importantly, is winning hockey games.
While the Panthers have Spencer Knight waiting in the wings, Bobrovsky playing exceptionally well in the postseason is great for both Bobrovsky and the Panthers. For starters, Bobrovsky is showing now why the team spent all that money on him and that the big contract they gave him is going to be worth it in the long run.
Bobrovsky has three more years left on his contract with the Panthers. Bobrovsky can take the way he has played in this year's playoffs and carry it into next season.
Secondly, it buys time for Knight, 22, to continue to get himself right and to continue focusing on taking care of himself instead of rushing back to be with the hockey club. The net will be his someday, but as mentioned above, if Bobrovsky can carry his strong play into next season, the Panthers will be just fine in goal.
Lastly, playing the way he has in this year's playoffs should show Bobrovsky that he can still be an elite goaltender. Yes, he is obviously getting older, but when he is between the pipes, he looks extremely quick and, right now at least, is playing like the two-time Vezina Trophy-winning goaltender that he is.
Things are great for Bobrovsky and the Panthers right now. If he continues to play this way, they may get even better.
The boys are back after a long break but have plenty to talk about as the playoffs are in full swing. We go series by series, looking at how teams have fared so far and who will come out on top. Thanks for listening! Please rate and review our show on your favorite listening platform. Check out our partner's website at www.insidetherink.com for all your latest hockey news.