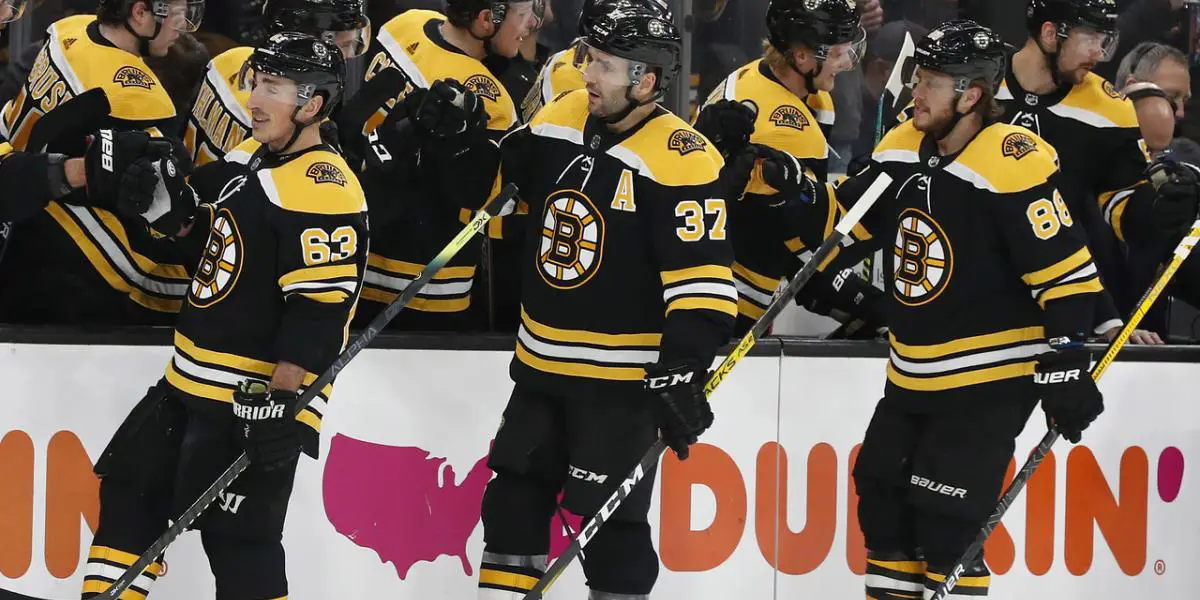 The Boston Bruins failed to advance past the first round of the NHL playoffs for the first time in five seasons. An eventful season included a slow start, COVID protocol for all but one player, and an unbalanced schedule. Factor in two Brad Marchand suspensions and numerous injuries, and you have a trying season that ended in disappointment for an aging core. Back in January, I wrote a midseason grades article, and now we see how each player did in their second "semester," followed by a final grade.
Forwards
Patrice Bergeron – First Half A-, Second Half B+, Final Grade B+
The Captain was his usual consistent self this season. Bergeron totaled 33 points in the first half and 32 more in the second half. His final totals were 25-40–65 in 73 games, and he had to overcome a late-season infected elbow that required surgery. In the series with Carolina, Bergeron had seven points in seven games. On top of that, the four-time Selke Award winner is the favorite to win another. Now it becomes whether Bergeron will retire without much of a career drop-off.
Brad Marchand – First Half A, Second Half B, Final Grade B+
The left-winger was suspended twice during the season and battled a shoulder injury sustained in a game against Washington. However, Marchand still registered 80 points on the season and a team-high 11 in the playoffs. The only dip in his play was a fifteen-game stretch at the end of the season. Overall, another productive season for Marchand.
David Pastrnak – First Half B+, Second Half B-, Final Grade B
Pastrnak had the second 40-goal season of his career and finished with 77 points in 72 games. The right-winger overcame a late core injury to re-join the team late in the year and in the postseason. Pastrnak had 6 points in 7 playoff games and struggled in the road games in the series.
Taylor Hall – First Half B, Second Half B-, Final Grade B-
Hall had a reasonably productive year for the Bruins. The former first overall pick scored the most goals in a season since his 2017-18 Hart Trophy-winning season. He finished with 20-41-61 and a +11 on the year. Hall had two goals and two assists in the playoffs but was a -6, and his play regressed as the series went on. Overall, it was a good season for Hall, and the Bruins will need even more from him next season.
Charlie Coyle – First Half B-, Second Half C+, Final Grade C+
Coyle had a far better season than last year and came close to duplicating his 2019-20 season with Boston. The Weymouth native's final totals were 16-28-44, and Coyle was able to play in all 82 games. The center registered 2-4-6 in the postseason but was a disappointing -7 overall. Coyle has shown that he can be a valuable third-line center, but that may be the ceiling at this point.
Erik Haula – First Half B-, Second Half B+, Final Grade B
There was a lot of uncertainty from the media and Bruins fans regarding Haula's ability to be a productive second-line center. Haula answered some of that concern by leading the team in points since the first of the year. Haula finished with numbers similar to Coyle (18-26-44). However, Haula had a far more impressive +19. In the postseason, Haula struggled some. He scored a huge goal in Game 6 but ended the series with a -4 rating.
Jake DeBrusk – First Half C+, Second Half A-, Final Grade B
What a whirlwind season for DeBrusk. From requesting a trade to being one of the more productive forwards on the team, DeBrusk filled the role of top-line right wing on his off side very well. The former first-round pick finished with 25 goals, the second-most in a season in his career. However, the postseason saw a -7 for DeBrusk. Now we wait to see if DeBrusk remains a Bruin.
Craig Smith – First Half C-, Second Half D, Final Grade D
It was a tough year from the start for Smith. A shoulder injury some him down some, and his production suffered. There was a six-week period with his line with Coyle, and Trent Frederic found some chemistry. But for the most part, it was a forgettable season for Smith, which ended with a 0-0-0 and -5 performance in the postseason.
Curtis Lazar – First Half C, Second Half B, Final Grade B-
Lazar was a valuable penalty killer and fourth-liner for the Bruins this season. Lazar showed his value in a contract year with his forechecking and grinding play. The 27-year-old totaled 8-8-16 in 70 games. Lazar had an impressive +1 in a playoff series that showed a few forwards in the negative. The free-agent checking forward should be sought after in the off-season.
Tomas Nosek – First Half B, Second Half C-, Final Grade C
Nosek started the year as a good penalty killer with a bit of offensive ability. As the season went on, Nosek's offense stalled. The free-agent signing was a good forechecker who played with some physicality at times. But by the end of the year, Nosek turned into a replaceable piece. One year is left on his deal, and it remains to be seen if the Bruins will continue with him.
Nick Foligno – First Half D, Second Half F, Final Grade D-
"F" stands for Foligno. The veteran winger struggled to keep pace and provide anything offensively for the Bruins. The 34-year-old brought back memories of David Backes, whose skills eroded as a Bruin. Foligno's final numbers were 2-11-13 with a -13 on the season. His contract makes it even worse as he has one more year left with a cap hit of $3.8 million. We will see if Foligno will be a buyout candidate for Boston in the off-season. Would you believe Nick Foligno was a +2 in the postseason?
Trent Frederic – First Half D+, Second Half C, Final Grade C-
Frederic was my whipping boy this season. At times it seemed that Frederic would not make it as an NHL wing. His skating is a weakness, and his propensity to take untimely penalties hurt the team. In Game 7, Frederic was scratched for three games and then benched during Game 7. One more year left on the former first-rounders (Gulp!) deal. I think a Chris Wagner-type AHL send-off is in the cards.
Incompletes – Anton Blidh, Marc McLaughlin, Chris Wagner, Oscar Steen, Jesper Froden
Defensemen
Charlie McAvoy – First Half A, Second Half A, Final Grade A
McAvoy has become one of the best defensemen in the league. The former BU star had career-high offensive numbers (10-46-56) and played almost 25 minutes per game. McAvoy's sky is the limit, who also registered a +2 in a series that Carolina dominated five-on-five. Chucky Bright Lights is the Bruins' brightest light.
Matt Grzelcyk – First Half B-, Second Half C-, Final Grade C
The usually consistent Grzelcyk was anything but this past season. The diminutive defenseman took on a bigger role for the Bruins, and this seemed to expose him some. Grzelcyk had career highs in points (24) and plus-minus (+22), but in the postseason, Grzelcyk had trouble with the physicality again and seemed to be playing with an injured shoulder. The Charlestown native was eventually benched for the last two games of the series against Carolina and finished with a -6 and just three hits.
Mike Reilly – First Half C, Second Half C+, Final Grade C+
Reilly had an up-and-down season with the Bruins. The 28-year-old played by far the most games in a season to this point in his career (70). Occasionally Reilly shows an ability to rush the puck and jump into the offense. His defense improved slightly as the season continued. The former Ottawa Senator did have 94 hits on the year. In the playoffs, Reilly took Grzelcyk's spot the last two games as well and finished with a +1 in the playoffs.
Derek Forbort – First Half B-, Second Half B+, Final Grade B
Forbort got better during the season and became arguably the team's best penalty killer. Forbort's game doesn't jump off the page and can be hard to evaluate at times, but Forbort and Connor Clifton became a formidable five-on-five pairing. Forbort had a goal in the playoffs and played well for much of the last two months of the season as well.
Brandon Carlo – First Half C, Second Half C, Final Grade C
Carlo is a big target of Bruins fans' frustrations. His size and skating ability would leave you to believe that he can be a steady, physical presence, but Carlo is a prime example of Bruce Cassidy's "we have nice guys" comment. The nastiness just isn't there, and Carlo continues to have very little confidence with the puck and is a -5 in the playoffs. At this point, Carlo is what he is. Now it's up to the Bruins to get the most out of the big defenseman going forward.
Connor Clifton – First Half D, Second Half B-, Final Grade C+
Cliffy Hockey has its exciting moments and its scary moments. Clifton played 60 games and had just 10 points, but paired with Forbort, he flourished five-on-five, and it translated into a great playoff series. Clifton was a +2 and arguably the Bruins' best defenseman in the postseason. There is one more year left on his deal, and if he builds off this late-season performance, Clifton will be a nice low-cost option next season.
Hampus Lindholm – First Half No Grade, Second Half B, Final Grade B
Lindholm was acquired at the trade deadline and showed immediately why the Bruins re-signed him to an eight-year deal. The former Duck's passing and zone exits are very smooth and effective. Unfortunately, Lindholm suffered an injury toward the end of the season and then missed three games in the playoffs after a vicious hit by Alexei Svechnikov. Although Lindholm isn't overly physical, he moves the puck quickly and can play heavy minutes. The pairing of Lindholm and McAvoy will be fun to watch for several years.
Incompletes: Jakob Zboril, Urho Vaakanainen, Jack Ahcan, John Moore, Tyler Lewington, Josh Brown
Goalies
Linus Ullmark – First Half B-, Second Half B, Final Grade B
Ullmark had a hot streak in the second half and assumed the starting spot in the postseason at the beginning of the series. A puck to the mask late in the season did not deter him. However, Ullmark allowed eight goals and had an .869 save percentage in the playoffs. Jeremy Swayman played the final five games. Overall, it was a solid year for Ullmark, who was 26-10-2 with a 2.45 goals-against average and .917 save percentage.
Jeremy Swayman – First Half C+, Second Half B+, Final Grade B-
The rookie netminder had a roller-coaster season that even included a stint in the AHL. But Swayman seized an opportunity in the playoffs and went 3-2 in five games with a .911 save percentage. The battle will be on again next season for the number one goaltender.
The Bruins have some decisions to make. Don Sweeney needs a new contract. Will Patrice Bergeron retire? Will the Bruins have a prospect or two ready to take on an NHL role? This is the beginning of an important off-season and how it will affect the Bruins' franchise for the next few years.
The Bruins rebound after a 3-game skid. NHL ratings are down on ESPN and Turner. Don't mess with the chemistry. Concerns about the Bruins veterans wearing down. Plus Beauties and Benders.