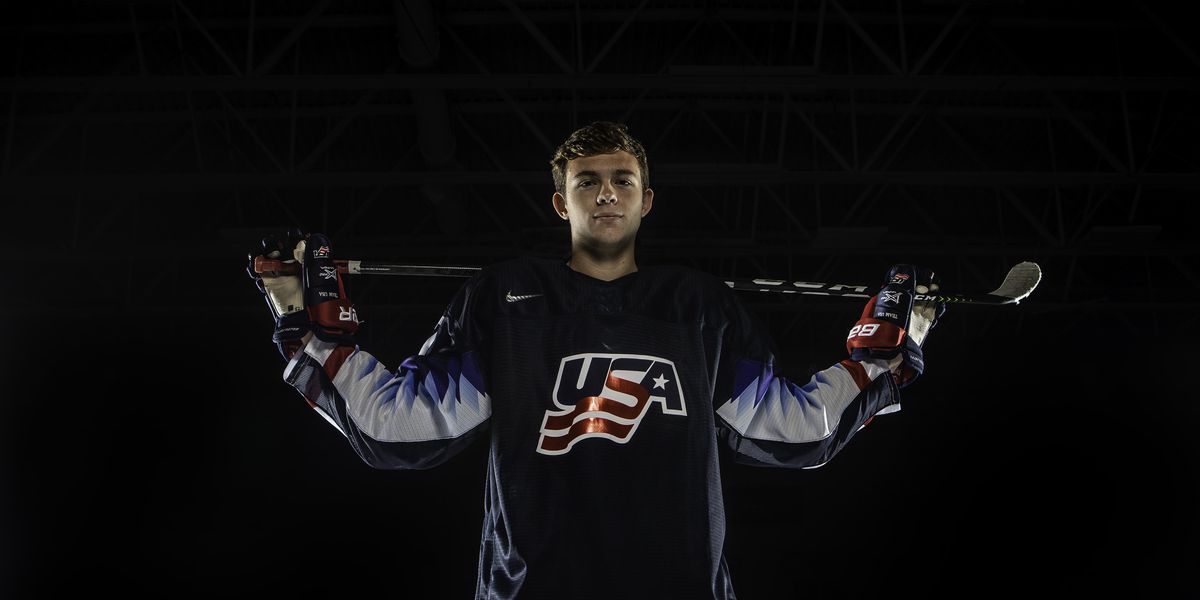 It's common knowledge that the Bruins have one of the worst prospect pools in the league due to their sustained success for over a decade. The Bruins sustained success has led them to pick towards the end of the first round and trade away first-round picks as they retool on the fly bringing in already established players. While this has contributed to the pool being weak, so has the picks general manager Don Sweeney has made over the years. The combination of it all has put the Bruins in an interesting spot as their core is aging out.
The Bruins have some promising prospects that fans should be excited about, with Fabian Lysell being the top name.
With Boston Rookie camp taking place this week at Warrior Ice Arena before heading to Buffalo for the prospects challenge, let's look at the Boston Bruins' top ten prospects in the organization.
#10 – Mike Callahan (D)
AGE: 22
DRAFT: 2018 5th rd (142nd) ARI
2021-22: 3 G, 11 A in 38 GP with Providence College
The Massachusetts native showed a competitive two-way game in college as he played for nearby Providence College in Rhode Island. While he isn't overly dynamic, he will continue to develop his steady game in the AHL this season. Callahan is a player that fans could see make a push for third pairing minutes in the near future.
#9 – Mattias Mantykivi (C)
AGE: 21
DRAFT: 2019 6th rd (185th) BOS 
2021-22: 12 G, 19 A in 51 GP with Ilves Tampere (SM-liiga)
The Bruins lack future center depth for their top six, with Bergeron and Krejci on the back end of their careers. Mantykivi isn't the answer to that problem, as he doesn't have a ton of standout skills for an undersized guy. He is a very slight forward, though, who is skilled with the puck. Only time will tell when he makes the leap to North American hockey, and how his game will translate.
#8 – Riley Duran (C)
AGE: 20
DRAFT: 2020 6th rd (182nd) BOS
2021-22: 10 G, 9 A in 38 GP with Providence College
Duran is a player who has rapidly climbed the ranks in the organization over the last year, and the argument could be made he should be ranked higher. He had an impressive season in Providence and then was selected for the United States team at the 2022 World Junior Championships. Anchoring the fourth line for Team USA, he was all over the ice on both ends as he tallied five points (two goals and three assists) in the five games during USA's run in Edmonton. Duran showcased the kind of offensive creativity the Bruins desperately need at center long term.
#7 – Matthew Poitras (C)
AGE: 18
DRAFT: 2022 2nd rd (54th) BOS
2021-22: 21 G, 29 A in 68 GP with Guelph Storm (OHL)
With their first pick of the 2022 Entry Draft, the Bruins selected Poitras in the second round. While he may be an undersized guy that lacks speed, he can make things happen with the puck as he has an excellent offensive game. Poitras was described as a hardworking two-way center with strong playmaking ability whose strengths are work ethic, hockey IQ and two-way awareness, stick handling, playing under physical pressure, and elusive skating.
#6 – Georgi Merkulov (C/W)
AGE: 21
DRAFT: N/A
2021-22: 20 G, 14 A in 36 GP with Ohio State University
One of Don Sweeney's recent NCAA undrafted free agents he added to the organization last season. Merkulov joins the Bruins boasting tons of offensive ability, which he showcased during his time at the Ohio State University last year before making a smooth transition to the AHL. With the Providence Bruins, he tallied five points (one goal and four assists) through eight games late in the 2021-2022 campaign.
One thing he needs to work on is his defense which the coaches have highlighted as his biggest weakness. The Russian forward has a ton of offensive talent, and it's possible he could be a top-six contributor if he keeps developing at a steady pace, as his scoring ability is quite impressive.
#5 – Johnny Beecher (C)
AGE: 21
DRAFT: 2019 1st rd (30th) BOS
2021-22: 6 G,9 A in 34 GP with the University of Michigan
A player that fans may get the chance to see in Boston as soon as this season, the big-bodied center is ready to prove himself. Beecher is big, fast, works hard to get pucks, and has the strength to keep them. While he struggled to put up an offensive number during his time in Michigan, he was never asked to be a pure goal scorer in college as he anchored a bottom-six line for a star-studded Wolverines team.
Beecher is a player to watch during camp as he will push for fourth-line minutes as he looks to establish himself on this Bruins team as the next wave of young talent.
#4 – Brett Harrison (C)
AGE:19
DRAFT: 2021 3rd rd (85th) BOS
2021-22: 27 G, 34 A in 65 GP with Oshawa Generals (OHL)
The 6'2″ left-shot center enjoyed success in the OHL last season as his offensive talent was on full display with 27 goals. Harrison is a physical player and is active around the slot, and he also is not afraid to engage with defenders to win positioning for loose pucks. He competes at both ends of the ice and has the opportunity to learn from one of the best two-way centers in Patrice Bergeron.
#3 – Mason Lohrei (D)
AGE: 21
DRAFT: 2020 2nd rd (58th) BOS
2021-22: 4 G, 25 A in 31 GP with Ohio State University
The Bruins' top defensive prospect enjoyed a strong season in college and has elected to return for another year to continue his development. Lohrei's skill and offensive game are excellent and will only improve. He's got a snappy wrist shot, with good form and an ability to generate a lot of power with minimal movement, suggestive of a powerful upper body. Even with his 6'4″ frame, his puck skills in small area situations stuck out as a distinct positive, as well as his ability to be a puck carrier.
When he decides to jump from college to the NHL, the Bruins will be excited to have the left-shot defenseman join their ranks as they lack skill and size on the left side of their defense behind Hampus Lindholm.
#2 – Jack Studnicka (C)
AGE: 23
DRAFT: 2017 2nd rd (53rd) BOS
2021-22: 10 G, 25 A in 41 GP with Providence Bruins (AHL)
Entering what many are considering a make-or-break season for Studnicka, it's time for him to make the jump to the NHL and showcase the skillset he's shown at the AHL level. At 23 years old, there is still time for the young center to find his footing.
Studnicka is a well-rounded player who has good speed and works his tail off. It's just time to translate that to the NHL, where he hasn't been able to find consistency. Hopefully, with a new coach and more playing time, Studnicka can carve out a role and become productive.
#1 – Fabian Lysell (RW)
AGE: 19
DRAFT: 2021 1st rd (22nd) BOS
2021-22: 22 G, 40 A in 53 GP with Vancouver Giants (WHL)
The Bruins' top prospect is the most exciting player to watch, thanks to his dynamic play style and elite offensive skill set. Lysell has excellent speed, a dangerous shot, and good puck skills. Lysell showcased this all during his lone season in the WHL and was very impressive for Team Sweden at the 2022 IIHF World Junior Championships.
Lysell has a chance to crack the roster early on with a strong showing during training camp, as the Bruins could get a glimpse of him at the NHL level with Brad Marchand out to begin the season. If he doesn't start the season in Boston, Lysell will join the Providence Bruins, where he can continue his development against a higher talent level.
The boys are back after a long break but have plenty to talk about as the playoffs are in full swing. We go series by series, looking at how teams have fared so far and who will come out on top. Thanks for listening! Please rate and review our show on your favorite listening platform. Check out our partner's website at www.insidetherink.com for all your latest hockey news.