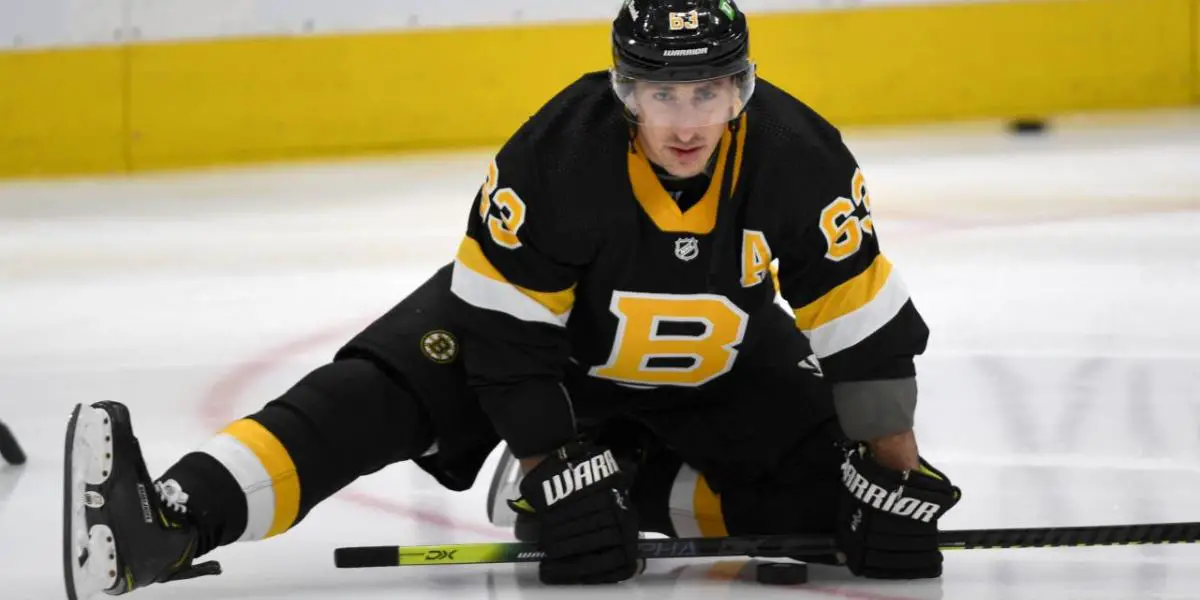 For the last decade, Brad Marchand has been a hot-button topic throughout the NHL. Some hockey fans love Marchand and his style of play, while others boo him and have dubbed him the "King Rat" for his previously dirty play. There is no doubt he has toed the line of dirty play throughout his career. The Department of Player Safety can give you his rap-sheet of suspensions and fines. It is obvious to those who watch Bruins games, Marchand elevates his play on the ice the more he is involved in the physical play.
To add more to Marchand's character, after the passing of Jimmy Hayes this offseason, Kevin Hayes had this to say about Marchand:
"The Bruins have been amazing w/ my family & my brother's family. Especially Brad Marchand. He has played street hockey w/ [Jimmy's son] Beau, he went down to the local Dorchester rink & hung out. Beau wants to be Kevin Hayes & Brad Marchand every single morning when he wakes up."
One thing is for sure; Brad Marchand is the heart and soul of the Boston Bruins, sorry Patrice. Marchand would be a perennial Selke Trophy candidate if he didn't play with Bergeron. Marchand doesn't only make his presence felt on the score sheet. Marchand plays in all situations on the ice, and he is always involved in the physical play regardless of his size. He is also always willing to stick up for teammates, take hits to make a play, and, as we saw this week, catch a high stick to break his nose and continue to put on a masterful offensive performance to lead his team to victory. Marchand has led the Bruins in scoring five out of the past six years, including playoff performances. Marchand is going above and beyond expectations with 41 points(19 goals and 22 assists) in 29 games this season. That pace should land Marchand over 100 points on the season, an impressive feat in itself. This past month of Bruins hockey has shown, Marchand is carrying this team on his back. He is currently 11 points ahead of David Pastrnak for the team lead in points.
Marchand is currently 7th in points and goals scored in the NHL so far in the '21-'22 season. What I find the most impressive for Marchand when in conversation about MVP rankings, most people look at Connor McDavid or Leon Draisaitl. I look at the comparison and find some interesting angles. Marchand plays roughly three minutes less per game than McDavid and Draisitl; he currently has played three fewer games as well.
With a recent All-Star Game snub, fans across the league have acknowledged that Marchand is one of the best players in the league who deserves to represent the Bruins on a big stage. To me, this felt like an intentional omission. Marchand has been outspoken on many topics in the NHL that threw criticism at Commissioner Gary Bettman or the NHLPA. Especially the most recent outburst on the Beijing Olympics being taken away from NHL'ers. It feels like the league avoided selecting Marchand or having him as the Last Player In candidate on purpose. Just another reason most Bruins fans feel that their super-star Brad Marchand will never get his Hart or Selke Trophy recognition.
Episode 51: Interview w/Jack Ahcan Episode 51 is back in action talking about the New York Paingers ITR bet, Can Buffalo Sabres make the playoffs? Is Vancouver in the wrong on the Boudreau treatment? Is Tocchet the right guy? Is Daryl Sutter the last Dinosaur in the NHL?YouTube: https://www.youtube.com/@insidetherinkTwitter: https://twitter.com/CueTheDuckBoatzFacebook: https://www.facebook.com/Cuetheduckboats/Thanks for listening! Please rate and review our show on your favorite listening platform. Check out our partner's website at www.insidetherink.com for all your latest hockey news. Also, catch all of the games in this year's NHL season by signing up for ESPN+ at Insidetherink.com/ESPN