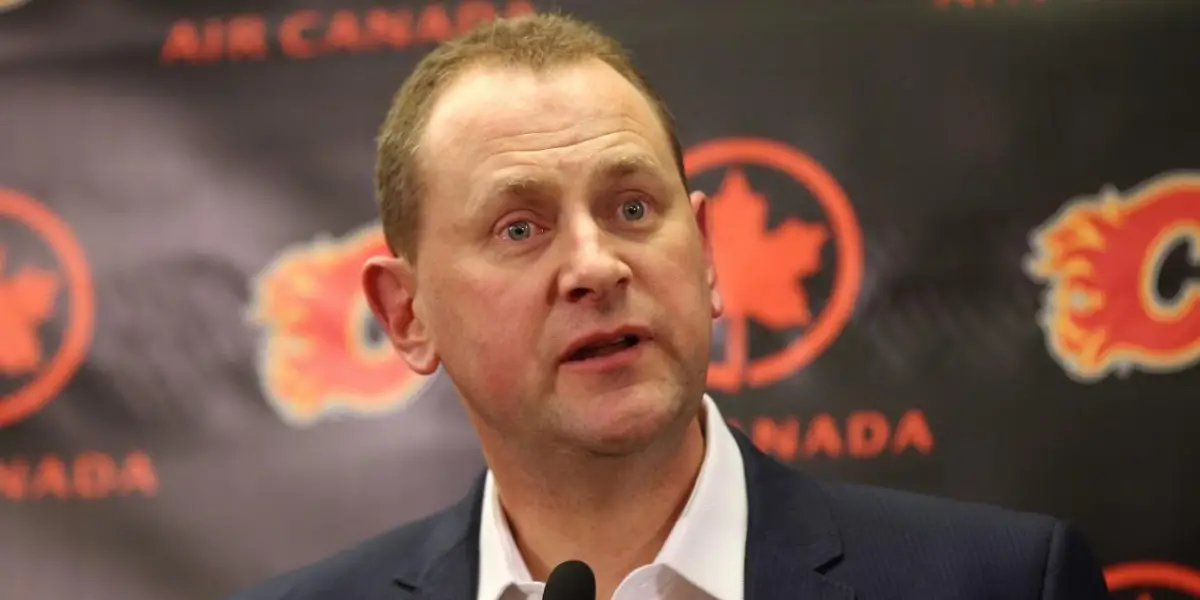 With the breaking news that Brad Treliving has been relieved of his GM Duties, let's take a look at the disaster that was the 2022-23 season. Treliving, who had been with the organization for almost nine years to the day, was responsible for building a team that reached the playoffs in four of the last seven seasons. However, the past year and the lack of action has fans happy with the decision.
Underperforming Players
One of the main reasons for the Flames' struggles in 2023 was the underperformance of several key players. Star forward and offseason acquisition Johnathan Huberdeau had a down year, scoring only 15 goals and 55 points in 79 games, well below his usual production. Nazem Kadri also struggled, scoring just 24 goals and 56 points in 82 games. Even outstanding defenseman MacKenzie Weegar had a subpar season, finishing with only 31 points in 81 games.
Too many changes
Mr. Treliving had probably the hardest offseason this past offseason an NHL GM has had to deal with in the last five years. With Johnny Gaudreau taking an offer in Columbus rather than resigning and Matthew Tkachuk being open and honest in his lack of wanting to stay in Calgary, he made what many pointed as the trade of the offseason for the above-mentioned Huberdeau and Weegar. This, alongside winning the rights to Kadri this team looked ready to keep on running. Many experts weren't counting on chemistry being the biggest reason teams work well together. Just too many players were learning how to play together under a very defensive shell of a coach that might be seeing his last days in the NHL.
Coaching and Management Decisions
There were also some questionable coaching and management decisions made throughout the season, leading directly to Brad's firing. Head coach Darryl Sutter's hard-nosed approach didn't resonate with the team, and some players reportedly grew frustrated with his style. In addition, the decision not to make a coaching change was met with criticism and may have contributed to the team's lack of competitiveness down the stretch. Now if the Ownership wasn't keen on keeping Treliving, this could have been why Darryl was kept. As we know, Calgary Sports and Entertainment have immense respect and admiration for Darry.
4 Replacement Options
1. Roberto Luongo
Roberto Luongo is a former NHL goaltender who spent time with the New York Islanders, Florida Panthers, Vancouver Canucks, and the team that drafted him, the New York Islanders. He is currently serving as a special advisor to the Florida Panthers and has expressed interest in becoming a GM in the future. Luongo is well-respected around the league and has a strong understanding of the game, and could be a good fit for the Flames as they look to build a winning culture.
2. Chris Drury
Chris Drury is a former NHL player who won the Stanley Cup with the Colorado Avalanche in 2001. He is currently the GM of the New York Rangers and has helped rebuild the team over the past few years. Drury is known for his analytical approach to the game and could bring a fresh perspective to the Flames as they look to modernize their approach.
3. Laurence Gilman
Laurence Gilman is a former assistant GM with the Vancouver Canucks, and is currently the assistant GM with the Toronto Maple Leafs. He has a reputation for being a strong negotiator and cap expert and could help the Flames navigate the salary cap as they try to build a competitive team.
4. Darryl Sutter
This is probably the most obvious decision. Darryl has been a well-respected bench boss despite being a hard-nosed defensive old-school coach. His familiarity with the team and Ownership could create a perfect storm for Mr. Sutter to step into the front office position.
HSP – Jun 5th 2023 – Arland Bruce III on his career, legacy, and what is next
–
Hughes Sports Podcast- HSP
Jake and Kevin welcome on one of the BEST ever to lace up cleats in the CFL, a Two Time Grey Cup Champ, a 6 Time All-star and all around great guy Arland Bruce III. emory lane, unpacking the highlights of his storied career. From his early days in the Canadian Football League to his notable contributions with the BC Lions and Winnipeg Blue Bombers, we'll discuss how Bruce etched his name in the annals of football history.But we're not just delving into the past. Arland Bruce III has always been one step ahead of the game, and he's no different in retirement. We'll get an exclusive scoop on what he's been up to since hanging up his cleats!Join us as we navigate the gridiron and beyond with Arland Bruce III. Tune in to hear about the triumphs, trials, and what it truly means to leave an enduring mark on the world of sports. This episode is a must-listen for any fan of football, tales of grit and determination, and anyone interested in the journey of exceptional athletes.Plug in those earphones, get comfortable, and enjoy the ride – it's game time on the Hughes Sports Podcast!