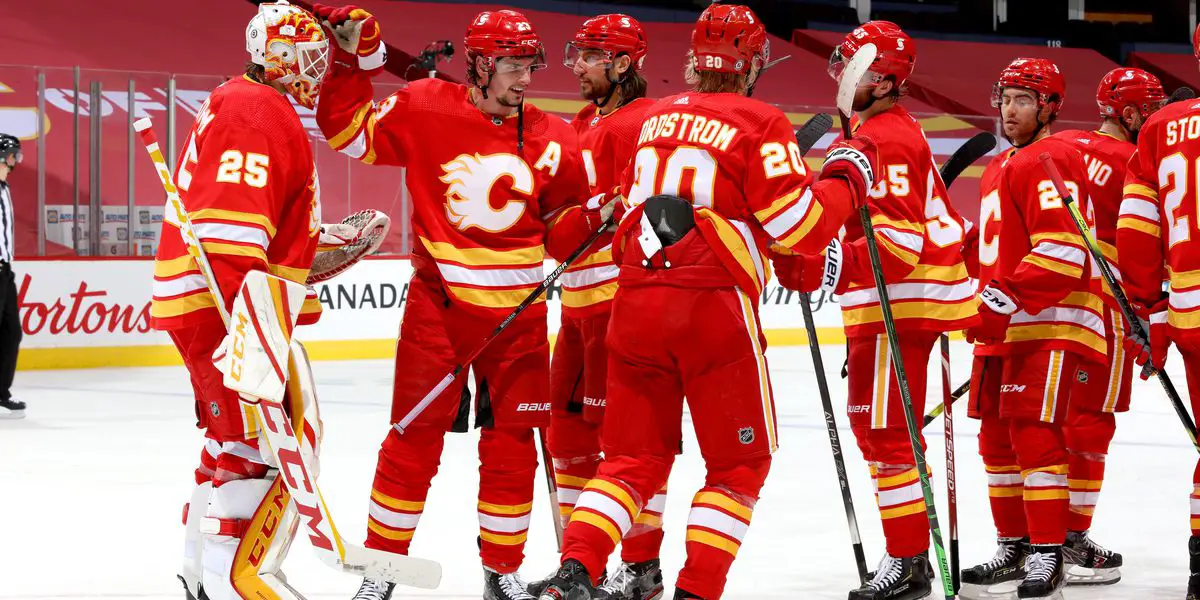 Just like that, the Calgary Flames have taken over the Pacific Division with a magnificent month of February that has seen them win all nine of their games played this month. But that's not all, as the Flames franchise record matching ten-game win streak extends back to January, including them winning their last 13 of 15 games played. So what's the secret that's propelling the Flames to such a dominant streak that has them leading the Pacific, sitting atop with 66 points through 49 games played, including being up on second-place Vegas Golden Knights by four points with two games in hand. While it may seem easy to pinpoint one exact reason for their success with this team, that is just not the case, as they are firing on all cylinders from every aspect of their game. From their crazy offensive explosions to their suffocating defense and especially their brick-wall goaltenders, the Flames have been able not just to impose their will on teams but force it right down their throats.
Brick Walls in Net
The amazing play of the Calgary Flames starts with their goalie duo of Jacob Markstrom and Dan Vladar, who together have combined for a 30-13-6 record, with Markstrom being the stalwart most nights as he's started 39 of the Flames 49 games on the season. Markstrom is in the midst of a Vezina Trophy season as the 31-year-old ranks top three in most majority categories for goaltenders. He anchors this Calgary team that is pushing for a Stanley Cup appearance. When looking at the statistics that Markstrom has been able to produce so far this season, they are eye-popping as he ranks eighth in wins with 23, leads the league with eight shutouts, four more than the second-place goaltender, third in average goals against with an outstanding 2.06 GAA and finally third again in save percentage with a .928 SV %. These stats stand out for Markstrom and show the hard work he has put into this season to help his team be at the top and remain there.
Defense Wins Championships
While the stats show what an amazing job Markstrom is doing in the net, the credit can't just stop there as the defensive performances have to be recognized. The defense all starts with their top pairing of Noah Hanifin and Rasmus Andersson, who together have formed a duo of big body defenders who have been able to block shots, make hits and move the puck leading to goals for their talented forwards. On the season, Hanifin has 24 points, a plus-minus of 10 with 29 hits and 48 blocks, while his counterpart Andersson has 27 points, a plus-minus of 14 as well as 25 hits and 78 blocks while playing in all 49 games.
The second-line pairing for Calgary has been just as impressive compared to their teammates on the top line as the Flames have seen a resurgence year with Oliver Kylington, who is paired with Christopher Tanev. Kylington is an exciting player this season as he was considered an afterthought by the organization coming into the 20221-2022 season as he was placed on waivers and served on the taxi squad last year, only appearing in eight games. Even after going through all that doubt, Kylington has been able to rise above it and prove everyone wrong as he anchors that second defensive pairing with 24 points, a whopping plus-minus of 27 to go along with 29 hits and 46 blocked shots, as well as one power-play goal and two game-winning goals. His partner in crime, the long-time Vancouver Canuck Christopher Tanev, has also had a decent year on that second pairing as he owns stats of 18 points, a plus-minus of 26 with 28 hits, and a staggering 83 blocked shots, which leads his team. These four defensemen have been a major part of the success the Flames and Markstrom have been able to achieve as they clamp down on the opposing teams' star players and make it hard to get goals against them. 
The Flaming Hot Forwards
Great defense makes it easy for a team to have a chance to win, but when you have a forward group that is scoring five or six goals a game during their win streak, it makes winning that much easier. When you have four 20 goal plus scores on your team, it takes the pressure off, especially when that is mixed in with a veteran presence and rejuvenated Milan Lucic. He is making a difference for this team by scoring nine goals with nine assists and creating space for their four star forwards.
For the Flames, it all starts with their top line that features a trio that is all over the 20 goal mark this season, and they are the leaders and tone setters for this team. This lethal trio is formed by left-winger Johnny Gaudreau, center Elias Lindholm, and right-winger Matthew Tkachuk, all experienced players and at the top of their games. The 5'9″ left winger in Johnny Hockey is having an incredible year as he currently ranks fourth in points throughout the league, tallying 20 goals and 44 assists with a very impressive plus-minus of 41 as he's the top lines playmaker. While Gaudreau may be the playmaker of the three, Matthew Tkachuk is mister do it all as he has 24 goals, 32 assists for 56 points, seven power-play goals, and four game-winning goals while using that big 6'2″ frame to rack up 58 hits. The final anchor of the trio is that of 6'1″ center Elias Lindholm who is in the midst of a career year and on pace to break his career-best of goals which is 29 back during the 2019-2020 season. So far in 49 games, Lindholm has 23 goals, 26 assists for 49 goals, as well as 480 faceoff wins, six power-play goals, and six game-winners. The final cog in the Calgary machine is that of 25-year-old second-line left-winger Andrew Mangiapane who has already surpassed his career-best in goals and points. The young left-winger has been a goal-scoring machine for the Flames as he's put up 25 goals and 32 points in only 49 games and seems to be heating up again after a hot start to the season before cooling off. While defense wins championships, it's important to remember that offenses propel you there in the first place, and that's exactly what Calgary is doing right now. All in all, the Calgary Flames have developed into a solidly built team that is hitting strides on all three fronts and looks to capture their first Stanley Cup Championship since they last won it all in 1989.
The boys are back after a long break but have plenty to talk about as the playoffs are in full swing. We go series by series, looking at how teams have fared so far and who will come out on top. Thanks for listening! Please rate and review our show on your favorite listening platform. Check out our partner's website at www.insidetherink.com for all your latest hockey news.