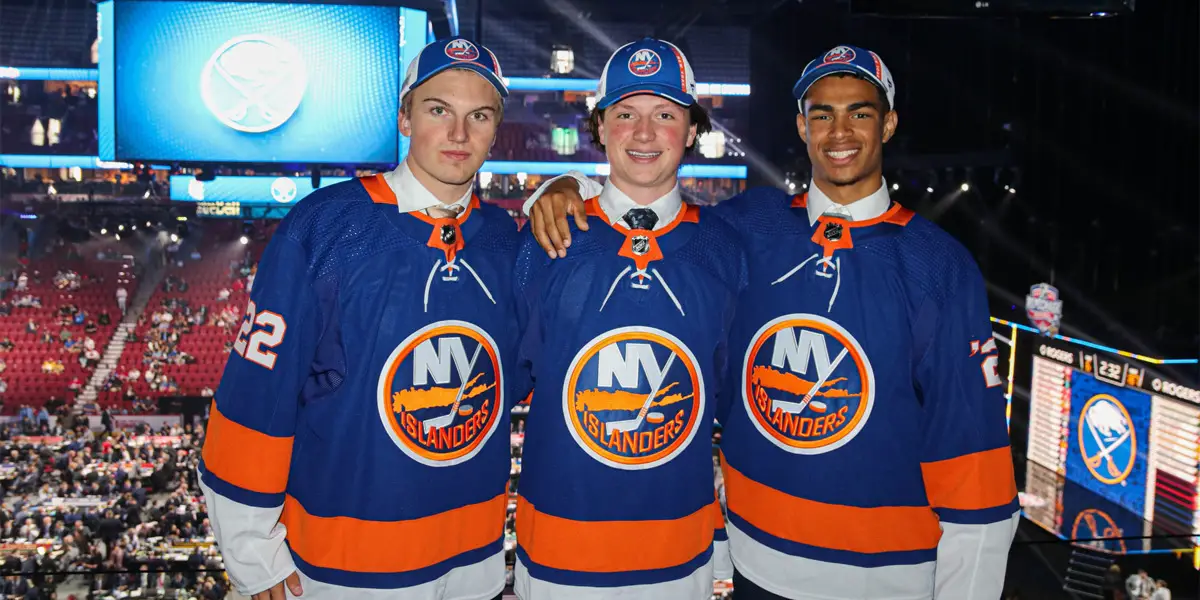 Calle Odelius: LD (Round 2, 65th overall)
Calle Odelius led all defensemen on his team in scoring in his first season with Djurgårdens IF J20, putting up 30 points in 43 games. His reliability and consistency even earned him a seven-game call-up to the SHL. He represented Sweden at the U18 World Junior Championship, where he had three assists in six games.
His hockey sense allows him to approach the game at a high level, but his greatest asset is his elite skating. He has great movement in all directions and uses deception to his benefit. He never rushes an opportunity and is adept at using his skating to get out of tricky situations in all zones. This was on display as he finished top 5 in three NHL combine events.
Will Scouch of McKeen's hockey notes, "I'm not sure that there's a more fluid four way skater in the entire draft this year. His lateral mobility is excellent to close gaps and manage space, his skill and deception is excellent, and when patrolling the offensive zone on his edges using turns, footwork and deception, he's a lovely defender to watch. Nothing in his data really stands out spectacularly, but the potential of his game is huge."
Odelius is also quite the playmaker with an especially strong transition game. He's quick to find open space on the ice and ease things up for his teammates while placing the puck in a great spot for them to receive it with strong breakout and tape-to-tape passes. He is calm when controlling the puck and exhibits excellent control in order to make the correct play without rushing. He's not afraid to use his accuracy and strength to put pucks on the net and crash for rebound opportunities, as his skating enables him to do so even with traffic in front of the net.
Defensively, he excels at taking away passing lanes and keeping opponents to the outside. He should use his strength more as his game develops, but he already has awareness and positioning in his toolbox.
Odelius will likely remain with Djurgårdens IF next season following their relegation to the HockeyAllsvenskan league.
Quinn Finley: LW (Round 3, 78th overall)
Quinn Finley, a USHL left wing committed to the University of Wisconsin, excels in playmaking and shows a smart transition game. He put up 12 goals and 17 assists in 29 games with the Madison Capitals last season, where he used his speed to skate through defenders and create quality chances.
The Athletic's Cory Pronman describes Finley as "an interesting prospect as he possesses legit speed and skill that could translate to higher levels and is one of the younger prospects in this class. Off the rush, he shows he can be a threat and can beat defenders with speed. His offensive ability doesn't wow you, but he can make plays and projects to score versus better players. Given he's not amazing off the puck either, it's hard to see where he fits on an NHL roster. The talent gives him a chance, though."
Finley's high-end skills with the puck and effort off the puck should serve him well as his development continues. Despite being listed as a left-wing, he has characteristics that could help him succeed as a two-way center. He is a speedy, offensive-minded winger that pushes the pace whether the puck is on his stick or off of it. His speed allows him to break away from opponents with the stamina and strength to maintain such a pace.
Isaiah George: LD (Round 4, 98th overall)
Isaiah George is a puck-moving defenseman that balances high-end skating with physicality. He put up six goals and 17 assists in 67 regular-season games for the London Knights and matched up well against other teams' top players when London's injury situation put him in a role with more responsibilities.
Skating is where George really shines and what he builds his game on. His stride is near perfection, with excellent speed, power, and acceleration. He finished first among all skaters in the 30M backward skate with a time of 4.476 seconds and third in the 30M forward skate with the puck at 3.903 seconds during the NHL Draft Combine, and was the fourth-best skater in the showcase.
George has also shown hints of offensive upside, balancing combining skating with stick handling that allows him to carry and protect the puck effectively. More confidence and patience in the offensive zone as he continues to develop would allow his game to really shine. Defensively, he's one of the best in the 2022 draft class. Excellent positioning, skating, and a formidable poke check serve him well one-on-one. He has a knack for reading plays which allows him to get between his man and the net and keep opposition to the outside. His strength is an asset along the board and in getting and maintaining control of the puck.
Matt Maggio: RW (Round 5, 142nd overall)
Matt Maggio put up 38 goals and 47 assists in 66 OHL games for the Windsor Spitfires last season. In keeping with the trend of this Islanders draft class, he is a speedy skater. Maggio doesn't hesitate to shoot and excels at creating space and chances for teammates. He is able to skate through defenders and put pucks on net, with sneaky stick-handling skills up his sleeve.
Daylan Kuefler: LW (Round 6, 174th overall)
Daylan Kuefler spent was third in scoring for the Kamloops Blazers with 38 goals and 21 assists in 65 WHL games last season. A gritty player who can charge ahead on skates, he pairs physicality with skill and doesn't shy away for sacrificing his body. Kuefler blocks shots lays hits, and drops the gloves — and he does so effectively. Reminiscent of members of the Islanders' "Identity Line," he looks to prove that he can continue competing on a higher level despite being drafted at 20 years old.
The boys are back after a long break but have plenty to talk about as the playoffs are in full swing. We go series by series, looking at how teams have fared so far and who will come out on top. Thanks for listening! Please rate and review our show on your favorite listening platform. Check out our partner's website at www.insidetherink.com for all your latest hockey news.