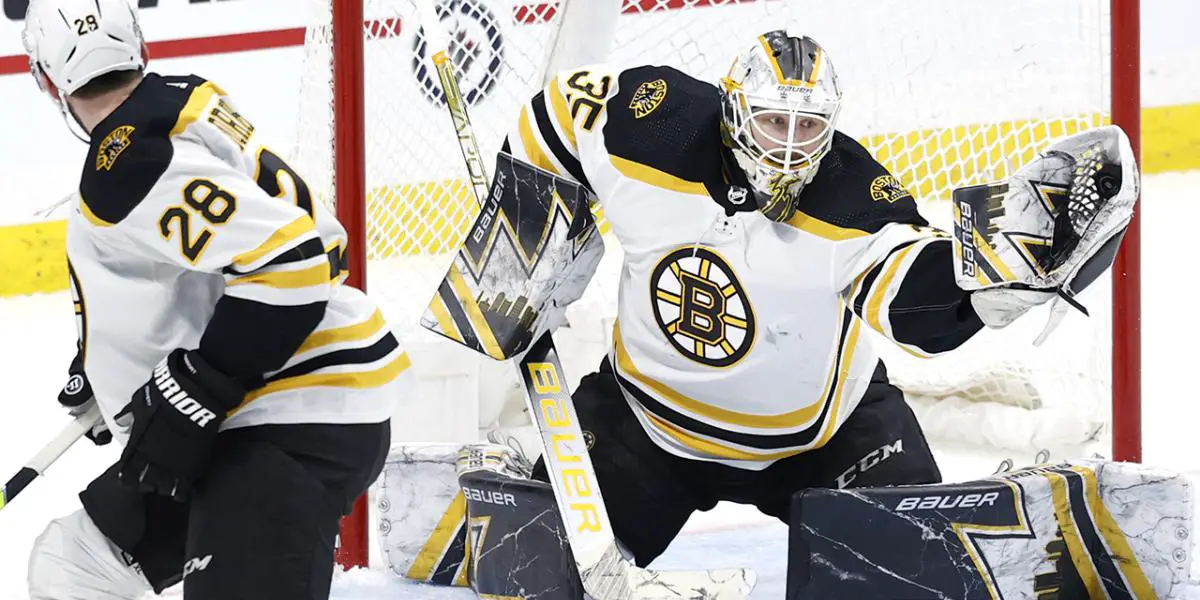 Boston Bruins head coach Bruce Cassidy has not named a starting goaltender for the playoffs with two games remaining. On Wednesday, in a press conference, Cassidy stated that the team had not decided whether Linus Ullmark or Jeremy Swayman would start in goal for Game 1 of the first round. Cassidy went on to say that part of that was to be a little more "coy" and that Ullmark had been slightly ahead of Swayman lately.
Ullmark is 8-1-0 in his last nine starts, not including the April 14th game against Ottawa when the goalie left the game after one period due to injury. The former Buffalo Sabre has allowed just 16 goals in that span and has taken over the number one spot from Swayman, who has battled some inconsistency lately. Cassidy did say that Ullmark will play against his old team on Thursday night and that Swayman would take the regular-season finale Friday night in Toronto.
From there, the choice should be Ullmark, who has slightly more NHL experience and has been playing excellent in goal for Boston. The Bruins' potential first-round opponent could be the Carolina Hurricanes. One thing to look for in that matchup is that Ullmark is 0-2-0 against Carolina and has 57 saves on 65 shots. Since retired, Tuukka Rask played the other game against the Hurricanes and allowed five goals in a 7-1 loss.
Bruce Cassidy will make the decision on a netminder after Friday's finale, and barring any setbacks, expect to see Linus Ullmark in net for Boston and Jeremy Swayman waiting for the "goalie hug" after the game.
The Bruins rebound after a 3-game skid. NHL ratings are down on ESPN and Turner. Don't mess with the chemistry. Concerns about the Bruins veterans wearing down. Plus Beauties and Benders.