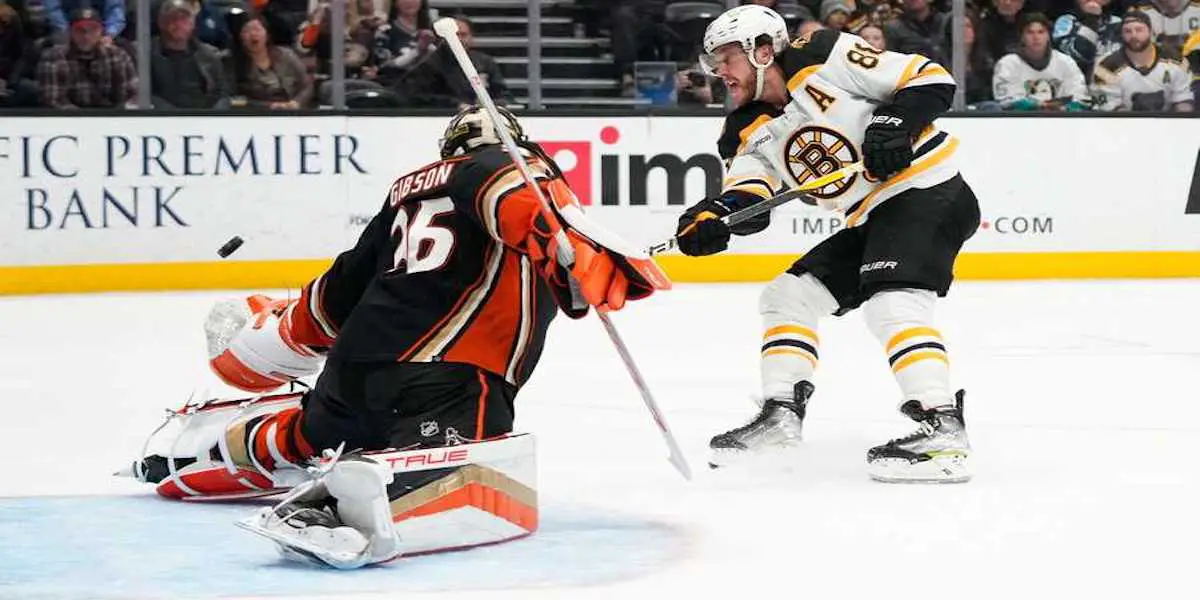 A really good team beat a really bad team tonight at TD Garden West. (Honda Center) The Anaheim Ducks fell embarrassingly to the Boston Bruins 7 to 1. I had written five pages of notes for the first two periods. I just wrote the goals in the third. So, the game got well away from the Ducks, and I promise I'll talk a little bit about that eventually. However, for now, let's talk about something fun.
I'm tracking a pattern of behavior in the young Trevor Zegras. Constantly running his mouth, making face-off bets with opposing centers, stealing a stick on the ice, timely goals…Could we be looking at the kind of player that grows to be a Corey Perry type? Ryan Getzlaf was/is a legendary chirper. There is a reason those two are still best friends. Getz took the guys out of their game as much with his mouth as he ever did with his full frame. Perry was the kind of pest every team needs. Brad Marchand, Theo Fleury, Corey Perry – you just want to reach through the screen and punch them as fans. Trevor has admittedly learned a lot from Getzlaf. I assume then that he has learned a lot by proxy from Pears.
The lone Anaheim goal tonight came from a Trevor Zegras one-timer. Trevor took a sneaky little elbow from his number 11 counterpart, Trent Frederic, on his way up the ice. They started talking right then. John Klingberg makes a great entry into the Boston zone, kicks it over to Frank Vatrano, then a one-touch pass to Ryan Strome, who spots Z11 coming in with speed. Strome passes to him, and Zegras wires a one-timer between Charlie McAvoy's legs, and it blows by Jeremy Swayman to cut the Bruins lead to 2-1. As soon as Zegras pots it, before his teammates even get there for the obligatory hugs, Z is jawing with Frederic. They keep it up all the way until the next face-off, which become a scrum. No stranger to instigating violence, Brad Marchand inserts his prolific nose into things. Max Comtois takes exception and defends young Trevor, and they both go off for roughing. Nothing much came of it, but it seemed to throw the B's off of their game for a bit. They obviously found their stride later, but as a Ducks fan, this was about the most fun 5 minutes of the game.
I'm going to go off-script here for a second. There is nothing more humiliating as a fan than when the away team is chanting their catchphrases or rally cries in your own building and drowning out the thin home crowd. (Wise to make money selling off your tickets already, Ducks season ticket holders, gotta make that scratch!) I expect that with the Los Angeles Kings and the Original 6 for reasons stated in previous articles. You should look them up, as the Anaheim Ducks are a story that game recaps alone won't quite tell you, and the supplementary articles will fill you in along the way. As I was saying, it's demoralizing. "Go Kings Go!" or "Let's Go Rangers" really grate at my fandom. That doesn't happen in Boston. In Philly. In New York. Hell, that doesn't happen in Los Angeles. But here we are, in the most inviting visiting arena in the league, family-friendly Anaheim, California. We don't even pound the glass; how are we expected to verbally defend the Pond? (You can get thrown out for profanity and pounding the glass, by the way)
As painful and demoralizing as it is for fans, I couldn't imagine what that's like as a player. I played sports. I've been booed. Hell, I've been booed for my articles. But being booed isn't the chants of another team in your home barn. Also discussed earlier in this space, it's about HOW these kids lose that's important. On some level, that's on the fans. I'm not talking about some ticket sales ban like the Nashville Predators did years ago, but some kind of pushback from the fans or maybe not selling every ticket you have to opposing team fans would probably help. I'm not generally salty about people making money off their seats, but when the opposing team is running the wave and chanting "Yankees Suck" in your arena? You have an issue that's not on the ice.
Rant over.
David Pastrnak is a fantastic player. His numbers against the Ducks are pretty eye-popping. I guess when you have a 4 goal game and hat trick against a team, the numbers are bound to be good. Pasta is a UFA, and if the Bruins don't back up the Brinks Truck? Anaheim should. As Bryan Hayward mentioned multiple times on the TV broadcast, Boston has a hometown discount culture. I expect David to resign there, but if he doesn't? The numbers don't lie; he's on a pace for 60 goals plus and has been exceptional throughout his career. He has recorded 30 goals plus six times in his nine years in the NHL.
Let's get into the game. As I mentioned, the game was a 7 to 1 loss, Pasternak had a hat trick, and in the third period, the official scorer probably ended up with writer's cramp. All on the Boston side.
In the first period, the Ducks did what they usually do. Give up a couple of early goals, and then settled in and mounted a defense. Pastrnak scored the first of 3 on a screened one-timer that beat John Gibson's high glove side. This started two themes of the game, one timers and exceptional accuracy from the shooters. A few minutes later, it appeared that Ryan Strome had scored as well, but an alert and shifty Hampus Lindholm knocked the net off the moorings. A short replay review confirmed the no-goal call on the ice. During the first intermission, the Anaheim Organization played a Lindholm tribute that was very classy.
Hampus saluted the fans in response, as this was his first game back in another sweater, and this game was clearly important to him. As the Ducks were recovering from that disappointment, David Krejci buried a bang-bang one-timer from a slick David Pastrnak pass from behind the net. 2-0 Bruins. Boston did an amazing job all night of standing up at the blue line and making entries into the offensive zone very difficult for Anaheim. This became the backbone of their defense later when they protected the lead. However, toward the end of the period, John Klingberg broke this down and entered the zone with speed. He started that one-touch pass play I described earlier. Zegras scores making it 2-1 Bruins. Following this, the Ducks had a nice run of puck control and a few chances and drew some penalties. The ensuing four-on-four became a four-on-three as Pastrnak hooked Klingberg behind John Gibson. Nothing much came of it, but the Ducks got a little momentum, some shots as well and the period ended 12-6 Bruins in that category. Still 2-1 after one.
Anaheim carried 26 seconds of power play time into the second, and all was pretty even for a bit until Ryan Strome got his stick into Brad Marchand's skate leading to a Boston power play. It took the B's about 30 seconds to make the Ducks pay as Pasta followed a rebound on his own shot and sniped the puck five hole on Gibson. 3-1 Boston. Then the wheels really fell off. Seventeen seconds later, a turnover in the Boston zone, one of several, became an amazing pass that sent Pastrnak on a full breakaway, deking Gibson as he bit and lunged forward. Pastrnak tucking the puck just under the bar, and it just got worse from there. 4-1 Boston Bruins. The Ducks later got a power play and five shots but were unable to solve Swayman. Brett Leason was noticeable in this game, mostly in a good way. I was cheering for him to make the score sheet, but it was not to be.
The third featured goals from; Brad Marchand with a stuff-in goal on a great follow-up play following a solid Gibson save; Hampus Lindholm gets the revenge goal that he was pressing very hard for by banking the puck off of Gibson's helmet from an extreme angle, and mercifully they tack on the PAT with Charlie Coyle scoring on a lightning hands move stick handling on the goal line and getting the puck in before Gibson's skate could guard the post. The Ducks surrender five straight goals, and the game ends 7-1 Bruins. Although the shots were close most of the night, the third ruined that, and again the Ducks give up 40+ shots. 42-29 when the final horn went off. The Boston Bruins were simply better as the game went on and I'm shocked that the organ player didn't author a Sweet Caroline send-off since it was a fully partisan Boston crowd.
Anaheim drops to 3-4-1 on this ten-game homestand with two games yet to play. They will face the Edmonton Oilers and another stellar power play led by Connor McDavid and Leon Draisaitl on Wednesday night, 7 pm, at the Honda Center.
On this week's chaotic episode of LAP, Jake, Chris, and Lou talk about the Stanley Cup Final, some coaching changes and share some thoughts on the ESPN and TNT broadcasts. They also talk at length abouth why Florida's uniforms need to change and finish things up with listener questions!Follow Late Arrivals Twitter: @latearrivalspodInstagram: @latearrivalspodFollow the hostsChris: @CJKChelConnor: @91_PlutyJake: @_JRobles71Louis: @Louiex37 Intro/ Outro done by Will Rice/ @pastorwillrice