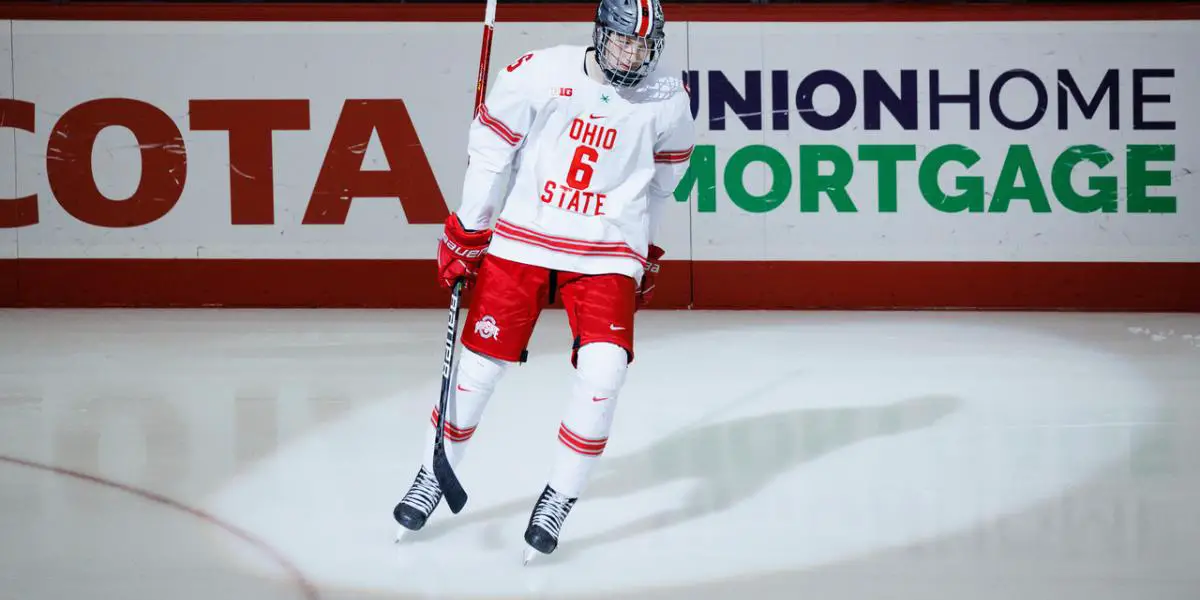 The Boston Bruins have a long line of great defensemen in their history and one of the league's top pairs in Charlie McAvoy and Hampus Lindholm. But defensive prospects aren't quite as plentiful for Boston, especially minor leaguers and college players who are ready to take the next step. This is why the team is banking on their 2020 second-round selection Mason Lohrei, who is playing his sophomore year at Ohio State University.
Lohrei was potentially a candidate to leave college after his freshman year but decided to stay in school. This decision has proven to be a good one for the 6-foot-4, 205-pound defenseman who is leading the defensive corps for the 17th-ranked Buckeyes. Recently, Ohio State has lost five of six games, but Lohrei has been a horse from the start of the season.
On the heels of a strong freshman campaign in which he scored four goals and 29 points in 31 games, Lohrei has recorded ten assists this season without a goal. Eight of his assists have been on the power play. When he was drafted, some considered Lohrei a reach at pick No. 58, but since then, the big offensive defenseman has emerged as one of the Bruins' top prospects and has a chance to be a key member of the team's blue-line corps down the road.
But the value Lohrei brings has been in his workhorse style. In a recent loss to Long Island University, the Baton Rouge, Louisiana native played just under 35 minutes, a Herculean effort for a team looking to recover from a recent slump. The Buckeyes outshot LIU 10-5 in five-on-five play with Lohrei on the ice, and the former Green Bay Gambler of the United States Hockey League had five takeaways, four in the defensive zone. Lohrei had shown high-end offensive skill in USHL, with 96 points in 105 games.
Questions about Lohrei's skating ability might be a bit overblown but definitely an area for improvement. But the left-shot blue liner possesses a good shot and puck-moving skills. The 21-year-old does not play an overly physical style but uses his body and length well defensively. The future is bright for Mason Lohrei, and the Bruins hope the organization has another top defenseman coming through the pipeline.
The Bruins rebound after a 3-game skid. NHL ratings are down on ESPN and Turner. Don't mess with the chemistry. Concerns about the Bruins veterans wearing down. Plus Beauties and Benders.