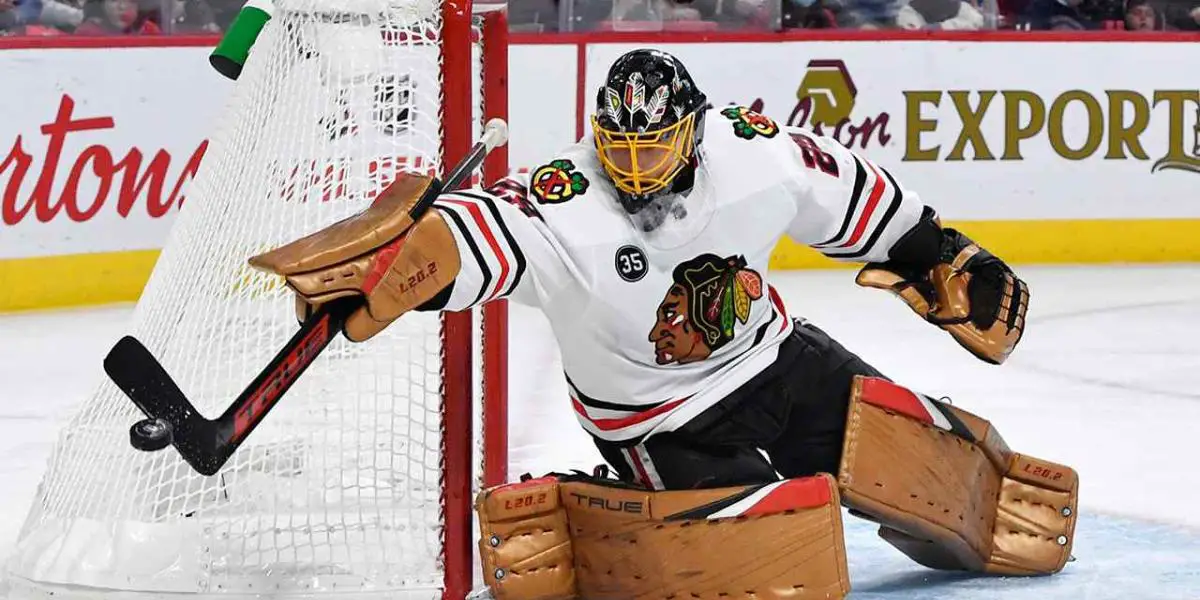 Chicago Perspective by Clifton Ramey
The Boston Bruins are rumored to be dark horses for Marc-Andre Fleury. This is interesting on the heals of Fleury turning down a trade to the Washington Capitals. Frank Seravalli reported they went all in for him. Chicago would have to talk Fleury into the trade, but it could be a good move for all three parties if they do this.
Fleury would get moved to a contending team. The Boston Bruins get the much-needed goaltending that has a massive hole after legendary goalie Tuukka Rask called it a career after attempting a comeback. And Chicago can look at acquiring something for Fleury before his contract runs out.
Now, what could the Bruins send to Chicago for Marc-Andre Fleury? The General Manager, whoever that shall be, will be tasked with refilling the prospect pool. To do this, it will start with acquiring draft picks. This is where the Bruins come in. Obviously, you try to pull the first-round pick from this year, or maybe even next year, since that draft is looked at as a stronger draft. If they aren't willing to move their first-round and they probably want to hold on to it, Boston has their second-round, and Calgary third-round pick this year, along with their second and third-round picks next season. Boston could look to package both and or use one of the picks and a prospect to pry Fluery from the Blackhawks. Urho Vaakanainen and a third-round pick from this year or next year could be a package Boston sends Chicago's way. The Blackhawks would probably want that to be a second-round.
Boston could try to offer disgruntled Jake DeBrusk, ultimately I think DeBrusk would want too much money on his next contract, and Chicago would be better keeping money off the books until Kane and Toews's contacts are up and they decide their future. Kane's recent comments about wanting to have a voice to the new GM to Marc Lazerus would suggest he's here for the rebuild. Boston also has Senyshyn, who wants a trade and could be packaged with draft picks. The Blackhawks could also try to pull some of Boston's younger prospects like Fabian Lysell, but that would be a hefty asking price, and Chicago fans shouldn't be expecting that massive of a return. If Boston is willing to give up the draft capital, this could be a match made in heaven. Chicago could be looking at getting a high-round draft pick or getting a prospect in pick in return. Boston and Fleury would get to take a run at the Stanley Cup. Sounds like a win for everyone involved. The biggest question is would Marc-Andre Fleury accept a trade to Boston and leave his family for an extended period?
Boston Perspective by Connor Green
With the Tuukka Rask revival tour being canceled, the Bruins found themselves back to Linus Ullmark and Jeremy Swayman. It was evident from Bruins management that they did not believe in the young duo with their lack of playoff experience. So, where does this leave them now?
It's no secret that the Bruins front office is high on Swayman being the Bruins' goaltending future. But is there an opening for Marc-Andre Fleury to become a Boston Bruin? Fleury is in full control of his future and where he could end up if he's traded.
Assuming Fleury wouldn't veto a trade to Boston, what could the return be?
Considering the salary on Fleury's contract, Boston would need the Blackhawks to retain salary, which would instantly increase the package required to acquire him. I'm expecting to see a pick in the second or third round along with a mid-grade prospect who would potentially get the deal done. Yes, this is not a whopper of a package, but you also have to keep in mind Chicago has made it known they will do right by Fleury and only trade him if he wants to go to a particular team. Chicago doesn't have much leverage to drive up the price.
From the Bruins' perspective, does this make sense? I'm leaning towards no. It would definitely be an upgrade in net for the Bruins, and Fleury would sell tickets and jerseys like no tomorrow, but being an aging goaltender on an expiring contract isn't a good decision for a team with needs in the forward group and a left-shot defenseman. All-in-all, I wouldn't be upset if the Bruins acquired Fleury, but it would be a massive mismanagement of assets while trying to give Bergeron his last few shots at the Stanley Cup.
Let us know your thoughts in the comments below! Would you like to see Fleury in Black & Gold?
Episode 51: Interview w/Jack Ahcan Episode 51 is back in action talking about the New York Paingers ITR bet, Can Buffalo Sabres make the playoffs? Is Vancouver in the wrong on the Boudreau treatment? Is Tocchet the right guy? Is Daryl Sutter the last Dinosaur in the NHL?YouTube: https://www.youtube.com/@insidetherinkTwitter: https://twitter.com/CueTheDuckBoatzFacebook: https://www.facebook.com/Cuetheduckboats/Thanks for listening! Please rate and review our show on your favorite listening platform. Check out our partner's website at www.insidetherink.com for all your latest hockey news. Also, catch all of the games in this year's NHL season by signing up for ESPN+ at Insidetherink.com/ESPN