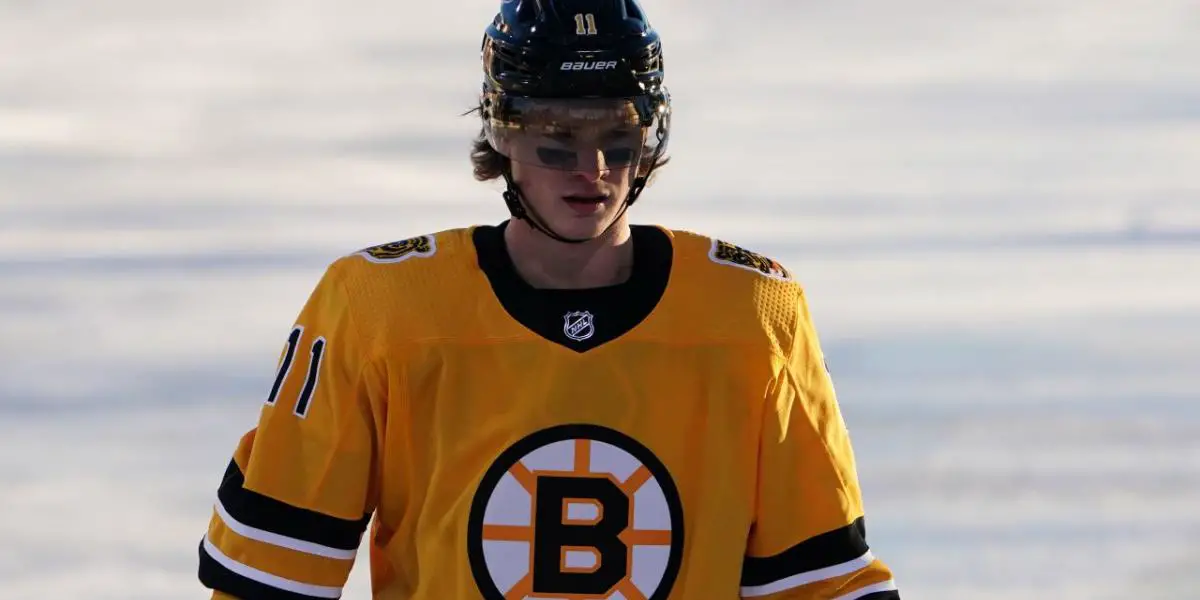 When the Boston Bruins take on division rival Tampa Bay Lightning tonight on the road, they will still be shorthanded by a couple of players as the injury bug has hit the Bruins at the worst possible time. Luckily for the Bruins, they will return a familiar face to the lineup tonight. Trent Frederic participated in yesterday's practice and looks ready to slot back into his third-line left-wing spot next to linemates Charlie Coyle and Craig Smith. Tonight's matchup is a must-win for the Bruins if they want to hold on to their third seed in the Atlantic Division that they currently hold. Boston holds the ROW tiebreaker, the Bruins and Lightning are presently tied with 93 points each through 70 games. With Toronto catching stride and putting distance in the standings over Boston and Tampa for the second seed now that they have 98 points through 71 games. These reaming 12 games of the regular season and head-to-head matchups will ultimately decide who will be a wild card team and who will most likely be the third seed in the Atlantic.
Frederic Makes Return to the Lineup
The great news about Trent Frederic couldn't have come at a better time as Fredric has been a critical component for the Bruin's third line. The chemistry built with Craig Smith and Charlie Coyle is unmatched as they have been productive all season, especially over the last two months. Besides the offensive impact Frederic has brought this season, the toughness he brings to each game is essential, as Frederic is never afraid to answer the call when his team needs it the most. His tough style of play sets the tone and keeps the other team's players in check when it comes to going after the Bruin's top players.
Pasta Still Sidelined with Core Injury
Unfortunately for the Bruins, it does appear that David Pastrnak will be sitting out for his second straight game after missing Tuesday's matchup against the Detroit Red Wings due to a nagging core injury. The timeline on Pastrnak is still unclear as the right-winger is listed as day-to-day but remains with the team during their current road trip. It is a good sign that he hasn't returned to Boston as they hope to get their leading goal scorer back in the near future, with his next opportunity being Sunday's game against the Washington Capitals.
McLaughlin Gets Promotion to Second Line
In the wake of the Pastrnak injury, head coach Bruce Cassidy has had to juggle his lines around to find some balance and combination that will work best and produce. After a 5-3 loss in Detroit on Tuesday, Cassidy again went back to the drawing board to find those combinations. As usual, the top line of Marchand, Bergeron, and Debrusk will stay the same, and with the return of Frederic to the third line, the combination of Frederic, Coyle, and Smith will be back to its normalness. This leaves just two lines for Cassidy to tinker with ahead of tonight's matchup. The most notable change will be to the second line as Marc McLaughlin was spotted in practice playing alongside Taylor Hall and Erik Haula as he looks to slot in there tonight. This is an ample opportunity for the rookie McLaughlin who has two career games under his belt and one goal that he scored in his first game.
Hampus Lindholm Still Questionable for Tonight
As for the status of Hampus Lindholm, who left Tuesday's matchup in Detroit with an injury, that is still determined as the top pairing defenseman missed yesterday's practice. In head coach Bruce Cassidy's press conference, where he updated everyone on the injury status of his players, he stated that Lindholm has yet to be ruled out for tonight's game, leaving some hope that he could return to the ice tonight alongside Charlie McAvoy. It's important to note that just like David Pastrnak, Lindholm has remained with the team and didn't return to Boston, giving Bruins fans hope that the injury is not too serious after all.
Episode 51: Interview w/Jack Ahcan Episode 51 is back in action talking about the New York Paingers ITR bet, Can Buffalo Sabres make the playoffs? Is Vancouver in the wrong on the Boudreau treatment? Is Tocchet the right guy? Is Daryl Sutter the last Dinosaur in the NHL?YouTube: https://www.youtube.com/@insidetherinkTwitter: https://twitter.com/CueTheDuckBoatzFacebook: https://www.facebook.com/Cuetheduckboats/Thanks for listening! Please rate and review our show on your favorite listening platform. Check out our partner's website at www.insidetherink.com for all your latest hockey news. Also, catch all of the games in this year's NHL season by signing up for ESPN+ at Insidetherink.com/ESPN