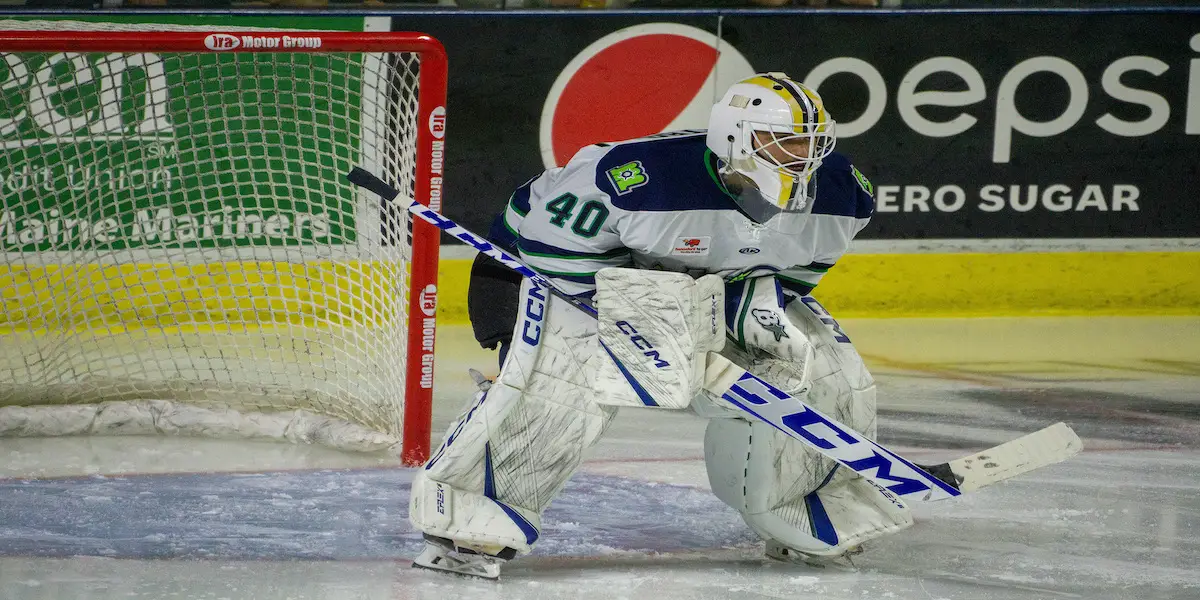 Michael DiPietro has had a noteworthy early start to his professional hockey career for sure. The 23-year-old goaltender was selected in the third round of the 2017 NHL Draft by the Vancouver Canucks during a season in which the Windsor, Ontario native posted a 30-12-2 record with six shutouts for his hometown Spitfires.
The 6-foot, 200-pound netminder played 174 games in the Ontario Hockey League over four seasons and posted a 2.52 goals-against average (GAA). DiPietro was just as solid in the postseason, with a 2.59 GAA. DiPietro would play his last 17 games in the OHL with the Ottawa 67s.
The netminder had an inauspicious National Hockey League debut at the age of 19 by allowing seven goals on 17 shots in an emergency call-up. The starting goaltender Jacob Markstrom was scratched with an injury, and a knee sprain sidelined backup, Thatcher Demko. The American Hockey League did not have a goaltender available at the time, so DiPietro got the call from the OHL.
As with a lot of young hockey prospects, DiPietro struggled with a lack of playing time due to COVID. During an interview with The Bruins Benders Podcast recently, DiPietro said that he went 417 days without playing in a hockey game. In 2020-21, the goalie played just four games with the Utica Comets and 34 games in 2021-22 with the Abbotsford Canucks.
Now in Maine playing with the East Coast Hockey League Mariners, DiPietro is starting to "find his love for the game again." His current opportunity comes as a result of a trade with Boston as part of the Jack Studnicka deal. DiPietro was packaged with minor-league defenseman Jonathan Myrenberg in exchange for DiPietro's childhood friend, Studnicka. The 23-year-old goalie is finding his game with a more regular playing schedule. In ten games with Maine, DiPietro is 9-1-0 with a 2.51 GAA, and a .918 save percentage.
The Boston Bruins have had great success developing goaltenders over the years. They have a handful of good goalie prospects and the top netminding tandem in the NHL with Linus Ullmark and Jeremy Swayman. The Providence Bruins have 23-year-old Kyle Keyser and 24-year-old Brandon Bussi as well. But DiPietro is now the number-one goalie with the Mariners and finally beginning a path that could eventually lead him back to the NHL with a real opportunity this time.
The Maine Mariners continue their solid season with a three-game series against Newfoundland from February 3-5. Maine is currently third in the North Division, eleven points behind division-leading Newfoundland.
Season 2. Episode 38. Special Guest Terrence Wallin
–
Bruins Benders Podcast
Maine Mariners Coach Terrence Wallin makes a return visit to recap the season. Should the Bruins make room for Tyler Bertuzzi? Will the Bruins move some core pieces? I guess there is more time for golf and more!