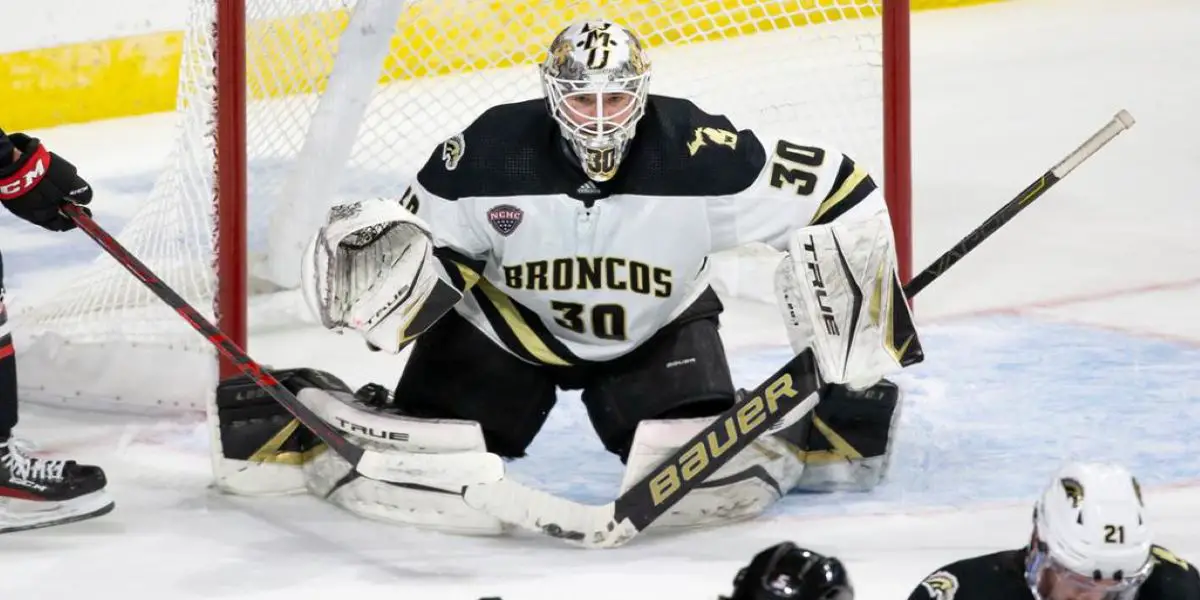 Last April, the Boston Bruins signed a tall, athletic goaltender with collegiate success over three seasons to a one-year contract with an amateur tryout. Fast forward almost eleven months, and that same young goaltender is statistically the top netminder in the American Hockey League. It has been a great first year in professional hockey for former Western Michigan University goalie Brand Bussi.
Bussi went undrafted even though he consistently showed improvement during his three seasons at Western Michigan University. In 77 games, Bussi was 46-25-5 with a 2.61 goals against average (GAA) and a .910 percentage. The 23-year-old played five games with the Bruins' American Hockey League affiliate Providence Bruins, winning three games with a 2.54 GAA and .920 save percentage. The South Beach, New York native also played four games with the Maine Mariners of the ECHL, winning three more games with similar numbers. Bussi's stock continued to rise, and the Bruins saw an opportunity to keep Bussi this season in Providence.
The move has paid off substantially as Bussi, while splitting time with Kyle Keyser and Keith Kinkaid, has posted a 15-2-4 record with a league-leading .934 save percentage. The 6-foot-5 goaltender has only lost one game in regulation since the beginning of December. Both of his regulation losses with Providence have come in games where the Sound Beach, New York native has allowed just one goal. Bussi has been dominant, with a 2.18 goals-against average which is good for third in the AHL.
Bussi, who turns 25 in June, was named an Atlantic Division All-Star and competed in the AHL All-Star Challenge. The Boston Bruins currently have the top goalie tandem in the NHL with All-Star Linus Ullmark and Jeremy Swayman. Bussi will be a restricted free agent at the end of the season and could also be a trade chip as the Bruins compete for a Stanley Cup. But for now, Bussi is leading the Atlantic Division-leading Providence Bruins to a playoff berth.
The 210-pound netminder had been with the Maine Mariners of the ECHL since training camp and served as the number-one goaltender in the early going. In four starts, he was 3-1-0 with a 2.50 GAA and a .922 SV%. He ranked third in the ECHL in minutes (240) and saves (119) at the time.
As the AHL season concludes soon, it will remain to be seen if the Bruins re-sign Bussi, who is currently making $825,000 this season. The Baby Bruins have 22 games remaining and face the Charlotte Checkers at home on Friday, February 24.
Season 2. Episode 38. Special Guest Terrence Wallin
–
Bruins Benders Podcast
Maine Mariners Coach Terrence Wallin makes a return visit to recap the season. Should the Bruins make room for Tyler Bertuzzi? Will the Bruins move some core pieces? I guess there is more time for golf and more!