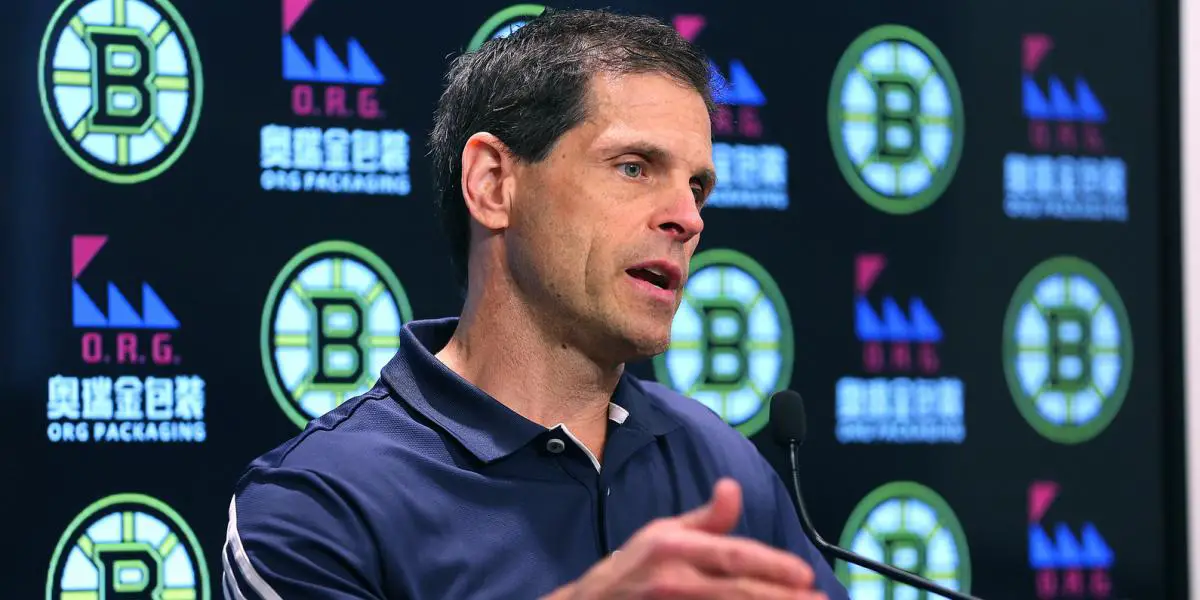 The Boston Bruins' off-season has taken quite a turn since their elimination from the Stanley Cup Playoffs in the first round. Just after the season, there was some uncertainty on the status of captain Patrice Bergeron, the trade request of Jake DeBrusk, and deciding which of Mike Reilly and Matt Grzelcyk should be traded. But even with these question marks, the understanding was that the Bruins would make tweaks and not significant changes and that Bruce Cassidy would remain as the head coach for the last year of his contract.
Recently tweaks have become major leaks as Charlie McAvoy, Brad Marchand, Reilly, and Grzelcyk have all had surgery that will sideline them for three to six months. So this is arguably Boston's two best players and two defensemen who were potentially on the trade block. And then, in a rather surprising move, the Bruins relieved Cassidy of his duties after telling him in exit interviews that he would be back.
After press conferences from both General Manager Don Sweeney and Cassidy, it felt as though Sweeney wanted to keep Cassidy, and maybe Team President Can Neely or the ownership did not. Sweeney mentioned that he went to Cassidy's home to give him the news. Furthermore, the Bruins arranged for Cassidy's presser, which is an unusual move for a team that just fired the coach.
So what happened in the two weeks from the time Cassidy was told he was safe to letting him go abruptly? It would seem as though maybe Sweeney and Neely are not on the same page. Could it be that Sweeney assumed he could keep Cassidy for one more year? Did the players voice their concerns in exit interviews, forcing Neely to step in? And if so, was there an ultimatum that Sweeney would have to fire Cassidy to save his job?
Suppose the latter of those scenarios is true. How much longer does Don Sweeney have to get the Bruins back on track with several rehabbing players, potentially a retired Bergeron, the organization's top prospects still at least a year away, and just under three million dollars of cap space? If the team was willing to make a change in coach and Neely is adamant that the team needs to "change the way we coach," then why not bring in a new general manager much the same way Sweeney was added in 2015 to retool a roster that was two years removed from a 2013 Stanley Cup runner-up finish? This seems like a job for Houdini.
There seems to be a disconnect in the Bruins' executive offices. The feeling has been that the Bruins have struggled with their identity and that Neely is holding onto the traditional physical, Big Bad Bruins, while Sweeney wants a more modern, puck-moving, skating game. But now, there has been a difference of opinion on the coaching. Sweeney clearly wanted Cassidy to stay for a while longer, and Neely had other ideas.
Now the question is how long will Neely give Sweeney to retool. The NHL Draft is less than a month away, and Sweeney has a much-maligned draft history with Boston. There is no first-round pick. David Pastrnak's upcoming free agency is the elephant in the room. Who will be the coach, and if you aren't quite sure who it is, then how do you draft according to the style of play? Do the Bruins really want Sweeney picking the coach when his status is unstable? So many questions, so many paths to take. The path is now paved by Sweeney with Neely, the back seat driver.
The Bruins rebound after a 3-game skid. NHL ratings are down on ESPN and Turner. Don't mess with the chemistry. Concerns about the Bruins veterans wearing down. Plus Beauties and Benders.