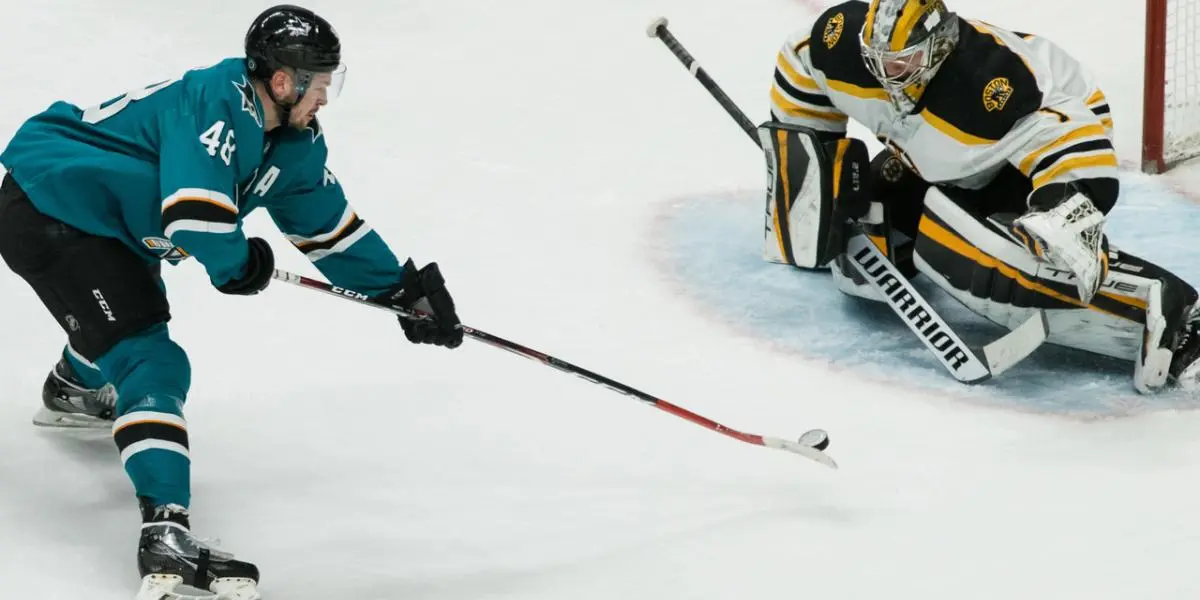 Jeremy Swayman has been an NHL goaltender for just over a year for the Boston Bruins, and the fan base is excited for what he projects to be for the franchise. A bonafide starting goalie to carry a franchise through some winning years. Unfortunately, Swayman is just not ready to be the savior in black and gold.
Linus Ullmark was brought in on a long-term contract to be the backbone in net for the Bruins, thankfully?
Development
Don Sweeney and company made it very clear that they didn't think Swayman was the right choice to rely on this season with the Tuukka Rask comeback attempt. This was a heavily debated topic on who Rask would beat out between the pipes, and the answer was Jeremy Swayman. While Swayman did have the ability to go up and down from the AHL without waivers, it was always going to be Swayman.
Sweeney had signed Ullmark to a contract while knowing that Rask would most likely end up in net for the Bruins this season. For Swayman, this isn't a bad thing. Yes, he would lose out on the NHL pay and privileges, but he would be the starter in Providence and have the ability to manage to be a professional goalie. Swayman has only started in 50 professional games; NHL and AHL combined.
Toward the beginning of the year, Swayman was sheltered to an extent. The only playoff contenders he faced were Calgary, Carolina, Tampa Bay, Vegas, and the New York Rangers. In those games, Swayman has a SV% of .875. His starts were primarily against non-playoff opponents outside of those five games. I believe this contributed to the elevated statistics in his play. While carrying a SV% of .923 and a GAA of 2.15, expectations were now elevated.
Obviously, Swayman is exceptionally young for goaltending standards, so judging talent and longevity is fruitless. People have made comparisons to Matt Murray, Jordan Binnington, and Carter Hart when referring to the talent that Swayman has. While Murray and Binnington have Stanley Cup victories on their belts, this terrifies me. All three goalies mentioned have fizzled out after 2-3 good seasons in the net, which is not something that instills confidence.
The Future
So, where does Swayman go from here? With Ullmark being signed for four more years, odds are Swayman will be the 1B in Boston until a time where he can really wow the coaching staff. Could getting the bulk of starts in Providence be beneficial? Maybe, but the Bruins don't have any other NHL-caliber backup that could replace him at the moment. I believe that Swayman will be THE starter in Boston in 2-3 years.
Linus Ullmark does have trade protection through the end of next season, and you can almost guarantee that he will at minimum play through the rest of next season. Then serious conversations could be had about the future of the net. If you're asking yourself, "could the Bruins move on from Ullmark?" I would tell you to look at the rest of the team, most players are signed until the end of next season, and the Bruins will have plenty of cap space to maneuver. However, if the Bruins find themselves at a point where a rebuild or retool is in the cards, Ullmark could easily be moved for a good return while still having Swayman between the pipes to carry the next core into the future.
Conclusion
While I do not think Swayman is the answer for the Bruins right now, he is showing the poise and finesse that you would expect from an NHL starting goaltender. As Swayman continues developing and gaining experience over the next couple of years in a sheltered role, I believe he will blossom into an All-Star net-minder. My only hope is that Swayman isn't forced into a starting role too soon and ends up just like Murray and Binnington.
Season 3 Premiere! Bruins Prospect Challenge recap. Training Camp begins. The Bruins have a new captain. Jake DeBrusk contract negotiations beginning soon. The Bruins Historic 100 and new sweaters!  The Centennial season is here! DraftKings Sportsbook – Boston's hometown Sportsbook is LIVE right here in Massachusetts! Bet local on all your favorite sports from the comfort of your own home with DraftKings. To celebrate, ALL new customers will receive up to TWO HUNDRED DOLLARS in BONUS bets when you sign up for DraftKings Sportsbook using code ITR! You can now bet local on money lines, spreads, props, and more with one of America's top-rated Sportsbooks – DraftKings Sportsbook!  Download the DraftKings Sportsbook app and sign up with code ITR to get up to TWO HUNDRED DOLLARS in BONUS bets to use now that mobile sports betting is live in Massachusetts. That's code ITR only at DraftKings Sportsbook. If you or a loved one is experiencing problems with gambling, call 800 327-5050 or visit helplineMA.org to speak with a trained specialist, free and confidentially, twenty four seven. 21+. Physically present in MA. Eligibility restrictions apply. Subject to regulatory licensing requirements. Eligibility and deposit restrictions apply. Opt in required. Bonus issued as free bets. Terms at draftkings.com/MA.