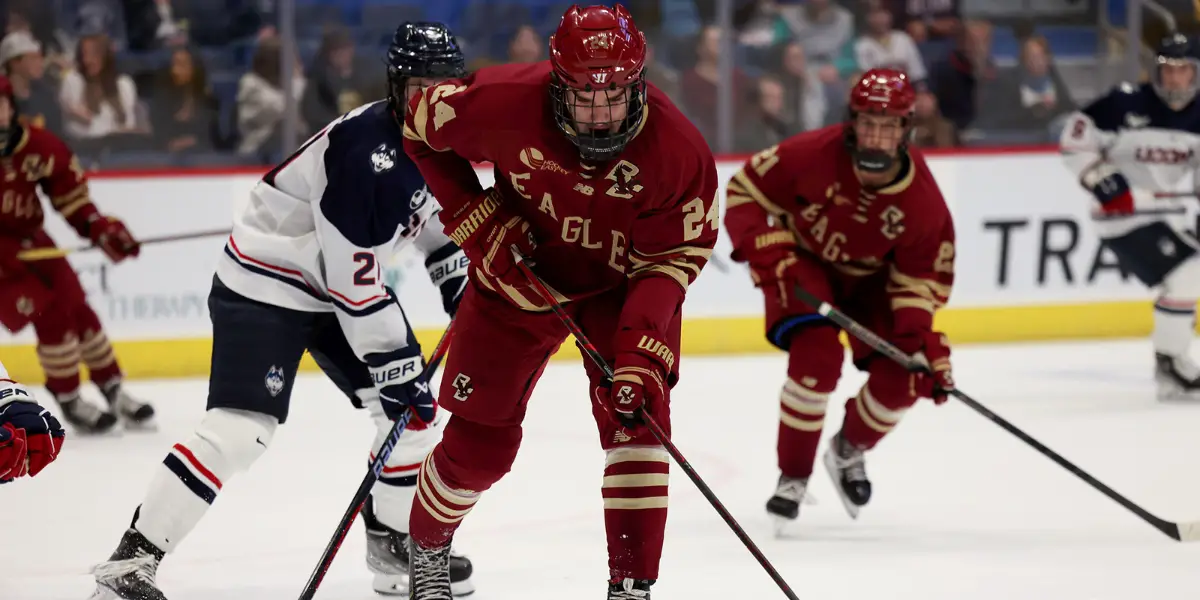 The Boston Bruins have been the best team in the National Hockey League pretty much wire-to-wire this season. General Manager Don Sweeney has put together a strong roster of veteran players, made key additions at the trade deadline, and has seen some of his own draft picks become key members of a Stanley Cup contender.
But drafting and player development will be on display as early as next season as serious roster decisions have to be made as the team works through salary cap restraints and an aging group that has an average age of just under 30 years old. There are many unrestricted free agents to decide on as well. The Bruins will need young players to assume roles soon.
At the start of the season, many hockey experts had the Bruins last in prospect value. But as this season has unfolded, there are positive reports on several recent draft picks and undrafted free agents. One seventh-round pick from the 2021 NHL Draft turns heads in the competitive Hockey East Conference.
Boston College freshman center Andre Gasseau is one of the hottest players in Hockey East as the Eagles enter the conference tournament Thursday night against UMass-Amherst. The Garden Grove, California native has scored ten goals with 19 assists in 35 NCAA games this season. Gasseau has been on a tear lately, with five goals and seven assists in his last ten games. The 6-foot-4, 216-pound forward has great size with a powerful wrist shot that has been on display recently. There are good bloodlines in Gasseau's family as his father, James, was a sixth-round pick of the Buffalo Sabres in 1984 and played for the Rochester Americans of the American Hockey League.
Gasseau was a product of the United States Nationals Development Program, where he registered 27 points for the U-18 National Team in 2020-21. Last season, played for the Fargo Force of the United States Hockey League and had 22 goals and 16 assists in 60 games. The left-shot center will turn 20 years old in July and is likely to remain at Boston College for at least one more season. Gasseau remains unsigned and could be a candidate to sign with Boston at the end of his sophomore season. Two of his teammates, Trevor Kuntar and Oskar Jellvik, are also part of the Bruins organization. Kuntar was a third-round pick of Boston in 2020, and Jellvik was selected in the fifth round in 2021.
Andre Gasseau is a late-round pick with the size and skill to possibly be a candidate to play in the National Hockey League someday. He will be a player to watch in the upcoming Hockey East Tournament.
Season 2. Episode 23. Bruins Oilers 2 Bruins CollapseARoo
–
Bruins Benders Podcast
Bruins get sloppy and blow a lead vs Edmonton. Hockey in Houston and Atlanta. Marchand not feeling himself. Poor puck management is concerning. Plus Beauties and Benders and more!