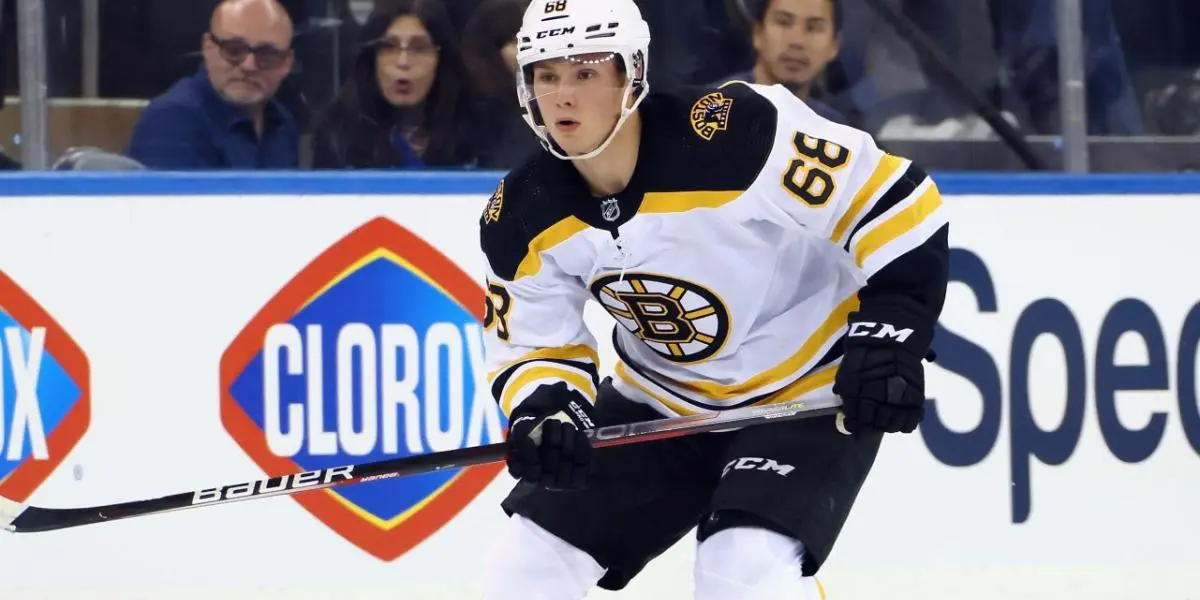 The Boston Bruins' much-maligned prospect pool will be on display in the upcoming Prospect Challenge in Buffalo. The team opened Rookie Camp on Wednesday, and there are several players to keep an eye on when the Bruins play three games at the rookie showcase.
Recently the Bruins' prospect pool was rated 32nd in the NHL by The Athletic, and their highest rated player under the age of 23, 2021 first-round pick Fabian Lysell, was ranked 170th. Talent is a little thin on the farm for Boston, so fans might be hoping this season's rookie camp provides a glimmer of hope for the future.
The group of rookies, led by Lysell, includes 2022 second-round pick, Matthew Poitras. The 18-year-old played for the Guelph Storm in the Ontario Hockey League last season and registered 50 points in 68 games. Three other 2022 draft picks will be on the roster, fifth-round pick defenseman Frederic Brunet, sixth-rounder goaltender Reid Dyck, and seventh-round pick defenseman Jackson Edward. The Bruins' two fourth-round draft picks, Cole Spicer and Dans Locmelis, are not on the roster.
Forward John Beecher will be in rookie camp. The 2019 first-round pick should get a long look by the Bruins in camp. The former Michigan Wolverine's size and speed will be on display in Buffalo beginning Friday. This shapes up to be an important camp for 2018 third-rounder Jakub Lauko. When drafted, the Bruins thought they might have had a steal in the draft, but last season Lauko struggled with just three goals in 54 games for the Providence Bruins in the American Hockey League. Lauko projects to play on a line in camp with Lysell and Georgii Merkulov, who signed with Boston after completing his freshman year with Ohio State.
Two of the better prospects in the Bruins' system will not be attending camp. 2020 second-round pick Mason Lohrei is headed back to Ohio State for his sophomore season. The 6-foot-5 left-shot defenseman is coming off an off-season knee procedure as well. Center Brett Harrison, who was selected in round three of the 2021 draft, will also be absent from camp. Harrison was injured in a preseason OHL game and is recovering.
The Bruins will play three games in the Prospects Challenge. Boston faces Ottawa on Friday, Pittsburgh on Saturday, and New Jersey on Monday, the 19th.
The Bruins make history! Patrice Bergeron gets 1,000 points! NHL officials love to disallow goals. Is Patrick Kane a fit and our favorite Thanksgiving sides. Plus Beauties and Benders and more!