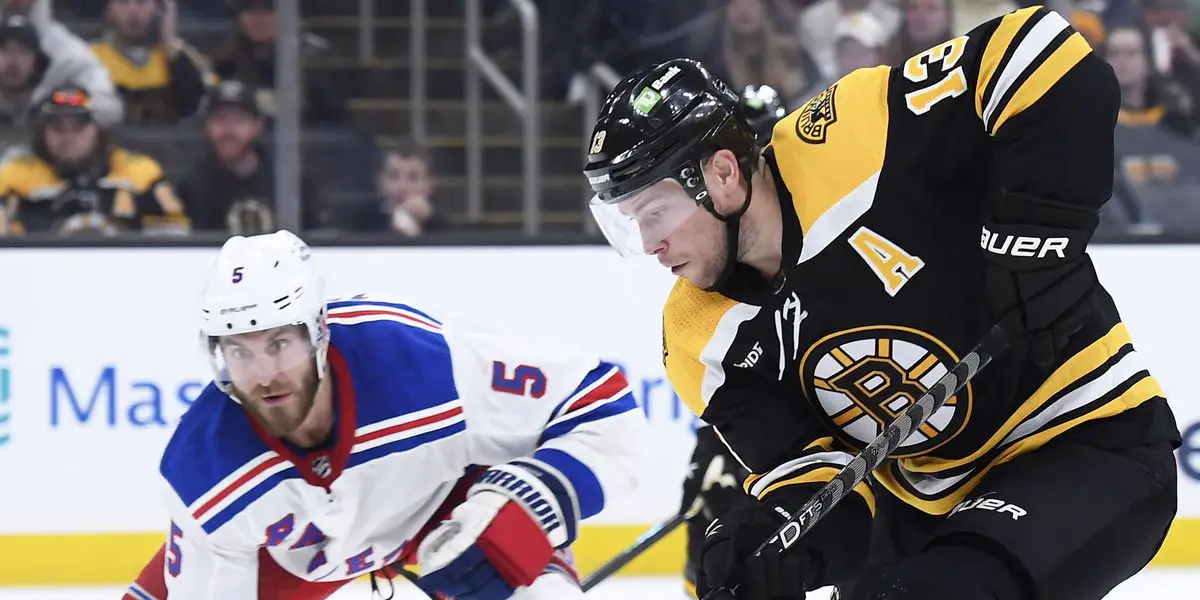 After getting off to a sluggish start, the New York Rangers are back on track and are playing like one of the best teams in the league.
As of this writing (Wednesday, January 18), the team is third in the Metropolitan Division and ninth in the league with a 25-13-7 record for 57 points. Since December 5, the Rangers are 14-3-2.
While the team's record is nothing to slouch at, the team that they will play on Thursday night, January 19, at Madison Square Garden, the Boston Bruins, has a record that is not only impressive but is also downright scary.
The Bruins come into their tilt with the Rangers having won three straight games and are sitting on top of both the Atlantic Division and league standings with a 35-5-4 record for 74 points. If you are counting at home, that is 17 points more than the Blueshirts.
When these two teams played each other back in early November, the Bruins won by a convincing 5-2 score. The Bruins were too much to handle for the Rangers as they could not match up with what the Bruins threw at them all game long.
Fast forward over two months later, and the Rangers are in a much better position. They are playing better hockey, they are being more consistent, they have Igor Shesterkin at the top of his game, and the team's best players are doing their jobs.
This game will be a measuring stick to see exactly where the Rangers are at. Sure, they have beaten some good teams of late in the Carolina Hurricanes, Minnesota Wild, and the Dallas Stars, but those teams pale in comparison to the Bruins.
For starters, the Rangers are going to need to do everything they can to generate offense against the league's best defensive team. The Bruins have given up just 92 goals in 44 games (2.09 goals against per game), and they also do not give up a lot of shots, as they are seventh in the league in having allowed an average of 29.2 shots per game this season.
While the Rangers have also been a good defensive hockey club this season as they are fourth in the league in goals allowed, the Bruins are second in the league in goals scored as they have scored 168 goals (3.82 goals per game).
The Blueshirts will have to worry about stopping the likes of David Pastrnak (63 points), Brad Marchand (41 points), Patrice Bergeron (35 points), David Krejci (35 points), and Taylor Hall (30 points). If the Rangers can find a way to limit this team's scoring opportunities and keep the puck away from these players, they will have a much better chance of winning this hockey game.
Speaking of winning this hockey game, the Rangers will need a big effort from Shesterkin. In their previous meeting with the Bruins, Shesterkin stopped 32 of 36 shots, and while that is not bad, he needs to keep the goals against down.
The Bruins also have the league's third-best power play and are first in killing penalties. As such, the Blueshirts will need to stay out of the box, and if they get power play opportunities, they will need to get more pucks on net than they have been, as their power play has been dreadful of late.
There is no doubt that this is a big game for the Rangers. Should they manage to win, it will go a long way, not only in terms of boosting their confidence but also dictating how they play going forward.
The boys are back after a long break but have plenty to talk about as the playoffs are in full swing. We go series by series, looking at how teams have fared so far and who will come out on top. Thanks for listening! Please rate and review our show on your favorite listening platform. Check out our partner's website at www.insidetherink.com for all your latest hockey news.