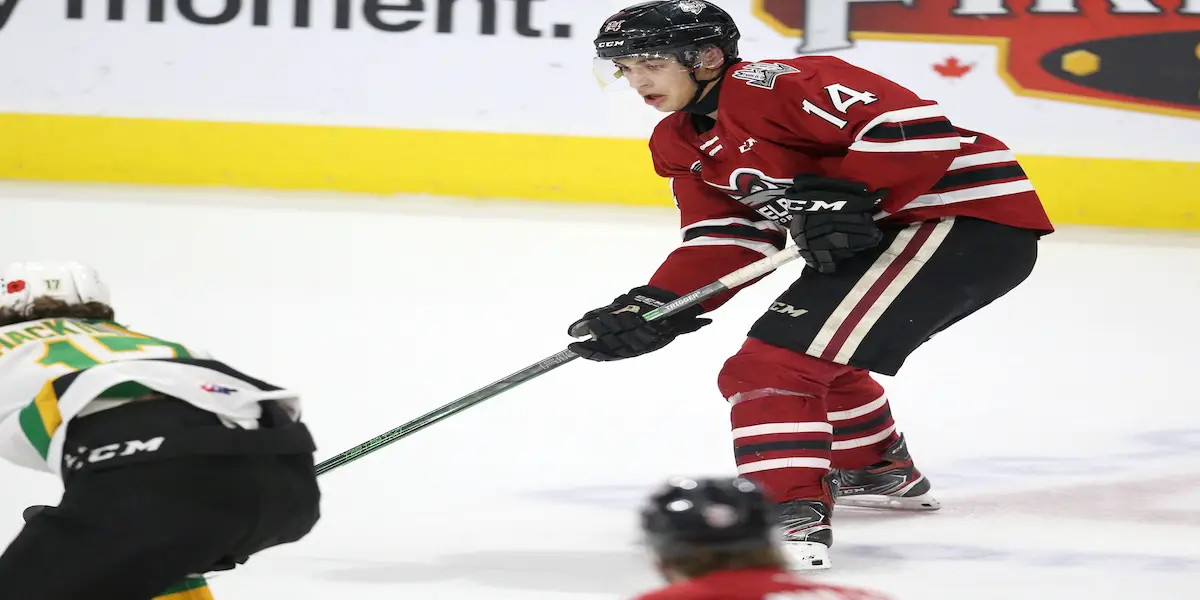 The Boston Bruins are currently the top team in the National Hockey League and trying to win another Stanley Cup for a few members of their aging corps. Their AHL affiliate Providence Bruins, is second in the Atlantic Division at 16-6-2, with top prospects Fabian Lysell and Georgii Merkulov each registering 19 points. Lysell is currently playing for Sweden in the World Junior Championships. And in the Ontario Hockey League, an 18-year-old center is taking the lead by storm with the Guelph Storm. Matthew Poitras is showing signs of being a candidate to play in Boston in the future.
On Wednesday night, Poitras registered his first OHL hat trick in a 5-3 win over the Windsor Spitfires. The 5-foot-11, 175-pound forward scored three goals in just three shots and finished with a plus-2 rating. The young pivot also won eight of his twelve face-offs on the night. Poitras scored two goals in the first and then completed the hat trick with the eventual game-winning goal in the second period.
Poitras leads the team with 37 points in 28 games with a plus-3 rating and has won 142 face-offs overall. The shifty playmaking center was drafted in the second round (54th overall) by Boston in the 2022 NHL Draft. Poitras was Guelph's first-round (12th overall) pick in the 2020 OHL Priority Selection from the Whitby Wildcats U16 program. In 96 games over two seasons with the Storm, Poitras has 87 points. The Bruins' prospect is turning heads with his playmaking ability and feisty play.
The young forward has had an adventurous season so far after being involved in two slew-footing incidents, one of them leading to a suspension. As a draft prospect, Poitras was considered a skilled, hard-working center who played a gritty, pesky style. That has been evident with Guelph. Offensively, Poitras has been solid all season and providing the type of skill the Bruins liked when they drafted him in 2022. Matthew Poitras will be a player to monitor this summer in the rookie development camp for the Bruins.
Season 2. Episode 37. It's Going To Be A Long Off-Season
–
Bruins Benders Podcast
The Bruins off-season will be longer than expected. We like some CHL rules changes. The Bruins defense needs to be nastier, not just bigger. Can this core going forward win a Cup? Plus Beauties and Benders and Rod Brind'Amour whines.