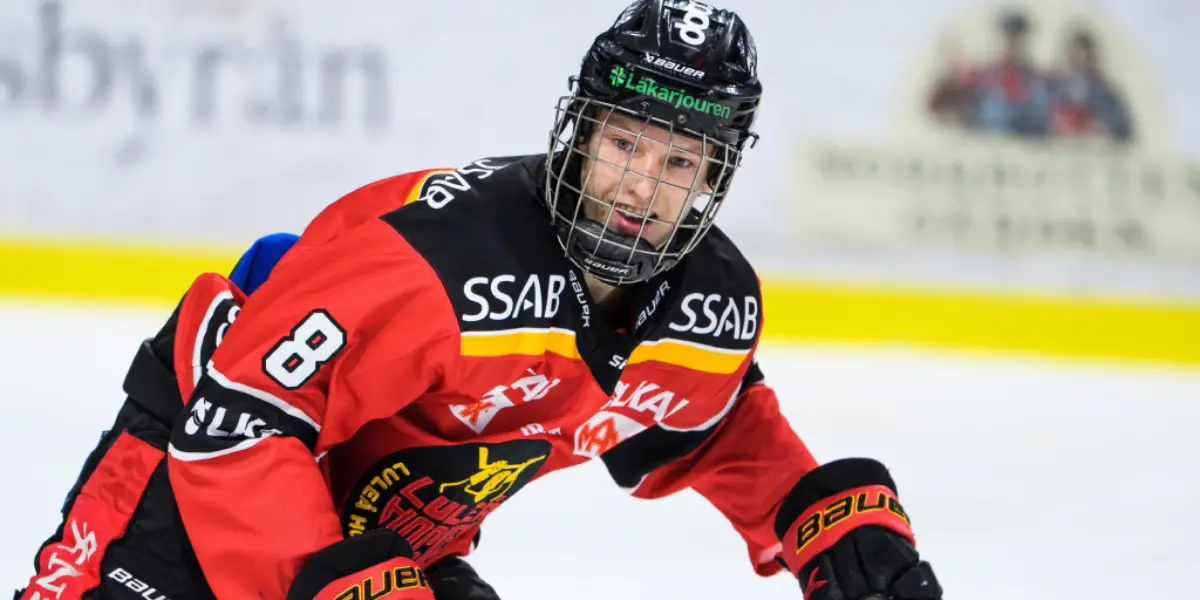 Boston Bruins prospects have made big strides this season, and one of them that has made the most improvement is 2022 fourth-round draft pick Dans Locmelis who is playing for Lulea in the Swedish Nationell League.
In 44 games, Locmelis scored 25 goals with 34 assists and tallied four goals and three assists in six postseason games as Lulea was eliminated in the quarterfinals. In Game 2 of the best-of-three series, Locmelis had two goals and two assists in a 7-2 win to stay alive at the time. The UMass-Amherst commit scored three goals and won a Silver Medal in the U-20 World Junior Championships playing for Latvia. He is likely to play in the tournament again in May.
In two seasons with the Lulea J20 team, the Jelgava, Latvia, native played 88 games and registered 43 goals and 50 assists. At 6-foot, 170-pounds, Locmelis is still filling out his frame as well. The 19-year-old attended Bruins Rookie Development Camp last summer and impressed the organization with his skill set. The left-shot forward should be included in this summer's rookie camp roster again.
Before the 2022 draft, eliteprospects.com had the following scout on Locmelis: "The forward uses crossovers on the rush to keep his approach deceptive. He uses the width of the ice, scans for teammates, and passes to them early in transition sequences. He protects pucks in the offensive zone, attacks gaps in coverage, and reloads above the puck when his team loses it. He also keeps his stick in passing lanes to intercept opposing passes". In that draft, Boston chose three centers with their first three picks. Matthew Poitras was selected in the second round and totaled 95 points with the Guelph Storm of the Ontario Hockey League this season. Cole Spicer was chosen in the third round and just completed his freshman year at the University of Minnesota-Duluth, where he scored three goals with three assists in 32 games.
The skilled center will now take his talents to The University of Massachusetts at Amherst and play in the Hockey East Conference within closer proximity to Boston. One of his teammates will be Cameron O'Neill, a fifth-round pick of the Ottawa Senators. Look for Dans Locmelis to play multiple years there before potentially signing an entry-level contract with Boston in the future. Locmelis is a center that could fill a need in the coming seasons for Boston.
Season 2. Episode 38. Special Guest Terrence Wallin
–
Bruins Benders Podcast
Maine Mariners Coach Terrence Wallin makes a return visit to recap the season. Should the Bruins make room for Tyler Bertuzzi? Will the Bruins move some core pieces? I guess there is more time for golf and more!