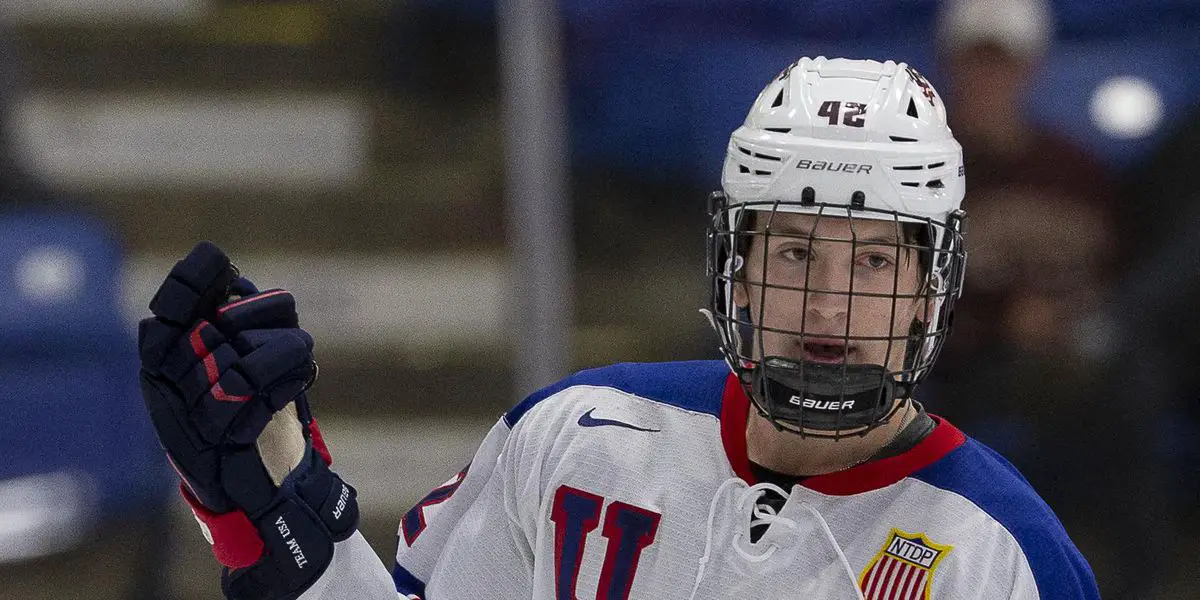 Many have looked down upon the Boston Bruins prospect pool and laughed as recent draft picks that have not developed at the rate that many expect these days. While this is true, it's also essential to remain patient as good things come to those that wait; at least, we hope so in Boston. A lot of the Bruins prospect pool is the age range of 19-22 leaving a lot of hope that these players need a few more years to fill out physically improve certain aspects of their game that will thrust them forward to the next echelon of skilled hockey players that are in the NHL. Time and patience are the keys to wavering the storm that our prospects are busts and allowing them to develop into the players the organization envisioned they would be when they were drafted.
Ty Gallagher Named to Hockey East All-Rookie Team
When many started to think the state of the Bruins prospect pool was looking bleak besides Mason Lohrei and Fabian Lysell, a new name is appearing thanks to his strong performance in his rookie year in none other than Beantown. That's right, the young defenseman Ty Gallagher who has been putting up a solid first year at Boston University just got recognized for it. The 19-year-old right-shot Bruins defensemen prospect just received notice that he was selected to the Hockey East All-Rookie Team. This comes as no surprise as Gallagher has been anchoring a Terriers team that he just helped win the historic Bean Pot last month.
On the season, Gallagher put up stats of five goals, 11 assists for 16 points across 33 games for Boston University, where he also led all Hockey East rookies with 44 blocked shots. Gallagher, who was selected in the seventh round during the 2021 draft, has looked solid so far in his young career and has been awarded for it not just with the All-Rookie team but also by being named Hockey East Rookie of the week twice, once on October 25th and the other time on January 10th. Gallagher also took home Hockey East Defender of the week back on December 13th to top it all off. The Michigan Native who is listed at 6'0″ and 187 lbs. is showing promise as he continues to grow and build his game up in one of the best College Hockey Conferences in the US, leaving a lot of hope for the future when it comes time to promote him the big leagues.
Mason Lohrei Finalist for Big Ten Defensive Player of the Year
Already one of the two top prospects in the Bruins organization, Mason Lohrei continues to make a name for himself and show why he was the right decision when the Bruins drafted him 58th overall in the second round of the 2020 draft. After three years of playing juniors in the USHL for the Green Bay Gamblers, Lohrei has taken his talents to the NCAA, where the 21-year-old now suits up for Ohio State University. In his first season for the Buckeyes, the freshmen Lohrei already finds himself being named a finalist for the Big Ten Defensive Player of the Year award thanks to his ability to use that massive 6-foot-4 frame and strong puck-moving skills that have separated him from others in his young career. Lohrei's ability to move the puck has led to 25 assists, leading the Buckeyes and helping put Lohrei top ten in the Big Ten for points and assists. Lohrei is also cementing himself in Buckeyes history during year one by becoming just the 11th player in team history to have registered a plus-5 rating in a game since the 1999 season. Keep an eye out for whether Mason Lohrei wins Big Ten Defensive Player of the Year as the results will be announced on Tuesday, March 15th, so stay tuned.
A deep dive into the Atlantic division, did Detroit do enough to be a playoff contender? Will goaltending be Toronto's Achilles heel? What's going on in Florida?Thanks for listening! Please rate and review our show on your favorite listening platform. Check out our partner's website at www.insidetherink.com for all your latest hockey news.