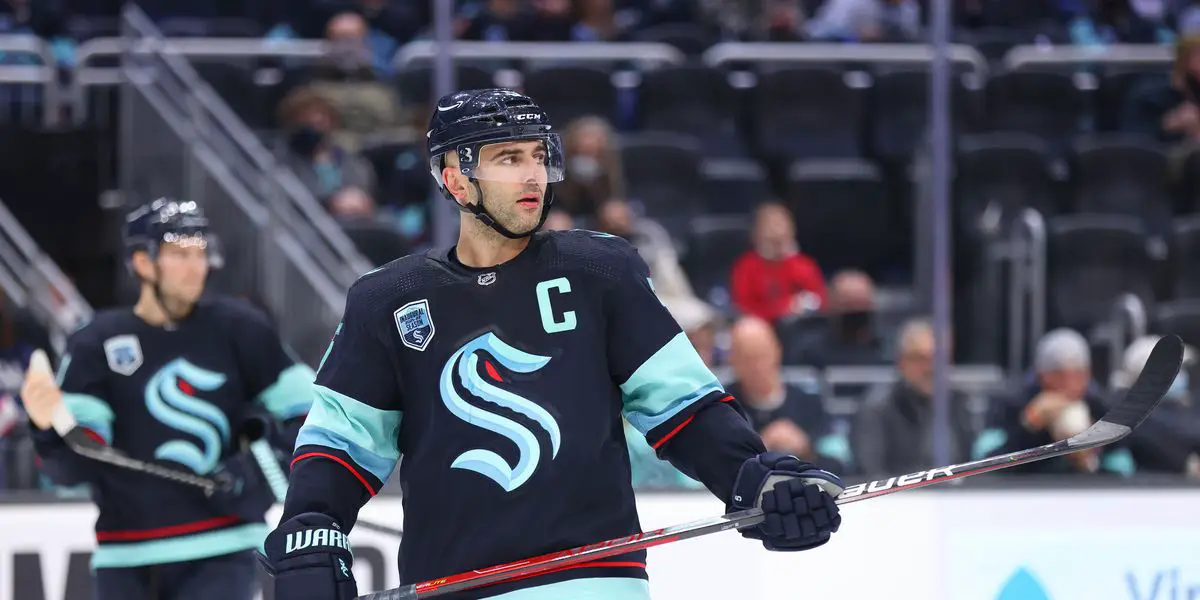 All Bruins fans understand this team is a couple of pieces away from being a legit Cup-winning team. The Bruins are still without defensive elements and that true second-line center, even with the hot streak since the new year started. These are the two spots on the roster that continue to be talked about and the ones that fans expect Don Sweeney to address at this year's trade deadline. We have seen Don Sweeney make deadline deals, especially the Taylor Hall deal last season. This year, will Sweeney and company pull the trigger again and bring in a big name like Jakob Chychrun or settle for a lesser player like Jacob Middleton or the veteran Mark Giordano. All three players bring their own set of skill sets and different attributes to this Bruins team that can help benefit in some way, especially Mark Giordano, who immediately slots in as a leader alongside Patrice Bergeron and Brad Marchand.
What Giordano Brings to Boston
When looking at Giordano, the first issue some fans might have is his age, as he's playing at age 38 this season which is a concern but is also only a few years removed from winning the Norris Trophy in 2019. The Bruins know precisely what they are getting with Giordano, a solid left-side defenseman who can still produce some offense and be an anchor for the young defenseman in the locker room. He is a plug-and-play player who instantly solidifies that left side of the defense and has instant locker room respect from his years of playing with Bergeron and Marchand on Team Canada. Giordano will be an unrestricted free agent at the end of the season, so he is indeed a rental player that gives that final push for this season without blocking the younger players the Bruins have waiting down in Providence. On the season, Giordano has put up six goals, 17 assists for 23 points for the first-year Seattle Kraken team.
What Will it Take to Get Giordano?
For any team to acquire Giordano, they will first have to make sure they are on Giordano's 19 teams limited no-trade clause that he has in place and absorb the cap hit that he has attached to his contract or hope Seattle retains some salary which looks possible. Seattle's general manager has been outspoken with the media making it known that they are willing to eat salary in a trade which is a good sign for the Bruins, who may not have that much room to maneuver with. If both those stipulations add up for the right team, which Boston could make happen, it all comes down to what Seattle will want in return for their first-ever team Captain.
While some are reporting Seattle can get a first-round pick and a prospect in return for the 38-year-old Captain, some are on a different page, with a second or third-round pick being needed to get the deal done. When it comes to what to give up, a first and a prospect may not make sense for a Bruins team that is still in the bubble of whether they are true contenders to win it all. There's no doubt at all that the Bruins are a playoff team, but being able to run the tables and take down the powerhouses of Tampa, Carolina, and even Florida if they are matched up at some point in the playoffs is another question. If the Bruins can get it done for a second or third, especially considering that second-round pick will fall later in the round, it never hurts to take a flier on a solid veteran player who can give that push for a playoff run.
The boys are back after a long break but have plenty to talk about as the playoffs are in full swing. We go series by series, looking at how teams have fared so far and who will come out on top. Thanks for listening! Please rate and review our show on your favorite listening platform. Check out our partner's website at www.insidetherink.com for all your latest hockey news.