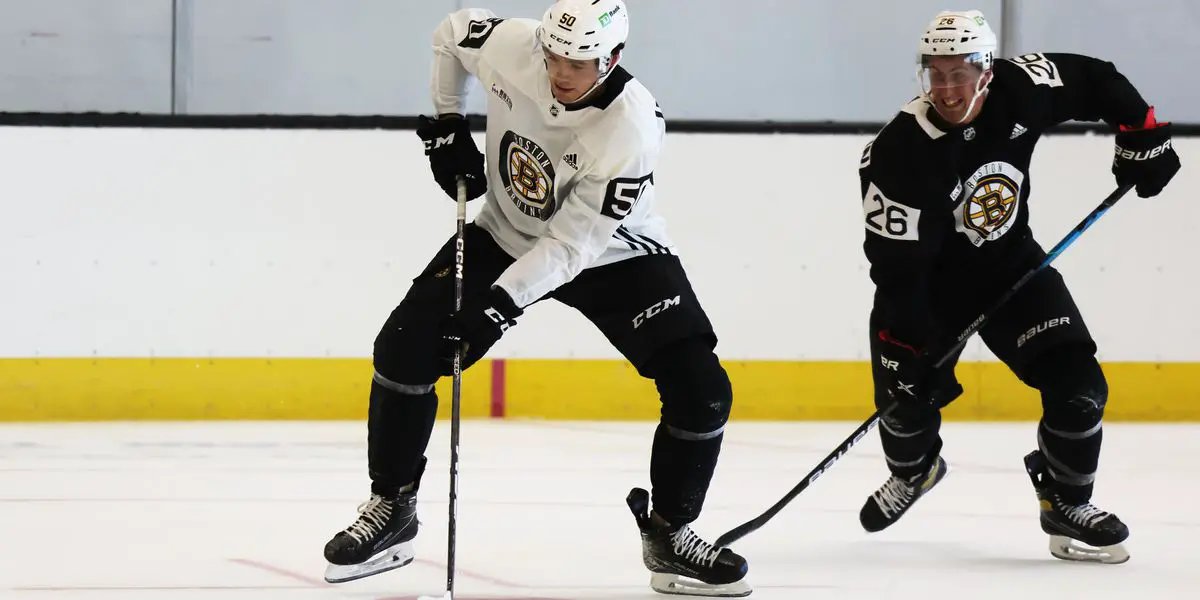 The Boston Bruins went into this off-season with plenty of question marks regarding their center depth. Patrice Bergeron was a UFA, and David Krejci had departed the year prior to play in front of family in his home country of Czechia. The Bruins were left with just Erik Haula and Charlie Coyle and both were not the answer to fill the top line spot. Luckily for the Bruins nation, Bergeron decided to come back for another run and Krejci returned home to Boston to join him giving the Bruins solidified depth in their top six at center. General manager Don Sweeney swapped out the aging Erik Haula for the young Pavel Zacha, and besides that, the cap-strapped Bruins stayed quiet.
This offseason, the Bruins aimed to get younger up the middle, and they managed to get older. Sooner or later, Bergeron and Krejci will no longer be walking through the doors at Warrior Ice Arena and lacing up their skates to lead this team. The youth movement is coming in the future, and it's time to look at the present with the upcoming 2022-23 season and the battles newly hired head coach Jim Montgomery will be keeping an eye on.
The Top Three Lines Are Set in Stone
It's a no-brainer regarding who will anchor the Bruins' top three lines. The 37-year-old Bergeron, who many thought was hanging his skates up for good returned on a very team friendly contract that carries a $2.5 million average annual value (AAV) and another $2.5 million in incentives.
Bergeron will once again anchor the Bruins' top line as he still has plenty left in the tank. He is coming off a season where he scored 25 goals and tallied 40 assists while winning his record fifth Selke Trophy.
The long-time second-line center will return to his rightful spot as Krejci will line up anchoring a line with fellow countryman David Pastrnak on his right and the explosive Taylor Hall on his left. Krejci signed a one-year $1 million AAV deal with another $2 million in performance-based incentives to run it back in Boston. With the return of Krejci, the Bruins' second line may have just become their best line, as this trio should be filling up the stat sheet every night.
Entering last season, Charlie Coyle had the opportunity to cement himself as the Bruins' No. 2 center behind Bergeron after Krejci's departure. It turned out Coyle was better suited for the third line, and Haula stepped up to fill the void. The third line is the perfect spot for Coyle, but the only downfall is his cap hit as he carries a $5.25 million AAV this season, which is pricy for a third liner. Coyle will once again anchor a line alongside Trent Frederic and Craig Smith to open the season. When Brad Marchand returns from his off-season hip surgery, it will most likely be Pavel Zacha sliding down to the third line left wing spot giving Coyle a skilled winger to play alongside.
Fourth-Line Center Spot Up For Grabs
Jim Montgomery will have a handful of options regarding his fourth-line center job. Training camp will undoubtedly decide which way Montgomery will go as he will have veteran possibilities and young players looking to break into the league.
Tomas Nosek
The 30-year-old Nosek was one of three bottom-six free agent signings by Sweeney last season, and he settled in as the fourth-line center for most of the season. While he was serviceable throughout the year, the former Golden Knight wasn't spectacular as he had three goals and 17 points along with a minus-11. Nosek also has the ability to play wing and will be pushed this camp by some of the young players. At this point in time Nosek is not a guaranteed lock at center.
Jack Studnicka
Will this finally be the season Studnicka makes the roster at his natural position? Studnicka has mostly seen NHL action as a right-wing but has proven in the AHL that he is most effective when at center. Studnicka has the production at the AHL level while playing for the Providence Bruins but it's time to take the next step in his development and claim a spot at the NHL level.
Don Sweeney has not made it easy for Studnicka to get a roster spot with his veteran signings last year, but he was brought back on a two-year deal. This season is two-way, and 2023-24 is one-way, so if Studnicka is unable to stick this season, he will have one final chance the following. A strong camp is needed for Montgomery to roll the dice leaving it up to Studnicka to decide his future.
Johnny Beecher
This will be Beecher's first NHL training camp opportunity this season after signing last spring following his junior season at the University of Michigan. In 2019 the Bruins selected Beecher 30th overall in the NHL Entry Draft. He has impressed so far, especially during the recent Prospect Challenge in Buffalo, where he showed off a scoring touch many thought he lacked. Beecher is ready to do what it takes to push for a spot as he looks to make the roster this year and for years to come.
"Absolutely … I'm here to make an NHL roster," said Beecher, asked if could see a clear path to securing a varsity job. "That's been my dream ever since I was a little kid, so whether that's a couple of weeks or a couple of months from now, all it takes is one injury, a call-up, and give it everything you've got to be able to stick. The biggest thing is to keep at it no matter where I'm at this year." (from 'Prospects Fabian Lysell and John Beecher are long shots to crack Bruins roster, but they will give it a whirl,' Boston Globe, Sept. 14, 2022)
The most likely outcome will be a full season in the AHL where he can really progress his development, but a strong camp can go a long way in establishing himself as the guy for the final center spot or as the first player that gets called up when needed.
Marc McLaughlin
The undrafted free agent signed on with the Bruins last season after finishing up his senior season at Boston College. It did not take the Billerica, Massachusetts native long to make an impact in the NHL. In 11 games, he has three goals and provided the bottom six with some energy shifts. For the Bruins, he played both on the wing and at center, but during his days at BC was primarily center. With Curtis Lazar departing in free agency, McLaughlin will get a shot to carve out a fourth-line spot at either center or on the wing.
Trent Frederic
The former first-round pick will be in an interesting spot this season as he is another flexible player for Montgomery to utilize on different lines and at different positions. It was an up and down season in 2021-22 for the former University of Wisconsin standout, but at times it appeared he was turning a corner in the NHL but then would find himself in Bruce Cassidy's dog house. The Bruins can use his physicality and grit, but he needs to produce sooner or later.
Frederic will likely open the season on the third line playing left wing just as he did last season. The real question will be where does he line up once Brad Marchand returns from injury and Montgomery needs to find a new spot for Pavel Zacha. Frederic will be the odd man out unless the Bruins trade Craig Smith, who has been rumored to be on the move all off-season as a cap casualty. Zacha's skill set and pedigree will get him placed on the third line bumping Frederic to fourth line duties, whether that be on the wing or anchoring the line. Until the Bruins cross this road in early December, Frederic has a lot to prove early on to keep his job safe.
The boys are back after a long break but have plenty to talk about as the playoffs are in full swing. We go series by series, looking at how teams have fared so far and who will come out on top. Thanks for listening! Please rate and review our show on your favorite listening platform. Check out our partner's website at www.insidetherink.com for all your latest hockey news.