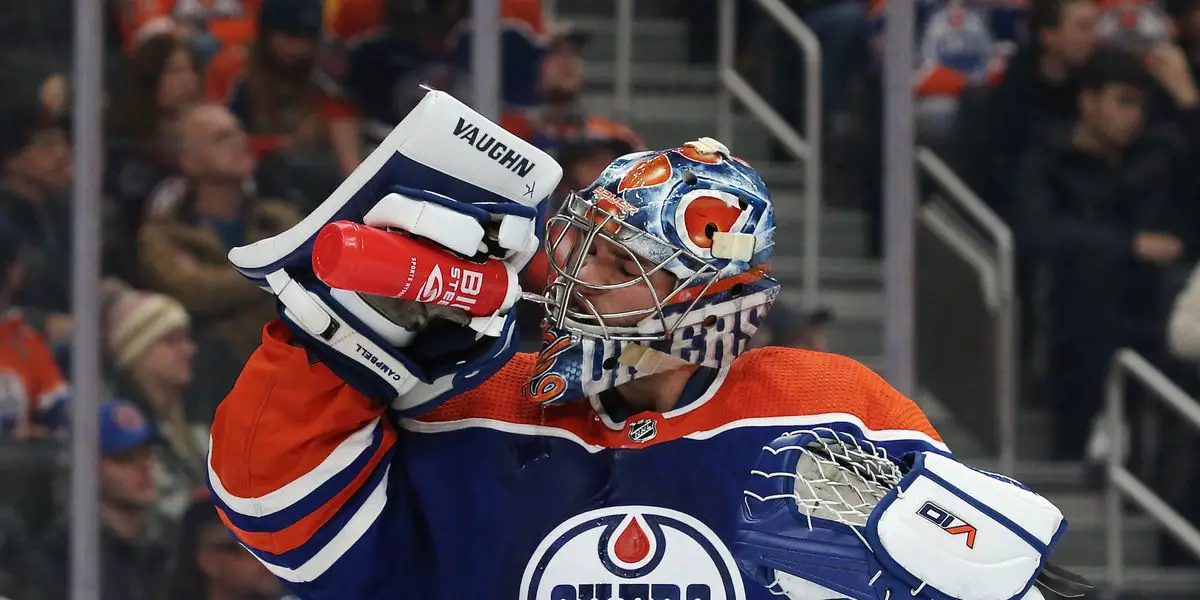 When it comes to the Edmonton Oilers, they are all offense all of the time.
With guys like Connor McDavid, Leon Draisaitl, Evander Kane, Ryan Nugent-Hopkins, Zach Hyman, and Kailer Yamamoto, the puck will go in the net. The team's offense has never really been a problem.
It's the goaltending that has hurt the Oilers. This was especially the case in last year's playoffs, as Mike Smith had trouble keeping the puck out of the net.
The team decided to make a change during the offseason, and they went out and signed 30-year-old masked man Jack Campbell to a five-year, $25 million contract. With the contract, the Oilers were banking on Campbell to deliver the goods between the pipes and get this team a Stanley Cup.
At the time, it seemed like an intelligent signing. Campbell was coming off a successful season with the Toronto Maple Leafs, where he went 31-9-6 with a 2.64 goals-against average, a .914 save percentage, and five shutouts.
Well, Campbell certainly has not brought that success with him to Edmonton. As of this writing (Wednesday, February 1), he is 15-8-0-1 with a 3.34 goals-against average and a .887 save percentage.
While the win total is nice, and his six straight wins look good, his actual performance has been anything but this year. At least, as of right now, Campbell is not playing up to his contract.
Campbell has allowed a lot of soft goals, has not been playing with much confidence, and has looked defeated every time he gives up a goal. Because of his inconsistent play, the Oilers have gotten more comfortable using backup netminder Stuart Skinner. He has responded with a current record of 13-10-0-3 with a 2.92 goals-against average and a .914 save percentage.
Those numbers are clearly better than Campbell's. Thanks to his fine play so far, Skinner earned himself a three-year contract extension from the team on Monday, December 19. The contract is worth an average annual value of $2.6 million.
While it is nice that the Oilers locked up Skinner, it is Campbell's play between the pipes that they should be focusing on. For starters, Campbell was brought in to be the team's starter this season.
Skinner has already played in more games than Campbell this season. I am sure the team's management did not think that would be the case at this point in the season.
Secondly, they brought in Campbell to change the team's fortunes in the net, hoping that he could bring the team to another level in the postseason. With the way that Campbell is playing right now, does the team think that he could get them to a Stanley Cup Final?
Lastly, the Skinner signing also puts the team in a strange situation. The team is paying both of these guys a decent chunk of change to perform well, and right now, it is Skinner who is earning his contract.
With that said, if this team wants to have success in the playoffs, they are going to have to be able to do it with Campbell in the net. For starters, he has experience playing in the playoffs.
He has played in 14 playoff games and is 6-8 with a 2.45 goals-against average, a .915 save percentage, and two shutouts. Those numbers may not be great, but he did the best he could in hockey-mad Toronto.
Secondly, the Oilers are paying him a lot of money. A player earns their contract in the playoffs, so the Oilers should want Campbell to turn his game around to show them that he was worth paying all that money for.
Lastly, it is clear that Campbell is a lot better than what he has shown so far this season. He was an All-Star last season, and career-wise, he has put up very solid numbers.
Hopefully, for everyone involved, Campbell finds his game and gets the Oilers to where they want to be.
Episode 54 is here and the boys break down the Bruins adding Tyler Bertuzzi, Taylor Hall and Nick Foligno Injury updates, and Pastrnaks contract extension. Followed up with a tour around the NHL and breaking down the MOUNTAIN of trades that happened since last episode.DraftKings Sportsbook – Boston's hometown Sportsbook will be LIVE – soon – right here in Massachusetts! Bet local on all your favorite sports from the comfort of your own home with DraftKings. To celebrate, ALL new customers will receive up to TWO HUNDRED DOLLARS in BONUS bets when you sign up for DraftKings Sportsbook using code insidetherink! Soon you'll be able to bet local on money lines, spreads, props, and more with one of America's top-rated Sportsbooks – DraftKings Sportsbook!  Download the DraftKings Sportsbook app and sign up with code ITR to get up to TWO HUNDRED DOLLARS in BONUS bets to use once mobile sports betting hits Massachusetts. That's code insidetherink only at DraftKings Sportsbook.  If you or a loved one is experiencing problems with gambling, call (800) 327-5050 or visit (https://helplinema.org/) to speak with a trained specialist free and confidentially twenty four seven. 21+. Physically present in MA. Eligibility restrictions apply. Subject to regulatory licensing requirements. Eligibility and deposit restrictions apply. Opt in required. Bonus issued as free bets. Terms at draftkings.com/ma.