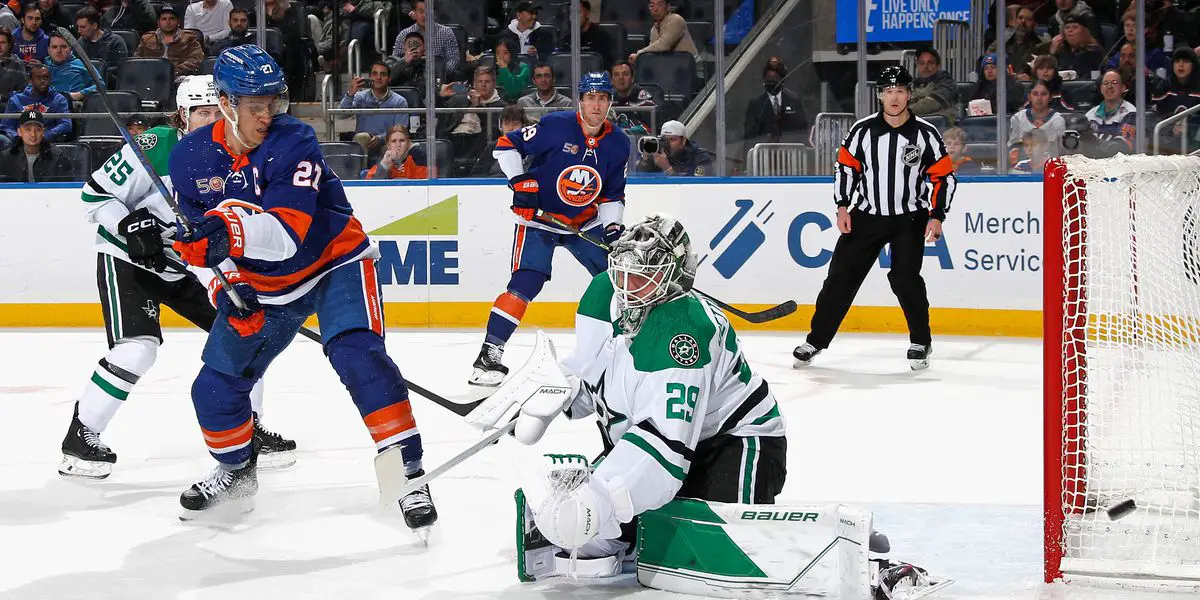 Going into their first-round matchup with the Calgary Flames in last year's Stanley Cup playoffs, the Dallas Stars were considered significant underdogs.
The Flames were a much better hockey team. They won the Pacific Division finishing the regular season with 111 points, while the Stars were the second wild card team and finished the year with 98 points.
The Stars made it a series and got it to seven games before losing in overtime. The main reason why it got to seven games was due to the play of their goaltender Jake Oettinger.
Oettinger, 24, was magnificent for the Stars in that series. He finished the series with a 1.81 goals-against average, a .954 save percentage, and one shutout.
It was Oettinger's coming out party. He proved to the Stars, their fans, and the rest of the league that he had what it took to play well on the biggest stage and that the team's net belonged to him.
He took his fine play from the postseason into this year and helped the Stars to a second-place finish in the Central Division with a 47-21-14 record for 108 points. Oettinger finished the regular season with a 37-11-0-11 record, a 2.37 goals-against average, a .919 save percentage, and five shutouts.
Now the focus shifts to the team's first-round series versus the Minnesota Wild. There are several reasons to believe that Oettinger can take the Stars to new heights in this year's postseason.
For starters, he is already an elite NHL goaltender. His numbers in this year's regular season, last year's regular season, and obviously in last year's playoffs against the Flames.
After a win versus the Pittsburgh Penguins back on March 23, Tyler Seguin expressed his appreciation of Oettinger's strong play between the pipes to The Athletic Stars beat writer Saad Yousuf.
"He's just elite," Tyler Seguin said. "There's no reason for him to call himself out after the last game. Even though he did, he definitely responded tonight, if you want to call it that. I think he's great every night. He's got a heavy workload right now, but he's the backbone."
In that same article linked above, Stars head coach Pete DeBoer echoed Seguin's sentiment.
"The special ones have a special mental toughness to them," DeBoer said about Oettinger. "I think you saw what he's gone through here the last week or 10 days. I wish our group would have helped a little bit more tonight and not left him with as many big saves as he had to make."
Secondly, as mentioned above, Oettinger has shown that he can play well in the playoffs. Last year, he played a high-scoring team, and he almost beat them singlehandedly.
Game in and game out, he kept the Stars in it and gave them every chance to make it to the next round. There is no reason that he cannot play the same way against the Wild in this year's postseason.
Lastly, this year's Stars team is much better than last year's club. They can score more (seventh in the league in goals scored), they play better defensively (third in the league in goals allowed), and they are much better on special teams (fifth in the league on the power play and third in the league on the penalty kill).
The Stars have the pieces in place to make a deep run in this year's playoffs. Should that happen, the main reason will more than likely be because of Oettinger's play.
The boys are back after a long break but have plenty to talk about as the playoffs are in full swing. We go series by series, looking at how teams have fared so far and who will come out on top. Thanks for listening! Please rate and review our show on your favorite listening platform. Check out our partner's website at www.insidetherink.com for all your latest hockey news.