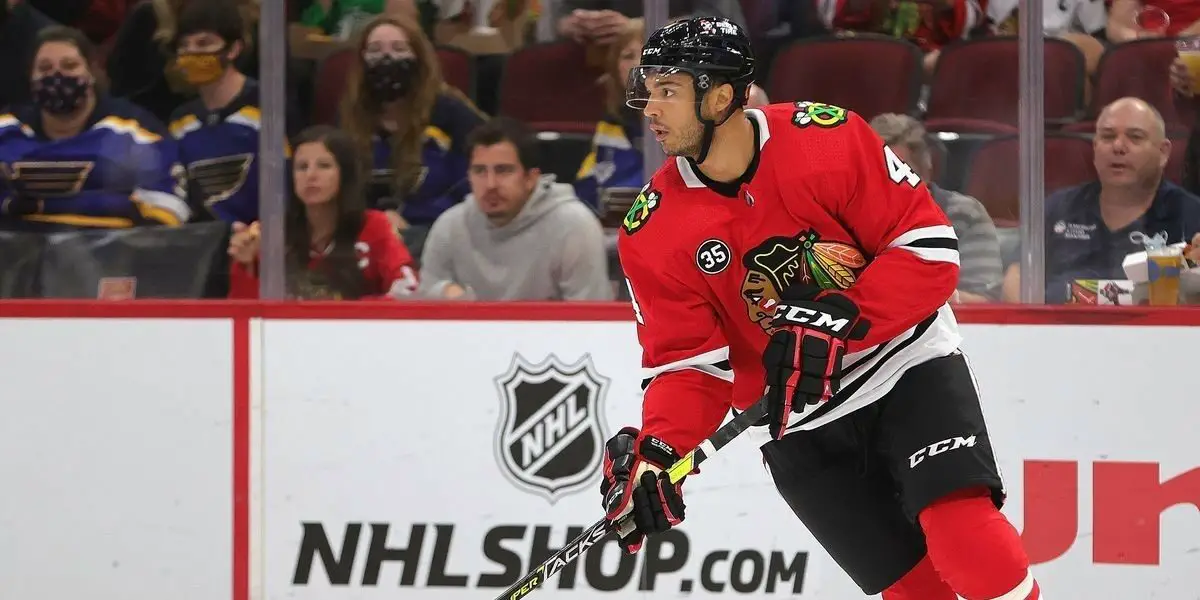 Seth Jones is an elite number one defenseman. His play has shown why the Blackhawks traded the house for him. Jones is going to land up in the Norris talks if his play continues on this trajectory. Without Jones marshaling the defense for Chicago, their defensive core would be a debacle. He has had some moments where he has struggled, yes. But you see the growth as he's settling in and getting more comfortable. Just look at the game versus the Penguins on November ninth. Look at this video that Coby Cohen posted.
This is an elite play by Seth Jones who will also cover just as much ice in the defensive zone shutting down other team's best players. He is one of the best in the league at using his stick to pick the puck off or break up plays. Speed is something Jones does not lack; his ability to turn and burn and drive the transition game is something the Blackhawks have not had since Keith. not to mention his ability to make the long two-line passes. You can't win without a puck-moving defenseman that can log big minutes every night. This is Seth Jones. Plus, have you seen how smooth he is walking the blueline? The hate must stop now; it's disrespectful to one of the best defensemen in the league.
Adam Fox, the reigning Norris winner, is the only defenseman with more points than Seth Jones. Logging 26:13 time on ice on average, Jones is clearly the anchor of the defense, with a season-high of 31:24 on the same night as that goal above. Yeah, he has a negative plus-minus at the moment. Jones is trending the opposite way as the Blackhawks start to improve overall and wash Colliton off. If you look at the two games with Derek King leading the kingdom, he is a plus-three. His eleven assists are tied for fourth in the whole NHL and rank first amongst all defensemen. If you pace him out for eighty-two games, he would have sixty-four assists, six goals, and a total of seventy points just below a point per game. Adam Fox last year played fifty-five games and had forty-seven points pacing out for seventy points over eighty-two games. Seth should have more goals this year just hasn't had the best puck luck. On pace to have two hundred and sixty-three shots on goal would be a career-high with a shooting percentage of 2.2 below his career average of 5.2. Jones's goal production should increase and should finish around fifteen goals. 
Chicago will continue to improve as a team and win more games. Jones will be one of the leading reasons for this. The Norris Trophy will be in consideration at year's end. Will Seth win it? This will mainly depend on if Chicago climbs all the way back and makes the playoffs. That storyline, plus the fact he will finish with around fifteen goals and seventy-five plus points, will be more than enough to put him right alongside Fox for the Norris Trophy. Everyone should tune in and watch Jones dominate the rest of the season and capture his first Norris trophy.