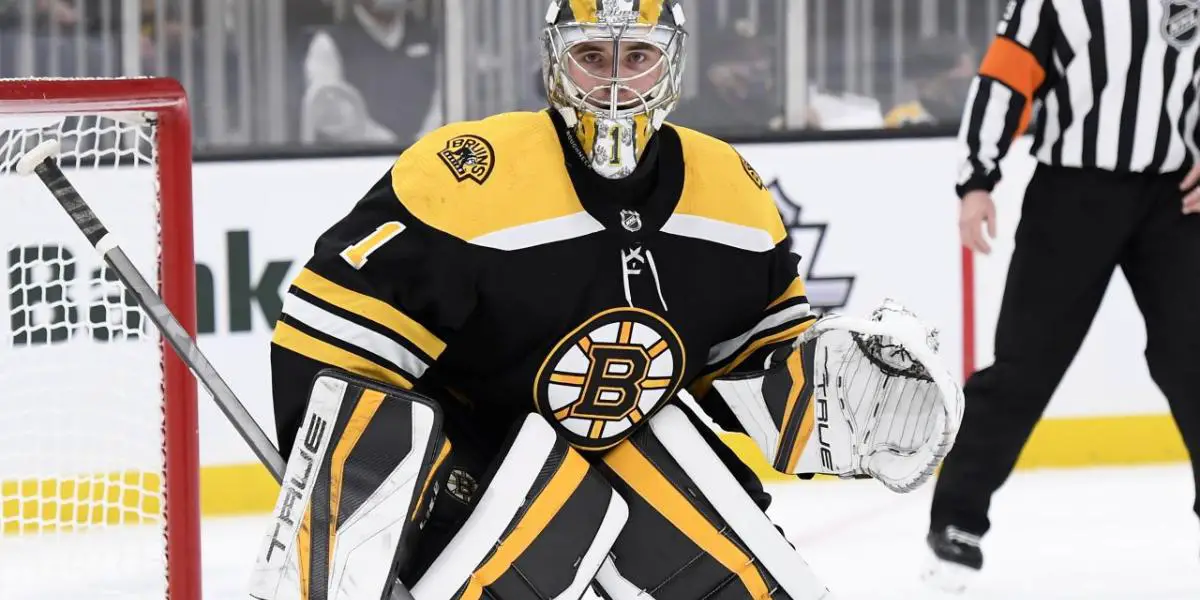 Plainly put, Jeremy Swayman is the future of Bruins goaltending. After finishing fourth in Calder voting his rookie year, it seems he is due for a workload increase. However, Linus Ullmark has quickly proved that he was worth his 5$ million dollar cap hit. In his first season with the B's, Ullmark posted an impressive 26-10-2 record with a 2.45 GAA and a .917 SV%. Swayman also put up a respectable 23-14-3 record with a 2.41 GAA and a .914 SV%. He and Ullmark had nearly identical numbers in their first year as a tandem, and split starts right down the middle with 41 each. With two excellent goaltenders sharing the crease, who will get the lion's share of starts this season?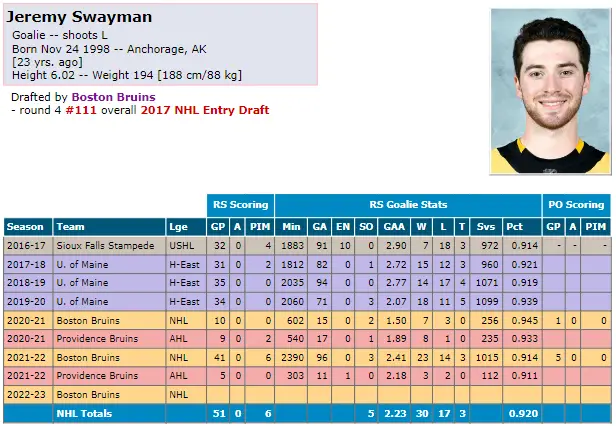 Ullmark is a vet in this league, even though he hasn't turned 30 yet. He earned the starting role after serving parts of six seasons in Buffalo and was a bright spot on some pretty bad Sabres squads. The workload of a bona fide starting goaltender is usually a 50-30 split, and that's a tall task for a young goalie. Some can handle the pressure at a young age. However, for every Marc-Andre Fleury, there is a Rick DiPietro. Thrusting a rookie directly into the starting role can be bad for their development, but this seems like a transition season for Swayman. I believe that Ullmark understands his position and may need to take a back seat if Swayman shows he can be a starter in the NHL.
The bottom line is that they have security in the net. If Swayman isn't ready to shoulder upwards of 50 games as the starter, the B's can lean on Ullmark to pull the rest of the weight. This season will be interesting for the whole team, but one of the biggest question marks is in the net. 
With three years left on Ullmark's deal, Swayman is in a contract year and controls his own destiny. If Jeremy has a good year, he could be in for a big payday, as the Bruins are going to have a lot of money next summer. On the other hand, if he coasts or struggles early in the year, I feel that new bench boss Montgomery will be quick to give the crease to Ullmark. Swayman needs to show that he is their future and that he can handle a full workload at the NHL level because if he doesn't, Ullmark will be ready to take over.
Season 2. Episode 38. Special Guest Terrence Wallin
–
Bruins Benders Podcast
Maine Mariners Coach Terrence Wallin makes a return visit to recap the season. Should the Bruins make room for Tyler Bertuzzi? Will the Bruins move some core pieces? I guess there is more time for golf and more!