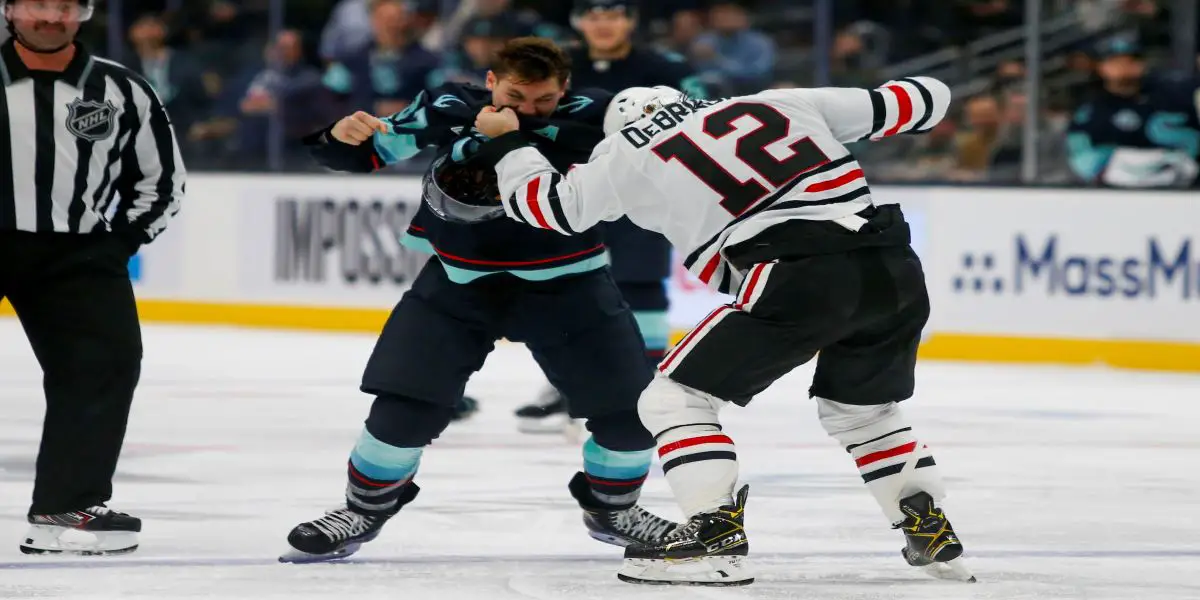 The Blackhawks are 4-0-0 under Heisenberg (Derek King). Chicago is in a position to start to think about the playoffs again. They are fun to watch again. This team has changed its identity to a team that plays a more loose game and uses its instincts more. At worst, Chicago will need to go 1-1-1, finishing the road trip and getting to Thanksgiving insight of a playoff spot. 
Alex Debrincat had himself a game vs Seattle on Wednesday night. Debrincat had a beautiful assist on Seth Jones's goal, and Kirby Dach then fed him for a beautiful breakaway goal top shelf. Then there was Yanni Gourde, and Debrincat just pummeled his face. 
Gordie Howe hat trick for the Cat! The energy has just been different as of late. This team is willing to fight for each other and go into the corners and battle. King has them playing a more simple, fun game; a simple 1-2-2 on the neutral zone has changed dramatically the Hawk's ability to defend in the neutral zone. 
Jonathan Toews is fine. Toews has been doing all of the little things, and he just hasn't put the puck in the net. He's been excellent in the dot with a 59.5 % win rate. Defensively Toews has been himself being one of the most dependable guys at all times in his defensive zone. Toews has only eight assists in his 16 games, with 30 shots on net and the fact he is on the power play with Patrick Kane; the goals will start to come once he gets the first one. 
People relax with Kirby Dach; he has been good on the line with Kane. Yes, he has struggled to finish when he gets the chance, and he STINKS in the Faceoff dot. Dach has been excellent in the defensive zone. Dach has had many plays where he's backchecking, stick lifts a guy, and turns the play the other way. He goes into the corners and wins puck battles. His skill level with the puck is top end, and he will start to finish around the net. Toews needs to take Kirby under his wing and work with him on winning faceoffs. Otherwise, the DeBrincat, Dach, and Kane line has by far been the best for the Blackhawks but may be turning into one of the best lines in the NHL. 
The Flower is back and in full bloom! Marc-Andre Fleury has found himself under the reign of Derek King. Under King, Fluery has a 1.62 GA and a .950 SV%; Fluery will make some of the most ridiculous saves.
The Flower is one of the best in the game's history, but his style of play will give you a heart attack watching! It's great to see him smiling and playing at the elite level we have come to know from the Flower.  
Chicago will need the depth scoring to be better if they aspire to make it into the playoffs. The defensemen are slowly getting healthy. Caleb Jones made his Blackhawks debut last night and looked pretty good only played 9:53, had one shot, and blocked a shot. Chicago also has guys like Ian Mitchell, Nicolas Beaudin, and Wyatt Kalynuk, who should be in the lineup over a guy like Erik Gustafsson, who has not been good since returning to Chicago this season. The real problem comes on the forward side, Khaira has been good, but the fact he is getting top 6 minutes on a line with Toews is not helping this team score goals. Once Hagel and Tyler Johnson are back, it should help the Blackhawks with the depth scoring problem. Guys like Reese Johnson, Mike Hardman, and Jujhar Khaira are great to bring energy and grit to the lineup but shouldn't be in the lineup on a nightly basis and definitely shouldn't be playing in a top 6 role. Chicago has a great chance to make the playoffs as long as they keep playing as they have been under King, but this won't be a small hill to climb.
Also, all Seth Jones haters, please @TheRameyRunDown. Jones is an eilte #1 defenseman. His game is dominating in all ends of the ice, and his skating ability allows him to cover the whole ice effortlessly. Seth is one of the best defensemen I have seen since Lidstrom picking off passes and knocking pucks out of mid-air. His offensive stats speak for themselves. Jones has two goals and 12 assists for 14 points, tied for 3rd amongst all defensemen. For everyone who is going to say he is -5, under the new coaching staff, he is a +5. By the end of the year, Seth Jones will prove that he is worth every penny of the contract he signed!