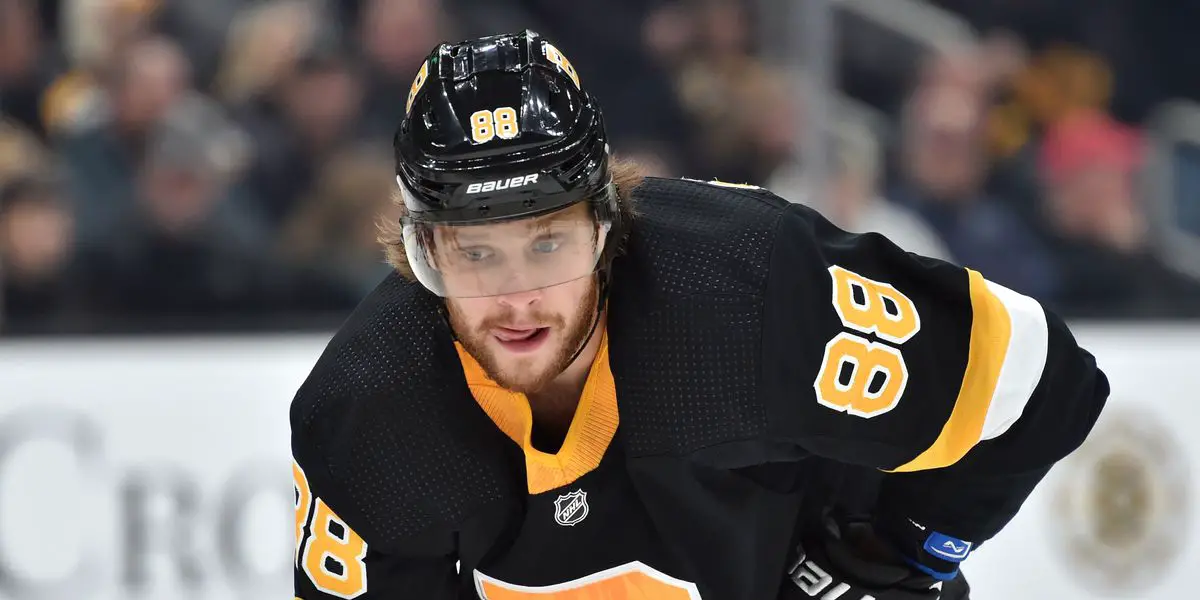 The Boston Bruins are rolling at 8-1-0 as they continue a challenging four-game road trip. The current forward group is as deep as it has been in a few years, and six of those wins were without last year's leading points-getter Brad Marchand, who returned Thursday night to score two goals and assist on another in a 5-1 win over the Detroit Red Wings. On Friday, Pastrnak scored again in Columbus. Every Bruins' forward who has played regular shifts has scored at least one goal this season except Tomas Nosek. This team is an offensive wagon at the moment that is getting inside the dots, as well as any team in the league.
The one winger who is the most dangerous of all is David Pastrnak, who has seven goals and nine assists in the nine games this season. This is the type of start to the season Boston has needed for the team and their top goal scorer Pastrnak. But is this impressive performance from the unrestricted free agent a potential "Catch-22"? The Bruins have needed the right wing to have a great start, but now might feel that the possible price tag for the 2014 first-round pick could soar even higher. From the beginning, Bruins General Manager Don Sweeney said Boston would be "aggressive" in contract negotiations with their 25-year-old star winger. But talks haven't mustered much momentum, and Pastrnak is not in any rush to sign.
Pierre LeBrun, a columnist for The Athletic, tweeted that there seems to be a "sizeable gap" in each camp's position. LeBrun then mentioned Nashville Predators forward Filip Forsberg, his contract negotiations last summer, and the talks went "down to the wire." Could Pastrnak's deal happen the same way? Will there be a decision to be made by the Bruins if there is still uncertainty regarding Pastrnak at the trade deadline? And can the Bruins afford to wait for this situation out and take the chance at losing their five-time 30-plus goal scorer for nothing?
When asked Thursday night about any updates on the situation, Sweeney said, "We're not there." He continued to say that communication is good but that there is no "endpoint" yet. What is concerning if you are a Bruin fan is that last season it almost seemed like a foregone conclusion that the team and Pastrnak would get something done to keep the Czech forward in Boston for years to come. But now it seems as though the chances of re-signing Pastrnak, who has 520 career points in 519 career regular season games and 74 points in 70 postseason contests, are getting closer to 50-50, or even less.
If the Bruins are still among one of the top teams in the league at the deadline and trying to win another Stanley Cup with an aging core led by Patrice Bergeron, what should they do with Pastrnak? Can they trade him during a potential Cup run? Do they keep him, try to win it, and then roll the dice on an extension happening at the season's end? The longer talks go on, the more pressing this becomes for Boston, who may not be able to wait long enough to take this "down to the wire."
https://share.transistor.fm/s/98708ab9