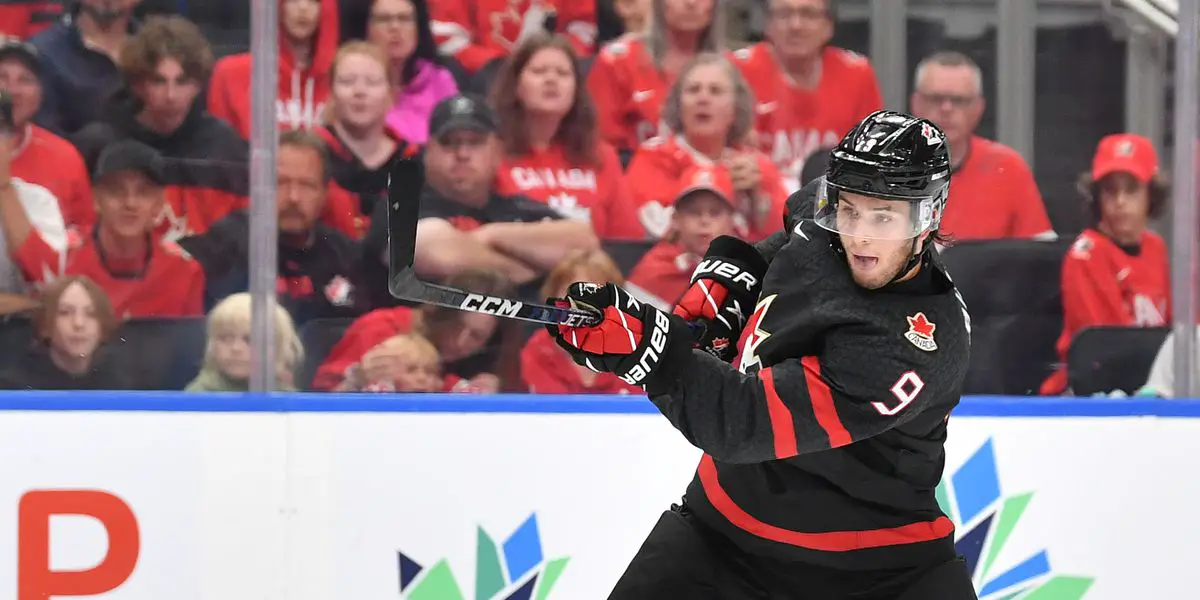 Joshua Roy. Let's be honest here, how many of you heard of that name before the world juniors started two weeks ago? Now that the world juniors are officially over, some of you are probably tired of hearing his name. Anyways that's beside the point, today I am going to do a deep dive on this prospect and give my opinion on why he was Canada's unsung hero on their path toward back-to-back gold medals
Joshua Roy, a native of Saint George's-De-Bea, Quebec, was selected by the Montreal Canadiens in the fifth round of the 2021 NHL draft, 150th overall. Which begs the question, how could such a talented player go so late in the draft? He was drafted first overall by the Saint John Sea Dogs in the 2019 QMJHL draft, and he seemed to be on the path to stardom. Unfortunately, that wasn't the case at first, as he wasn't living up to the hype, and as a result, his draft value continued to slip for the NHL draft. Covid played a large part in his poor play as well as some of you may remember, he was playing in a province that had some of the strictest Covid restrictions for over two years. As a result of those restrictions, Roy's family wasn't allowed to go visit him whatsoever, and because of this, Roy's play suffered due to him being so unhappy with his situation. Eventually, Roy went to the Sea Dogs management, and he requested to be traded. On January 25th of, 2021, the team finally followed through on his request, and he was traded to Sherbrooke to play with the Sherbrooke Phoenix. The trade saw the Sea Dogs acquire three first-round picks and a second-round pick for the former first-overall pick. This trade would give Roy the opportunity to play closer to home; it seemed like a match made in heaven for the once-promising prospect. Unfortunately, his play never did get back on track, and in his draft year, he appeared in a total of 35 games, where he scored 21 goals and 13 assists for 34 points. A great points per game without question but simply not a large enough sample size for NHL teams to get a good read on his game. As a result, Roy didn't hear his name called until the fifth round, 150th overall, at the 2021 NHL Draft.
Unfortunately, the disappointment for Roy didn't stop there as that summer; he didn't receive an invite to Canada's summer showcase in Calgary, a huge series that allows players to really leave an impression in hopes of being selected for the world junior camp. Roy didn't let this discourage him; however, he used it as motivation. He kept his head down, put in the world, and made it his goal to prove everyone wrong. He was eventually invited to Canada's world junior selection camp, where he was among the team's final cuts. Roy didn't see this as a step backward; however, if anything, he saw it as the first of many steps forward in getting his game back to where he knew it was capable of being. The subpar draft year to not being selected for the summer showcase series, Roy really turned his game around. Hockey Canada knew his name now, and he was set on making sure they wouldn't forget it. Leading up to the world junior camp for Canada, Roy put up staggering numbers as he had a total of 45 points through his first 25 games of the season. Safe to say, the former first-overall pick of the QMJHL was back on track after a couple of tough years. By the end of the year, he finished as the top scorer in the Q, where he scored 51 goals, and added 68 assists for a total of 119 points in just 66 games, talk about a statement year!
Fast forward to the 2022 World Junior Hockey Championship, and Joshua Roy left his mark all over that tournament. Whether it was scoring or assisting on big goals, or laying his body on the line to make a key block, Roy did it all. Other than Connor Bedard, obviously, Roy was my absolute favorite player to watch on team Canada without question. With each passing game, I found myself focusing on his game specifically. With all the little tendencies, his habits, his work ethic, and leadership, I was blown away. Shockingly, all 32 NHL teams let this guy slip to the fifth round. I genuinely believe Roy played such a crucial role, not only on the ice but off the ice as well, for Canada on their path to back-to-back gold medals. Roy strikes me as one of those glue guys who is just as dangerous in the defensive zone as he is in the offensive zone. If his team needs something done, he is going to be the first to jump at the opportunity, no questions asked. He appeared in seven games during the 2022 world juniors, where he scored five goals and added six assists for 11 points. He put up those impressive numbers offensively while being the best penalty-killer in the entire tournament; in my opinion, he was simply outstanding. As much as I hate to say it, the Habs have an absolute stud on their hands in Roy, and the fact that they snagged him in the fifth round makes it that much more impressive. It's only a matter of time before he's making his presence felt at the NHL level, in my opinion.
WELCOME BACK TO LEAFS LATE NIGHT! Presented by Inside The RinkRoscoe / Galaxy Biehn – Dubas Out?!?- Remember All The Good Times We Shared- I Don't Love Our Options- Matthews Next Deal?- Keefe's Fate- AI MascotsSPORTS! IS FUNMERCH IS AVAILABLE!JOIN OUR DISCORD!Remember to follow us on Twitter @LeafsLateNight & IG @LeafsLateNightCheck out Mike, Josh, and Nathan's articles on the Leafs + many more! insidetherink.com