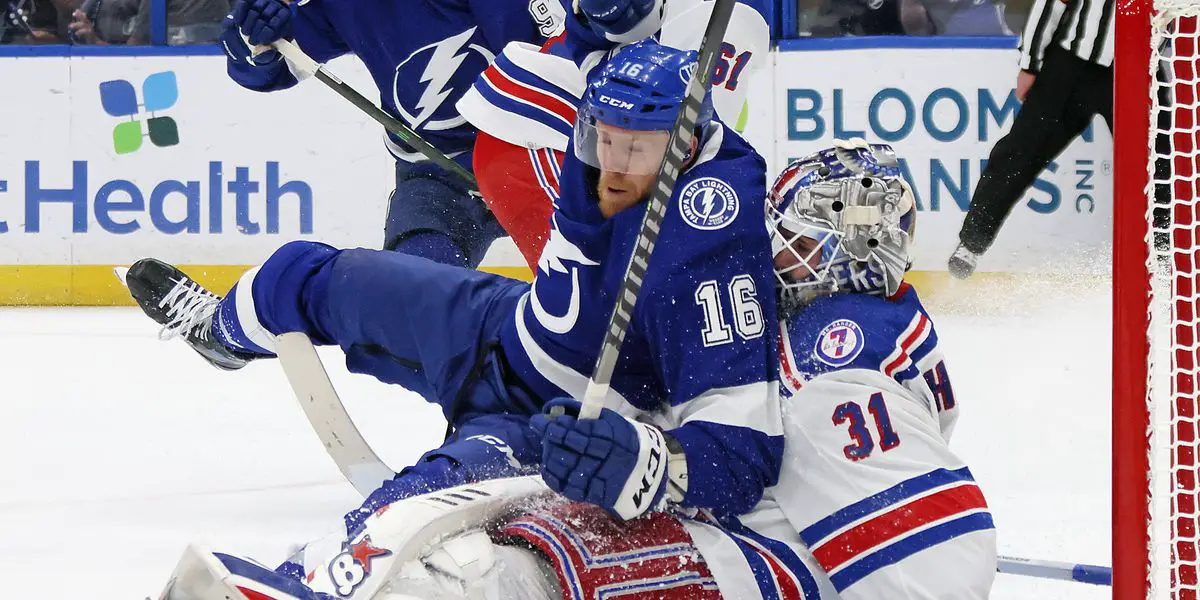 The New York Rangers head into game four of the Eastern Conference Finals with a 2-1 series lead and some serious questions at the center position.
What seemed to be a 3-0 series lead over the Tampa Bay Lightning was for naught as Tampa found their roll and, ultimately, playoff experience.
It nearly seems the Tampa Bay Lightning have been playing hockey every postseason since the 2015 year. Any current Blueshirt fan rememberers that postseason run, which included a Derek Stepan OT winner over the Washington Capitals to help them advance to the Eastern Conference Finals against the Bolts. The Lightning that year made the Cup Final, edging the New York Rangers in seven games. Bolts' lost to the Chicago Blackhawks. The Lighting got a taste of what it takes to win a Stanley Cup, and five years later, they hoisted it. The second Stanley Cup win in franchise history – the first since 2004. The taste of a Stanley Cup is so sweet, that they went on to win it a second time, the season after 2020.
Tampa Bay is looking to win a third consecutive Stanley Cup Championship but has a small hill to climb, getting themselves out of a 2-0 series deficit. Games one and two of this series were at Madison Square Garden, where the Rangers won both games, 6-2 and 3-2. Andrei Vasilevskiy was much more of himself in game two, rebounding after giving up six goals in game one. The idea of Vasilevskiy beginning to roll after a nine-day layoff should frighten the Rangers. He has the ability to steal games when he's hot; it is imperative for New York to keep firing away with shots and pounding in the rebounds. Ranger Faithful saw a very shaky goalie in games one and two but a more composed goalie in game three.
Game three featured a 2-0 lead for New York, only to dwindle away as the minutes went on. Tampa got on the board with their own power-play; Kucherov beat Igor through the five-hole. The feeling heading into the second intermission was uneasy. Rangers knew Tampa Bay was going to put everything on net, pucks and bodies alike. Stamkos tied the game with a power-play goal, a snipe shot from the blue line, beating Shesterkin top shelf. That was Stamkos' second goal of the series. The game tied at two, and all the momentum went the Lightning's way. It was up to Igor to steal the game and place a 3-0 series lead stranglehold on the Lightning.
The idea of having a 3-0 series lead over Tampa Bay is only a thing that exists in dreams because of all the experience they have. It would take everything the Rangers have to win game three in opponent territory.
Tied at two, the Rangers were awarded a 4-minute power play in the final 10 minutes of the game. Panarin took a Nikita Kucherov high stick to the mouth and just like that, a potential game three victory was in the Rangers' grasp. At the time, they had placed two power play goals on Tampa Bay and desperately needed a third. New York didn't score a third power play, but Jacob Trouba did manage to take his third penalty of the game. He couldn't control the puck at the point, felt the pressure and held onto the Tampa Bay skater as he tried to breakout of his own defensive zone. His penalty cost the Blueshirts two minutes on the four minute double-minor.
Any Ranger fan would have been happy to take the game to OT, but Ondrej Palat had other ideas in mind. with just over a minute to play, he took a nice tap pass from Kucherov and beat Igor on the low glove side, cementing a much-needed game three win for his team.
In all seriousness, no way in the world that Tampa Bay was going to go down to a 3-0 deficit. Too much talent on the team and too much playoff grit. Tampa Bay went on to win game three, 3-2.
Coming off his best overall effort in game two, Jacob trout must have a much cleaner and disciplined game in game four. Trouba has been the most undisciplined skater up to this point, taking ten total minors and having 25 PIMs. He has to be better if the Rangers have any plans to advance to the next round. Certainly not taking anything away from Trouba because he's been solid defensively at times; he needs to play smarter.
A concern headed into game four tonight, besides for Tampa gaining some momentum, but what's the status on Ryan Strome and Barclay Goodrow? Ryan Strome took a soft check in the back in the second period on Sunday. He seemed to injure something, whether it was his back or leg, but couldn't play for the rest of the matchup.
Barclay Goodrow blocked a tough shot, which went off his ankle, the same ankle he injured earlier in the postseason. He went to the locker room to have it looked at and came back to play minutes later. No doubt he wants to play, but will it have a detriment on the team?
Game four tonight has to feature a Ranger team much more disciplined. The same goes for Tampa Bay. Inadvertently or not, they skated into Igor twice, resulting in two New York power-play goals. No doubt in my mind that Vasilevskiy is going to be hungrier than ever, with a very loud Tampa Bay crowd to back him. It seemed, at times, Amalie Arena in Tampa Bay was quiet, or at least anxious, as they watched their team try to avoid a 3-0 series deficit. That's not the case tonight.
Similar to Sunday afternoon, New York has to get on the board first. They have to take the crowd out of it. The fear is if Andrei gets a lead, he won't give it up.
I expect a fast moving game tonight with goals at the premium. Rangers win tonight, 3-2.