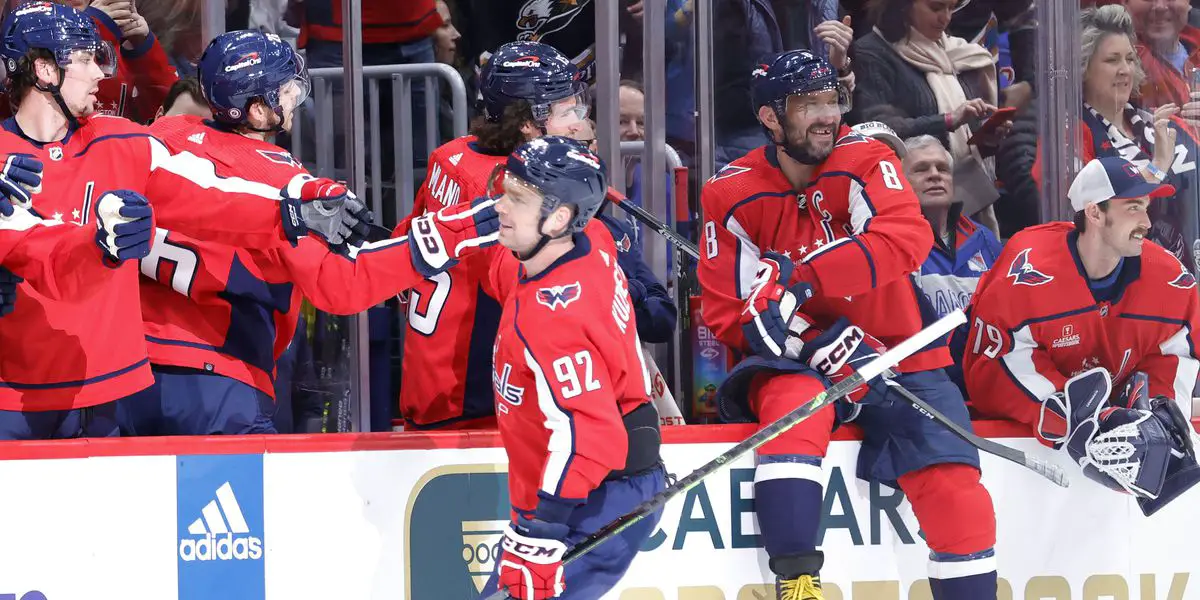 The NY Rangers continued their disturbing slump with an embarrassing 6-3 loss to the Washington Capitals for their fourth defeat in a row. On a day they trade Vitali Kravtsov to clear up cap space for the impending Patrick Kane acquisition, the Rangers better hope the distraction is the reasoning behind this slide. However, if yesterday's game is any indication, even a vintage Kane won't be able to fix what's wrong.
Let's break down the good, the bad, and everything in between.
THAT'S GOOD
Um, I don't have a category here. Let's just say that filling up the stat sheet is always a positive thing, so good on Goodrow (Motte gets an assist), Kreider, and Kakko (albeit in garbage time) for scoring the goals. They all still count, and there is mental value for a player seeing the puck go into the net, even in a losing cause.
Besides that, I didn't take any positives away from yesterday's contest.
THAT'S BAD!
How much time have you got? I'm not trying to let one game cloud the big picture, so let's just do this bulletproof form for closure and then try to put this out of our minds.
For all the bad play, the Lindgren injury is the worst result of yesterday's game. I know he's a cyborg sent from the future, but you can't like how his arm was hanging after that hit (should have been a penalty) into the boards. His arm was in a sling after the game, and I guess the "day-to-day" designation is a positive so far, but it's hard not to see him missing significant time. That's a problem for a team already lapsing WITH him. Despite his rockstar status with fans, I still think he's underrated as a defenseman and will be missed. Stay tuned.
Speaking of defense, it was downright embarrassing yesterday. Nothing left to say that you couldn't just read from my recap of the previous game or the ones before that. It must be fixed, or it won't matter if Igor returns to form. We won't go anywhere.
Speaking of Igor, we've already covered this. Simply put, the defense is hanging him out to dry, but his game is all out of whack. It's imperative he finds his mental fortitude, or much like our defensive struggles, it won't matter if we get Kane AND McDavid; this team won't survive.
It's getting to a point where we should only tune into the Rangers' games about ten minutes after puck drop. Even when this team is good, their consistently slow starts are baffling. It's not a matter of if they will start slow, but for how long and if they will give up any goals. Lately, they've been giving up plenty.
The penalty kill also is suffering. It's giving up at least a goal a game and lends itself to the overall arching theme of this team losing its structure and biting us every time.
There are more, but I'm waving the white flag on listing the rest. It was a complete letdown in all facets.
CAN I GO NOW?
As all the chaos on ice was going on, news came down of the Kravtsov trade to the Canucks for F William Lockwood and a 2026 7th-rounder. Just a sad anti-climactic end to Vitali's tenure here. They couldn't even salvage some value by making him part of the Kane trade. Even that scenario backed them into a corner, which was in line with the rest of the Kravtsov saga. I'm not saying we gave away a star, but I feel they mismanaged and fumbled the end of his time here and got zero value back for another wasted first-rounder. His career going forward will be intriguing, and this may be one we end up regretting.
How bad has this slump been? Not only have the Rangers lost four in a row, but they haven't had a LEAD in over 300 minutes! That's counting the losses AND the comeback in Edmonton, which they won in a shootout. That is unacceptable, and that streak is still ongoing.
For better or for worse, the Rangers are right back on the ice today at 5p against the Kings. They need to stop the bleeding by any means necessary.
In this week's episode we discuss the new rumors regarding the Rangers coaching situation. Then go on to the fun stuff discussing the impact Tkachuck's play will make on the game, Rangers players and more. Thanks for listening! Please rate and review our show on your favorite listening platform. Check out our partner's website at www.insidetherink.com for all your latest hockey news.