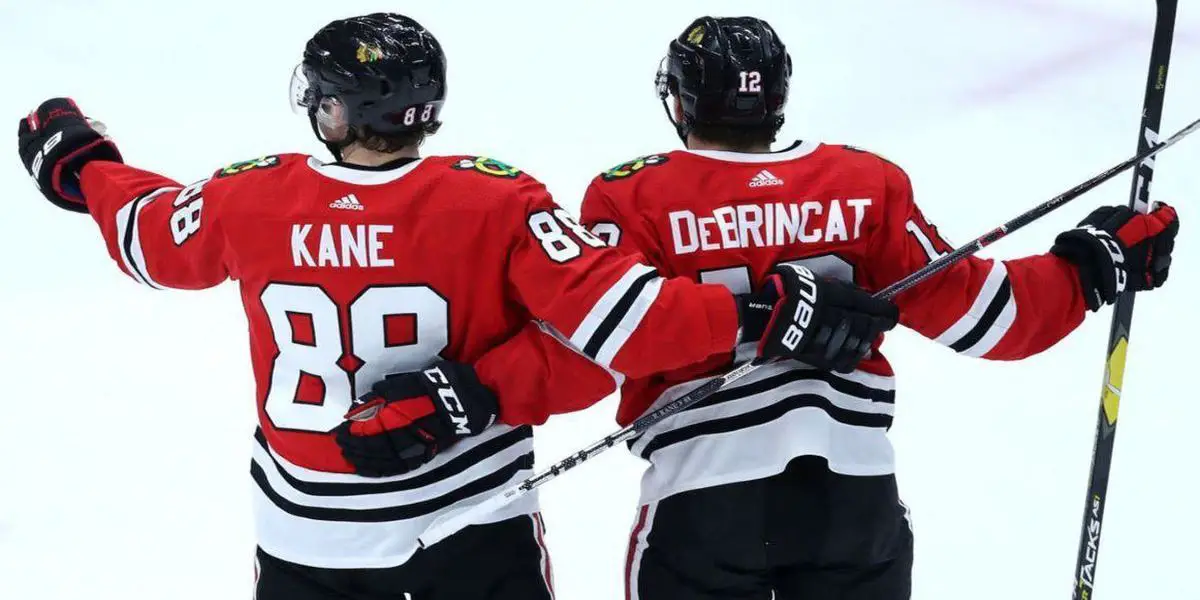 The Chicago Blackhawks are right around the 1/4th mark of the NHL season. A season that has already been a rollercoaster. The Blackhawks have played 24 games with a record of 9-13-2. They did, however, have to fire their head coach, Colliton. While Colliton was the head coach, Chicago was 1-9-2 and, bluntly, playing horrendous lazy hockey. The change has had monumental effects on how the team plays and the general effort. Since Derek King has been at the reign, the Blackhawks are 8-4-0 and playing a very gritty team defense brand of hockey. Below will be the player's grades for the Blackhawks on the season so far. I will be weighing the King games more than the Colliton games. 
Patrick Kane: A
Patrick Kane has been well, Patrick Kane. Kane still finds a way to get better with age. He did miss four games while in the Covid protocol. On the ice, he has just been brilliant. In 20 games, Kane has seven goals and 14 assists, for points per game played (P/GP) 1.05. Kane has also been solid in his defensive zone. Kane is not receiving an A+ as he has had a few slumps where he lacked goal production. Three of his seven goals were scored in a game versus Ottawa. Besides Kane's slight dip in goal production from a consistency standpoint, he has been tremendous, and a huge reason the Blackhawks have some life left.
Jonathan Toews: D-
Toews has been amazing in the faceoff dot with a 57.6 win %. Toews has also been himself on the defensive side of the puck. Toews has been okay as far as a play-maker with nine assists in 24 games. His lack of goal scoring is a huge issue and is the main reason he received a low grade. You can see that this is starting to make him grip his stick a little too tight. I do believe that once he scored his first goal the flood gates will open and we will see Toews return to a form closer to his previous self.
Alex DeBrincat: A+
Alex DeBrincat is a superstar goal scorer. He has 14 goals in just 24 games played. That an 82 game pace for 48 goals. The most impressive thing is only 3 of those goals are on the power play. He does have a few overtime-winning goals scored on three on 3. With two game-winning goals, he's tied for the team lead with Kane. DeBrincat has developed his game and is one of the most reliable players in his defensive zone. DeBrincat is a major part of the Blackhawks penalty kill. And to go with all that, DeBrincat has dropped the gloves this year with a convincing win. The cat is not scared to throw his body around. Alex DeBrincat has been consistent and outstanding so far on the season.
Seth Jones: A+
Jones has been better than expected. After the first few weeks of the season where jones has some bad games along with the entire team. Since he settled down, Seth Jones has led the Blackhawks in points with 22 points in 24 games. Chicago has been missing a defenseman like Seth Jones. His ability this year to jump up in a rush and create odd-man rushes while being able to turn and burn and get back on defense is a delight to watch. Jones has also been excellent in his own zone and has eaten pucks with the best of them this season. Jones is 8th in the league in blocked shots with 51. He is also second in both points 
Jones has been an elite number one defenseman, and if he continues this play while logging a measly 26:10 of ice time a game, he will be worth every penny of his contract. All the Seth Jones hate needs to stop. He is a stud! (22) and assist (19) Behind Norris Trophy winner Adam Fox.
Brandon Hagel: A 
Hagel might be the biggest bright spot on the Blackhawks. Hagel Brings more than just stats to the game. His energy and commitment to playing hard every second of every shift is electric. Hagel has not only brought that this year and apparently is the next Ovi.. okay, back to reality. Hagel has made a jump offensively this year and in the 21 games played, he has scored eight goals. He has also tacked on three assists. If Hagel can keep scoring at a rate close to this, the Blackhawks could have a solid 2nd line winger in their hands. My only complaint is I would like to see him generate more shots. He's averaging 16:15 a game and only has 39 total shots on goal. Hagel has been Brilliant so far and is well-deserving of an A.
Erik Gustafsson: F
A Late add to the roster as Chicago had some injuries to the line-up. Gus has signed off the streets, and quite frankly, that's where he should have stayed. Has he been better in his defensive zone than the last time he was in Chicago.. yeah, but when your abysmal the first time around, a small improvement feels like a world of difference, but it's not. Gus is still bad in his own zone and loses his assignments all the time. He is also meant to be an offensive powerplay specialist. The power play has stunk with him on it, and he only has five-assist with 0 goals in 23 games played. Overall, when everyone is healthy, and back I hope Chicago moves on and makes Gus a healthy scratch and plays one of their younger defensemen and allows them to develop instead of wasting ice time on Gus.
Philipp Kurashev: D-
Kurashev finds himself in the minors as his season started off slow in the NHL. His lack of consistent effort cost him his spot on the NHL team. Kurashev got 19 Games with the Blackhawks scoring 0 goals and had five assists while being a -5 on the season. Kurashev struggles in his defensive zone. Hopefully, while he is in the AHL, he will develop a more consistent 2-way game. He has the top-end ability with his hands just needs to put the whole package together. Kurashev has been disappointing, but I believe he will get another look in the NHL this season. 
Jake McCabe: C
McCabe definitely struggled for a few games as he transitioned from Buffalo to Chicago. McCabe was also coming off a significant knee injury. With both of those in mind, I'm going to be easy on his trash start and focus on later in the season. McCabe was just starting to come into form before missing the last two games for personal reasons. He was beginning to hit his stride. McCabe is an excellent defensive d-man. He is willing to block shots and lay his body on the line blocking 3 and 4 shots, sometimes in a single shift. He is 21st among defensemen in the NHL despite missing those games in blocked shots with 47. McCabe isn't on the team to score points while only having one goal and two assists on the season. If we continue to see the McCabe f late when he returns, his mid-season grade will be much higher than the C. His struggles early are just too much to overlook
Reese Johnson: D
Johnson has been fine. He does what he's asked of, goes out, gets the puck in deep, and tries to grind it out along the boards. He hasn't been bad by any means but just has zero offensive upsides. Fifteen games played, he has one goal and two assists. Defensively he has also just been fine. He really is a player that should be on your AHL team and get called up for an injury every now and again. 
Mike Hardman: D
Much Like Johnson, Hardman is truly an AHL player that is only in the NHL because he plays a black and white game. The same game that Johnson plays dump and chase while grinding it out. Hardman managed to get two assist in his 17 games played. He has been okay, but he should ultimately be in the AHL.
Mackenzie Entwistle: D+
Entwistle managed to get into 12 games before getting hurt on November 7th. During this time, he struggled at times in his own zone. He did, however, show some flashes of his ability to use his big 6'3″ frame. Entwistle scored two goals and one assist, but at the age of 22, he still needs more time to develop in the AHL before being an everyday NHL player. But he may get a look in the NHL again when he returns from injury.
Marc Andre-Fleury: A
Fleury has just been incredible after having a bad start to the year. He was well below .890 SV%. Since King has taken over, the Flower has gone 6-2. He is allowing three or fewer goals in those games. Fleury will give you a heart attack as he uses his Hall of Fame agility to make crazy insane saves. He also brings a smile and personality that make his teammates want to play harder in front of him. Fleury will need to continue this amazing play if the Blackhawks want to make the playoffs.
Dylan Strome: D-
Strome has had the most up and down season of any player. He went from being a healthy scratch most nights under Colliton to playing with DeBrincat under King and then back to being a healthy scratch. Strome is the most frustrating player on the Blackhawks as he has all the tools and ability to be a fantastic NHL player. But with that said, he just lacks effort on the ice and off the ice. Strome needs to start playing hard every night, or he will soon find himself out of Chicago. He did finally have a nice one-time goal top shelf versus the Islanders. Hopefully, that will be the momentum needed to get him to play a more consistent game. This is Strome's last chance to prove himself if he wants to play with his best friend DeBrincat in Chicago. In 15 games, Strome has two goals and two assists. One bright spot is that he is 52.5% in the face-off dot.
Jujhar Khaira: B+
Khaira is the perfect 4th line guy. He can kill penalties when he is called upon. Khaira has been noticeable on many nights, sometimes delivering big hits or even chipping in for a goal here and there. He has also been excellent in the face-off dot, coming in at an insane 60.0%. Khaira brings the grit and energy every night that he plays. he only has two goals in the 19 games played, but he has been an effective player in his role.
Ryan Carpenter: C-
Carpenter has still been his reliable self in the defensive zone. This season though, he just seems less compelling. Maybe it's the fact he has yet to score a goal and only has two assists. Carpenter is still pretty good in the dot at 50.7%. I like Carpenter and that you know that he will give you every night, but there is just no offense to be found in Carpenters. Overall he has just been okay.
Kirby Dach: C+
Yes, Kirby Dach has struggled to score goals, and honestly, he's struggled to shoot the puck. Dach is always looking to pass when he needs to just put the puck on the net. Dach is playing 19:48 a game and only has 43 shots on the season. That's just not good enough, and Dach will need to adjust and just shoot the puck instead of trying to pass it every time. Once the defenders respect his shot, it will open up the pass that he wants to force every time. He SUCKS in the face-off dot on the season. He is at a hideous 32.9%. This is not acceptable if he wants to play center in the NHL. Okay, now that is out of the way, everyone needs to take a deep breath. Dach is FINE. He is playing on either of the top 2 lines while playing on the power play and killing penalties. Dach has been amazing defensively, considering this would be his first full season due to injuries. He is only 20 years old, and he has the know with all to understand how important it is to play on both sides of the puck. The offense will come. He has terrific hands repeatedly shown off in the neutral zone, toe dragging defenders. As he gets older and grows into his body, he will adjust to that full-on big power forward style of game. For now, he just needs to shoot the puck more and not try to force the pass, and when he does shoot the puck, he needs to hit the net. In the games versus the Ranger and Islanders, Dach shot the puck every time he had the chance that is a good sign let's hope this continues.
Connor Murphy: B-
Murphy has been a shutdown man for the Blackhawks all season before Ovi crushing him and entering the Concussion protocol. Murphy has played 22 games and is 18th in the NHL in blocked shots with 48. Murphy has been outstanding on the penalty kill and has had a plethora of defensive partners, all while playing a very consistent game. Murphy is not an offensive guy but has one goal and one assist on the year. At this point of the season, Murphy has been consistent and dependable for the hawks to lean on for 21:44 a night on the ice. Hopefully, Murphy is back soon. He is an integral part of this team.
Kevin Lankinen: D+
Lankinen has not been good this year in the net, but with everything that happened in Chicago, it is tough to judge him. He has been better in his last four games. He has two wins, including a game where he posted a .952 SV%. Even with that, his SV% on the season is .890. The new style of play the Blackhawks are playing should help Lankinen improve. He also has a GA of 3.19 on the year. At 26 and only in his 2nd NHL season, Lankinen is still learning and adjusting to the NHL game. He has the perfect mentor in Fleury.
Calvin De Haan: D+
De Haan has been underwhelming since he arrived in Chicago. He has not been able to string together good shifts this season, let alone good games. He looked utterly lost at times early in the year. De Haan also has brought no offense with him. On the year, he has 0 goals and 0 assists. How can this happen when he plays 18:49 on average a game, some of those with Patrick Kane? De Haan has been getting better as the season has progressed, but he will need to find the next gear soon and generate some points. With all that said, you can see that he is willing to give it all for the team. De Haan is also tied with Murphy at 48 blocked shots. His effort is there every night. I believe De Haan will continue to progress and become a more serviceable top 4 defenseman.
Dominik Kubalik: D-
Kubalik has been in a major scoring slump this season. He only has four goals on the season in 24 games. It wouldn't be as much of a big deal if Kubalik were generating elsewhere on the ice. He is not. Kubalik has taken more than a few games off, going completely silent and invisible like Casper. Hopefully, he brings back the energy he played within his previous season. With this lackluster start to the season, I hope Kubalik can light the fire and get going soon. He needs to be better on all ends of the puck.
Henrik Borgstrom: D-
Borgstrom has struggled to settle in Chicago. He has been stuck on the bottom two lines playing more of a grinding style of game that does not lean to his strengths. This season, Borgstrom has also been a healthy scratch, only playing in 15 games. He has scored one goal and one assist, overall he has not been great, but it has only been in 15 games, so hopefully, he will adjust and become a better player as this season progresses.
Not graded because of lack of games played or injuries:
Tyler Johnson
Riley Stillman
Caleb Jones
Wyatt Kalynuk
Nicolas Beaudin
Isaak Phillips
Ian Mitchell