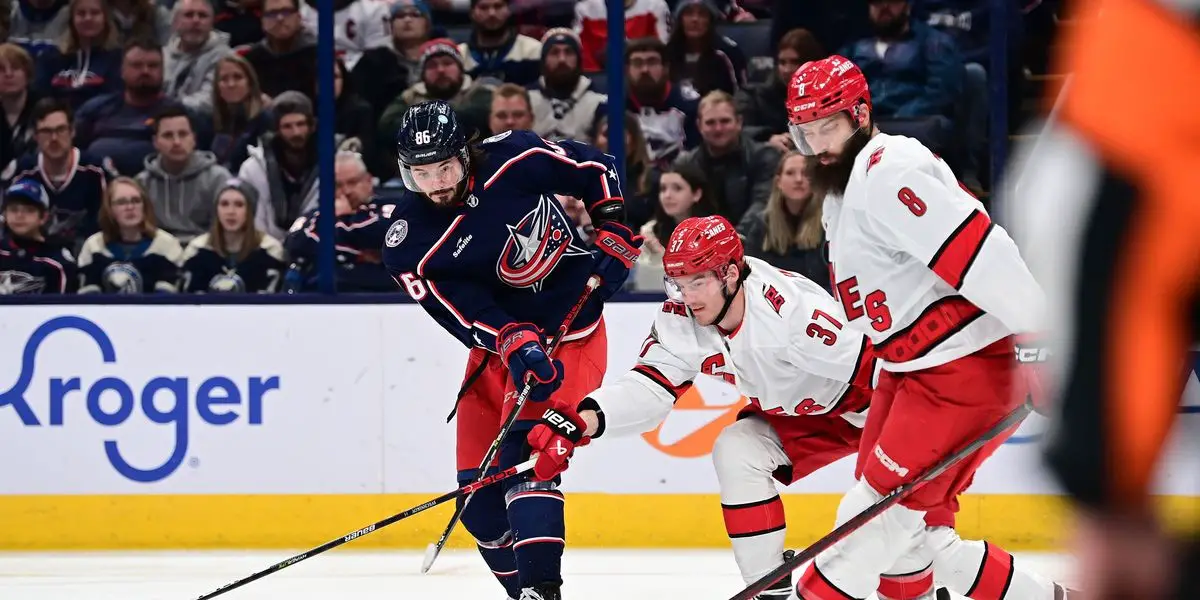 It has been quite a while since hockey fans have seen anything like what Columbus Blue Jackets RW- Kirill Marchenko is doing. In a rebuilding season in Columbus, Marchenko has been a bright spot. To date, Marchenko has 13- goals, 0- assists with 13- points. The last time an NHL player began their career with 11- goals, 0 assists, and 11 points was the 1926-'27 season.
There was never any question about Kirill Marchenko's scoring prowess, and the question was how quickly he could adapt to the North American hockey rinks. The seems to have been settled. Marchenko has 13 goals (including a hat trick) in 26 games, putting him on pace for 21 goals in 43 games.
It needs to be made clear Marchenko is not a puck hog. The Blue Jackets lacked scoring when the team iced a fully healthy team. As injuries have mounted, Columbus needed more scoring than ever. Enter Marchenko, within 16 games played with the Cleveland Monsters, scored eight goals, 11 assists, with 16 points. Marchenko can pass; he simply is being asked to shoot by the Blue Jackets.
Marchenko was inserted into a top-six forward spot on a Blue Jackets team that was and is banged up. The young forward has shown that he will likely stay in the top six when players return to health, be it this season or next.
Marchenko has used his speed well and gets into the dirty areas. His teammates love him, so the 0-assists in a non-issue, nor should it be. The Blue Jackets forwards (except Patrik Laine) pass the puck too often. Marchenko, who is a sniper, has essentially been asked to "grip it and rip it" or "get the puck to shoot the puck." when he does, more often than not, good things happen.
Marchenko's game is still evolving in the defensive end, but there has been an improvement. This is good news, as the Blue Jackets believe Marchenko can be a complete hockey player. It will be interesting to see how the rest of the season plays out for Kirill Marchenko and the Columbus Blue Jackets. Right now, it appears the organization has a player who, at the very least, can be a solid contributor going forward.
Next season will clear things up a bit more. Again barring injury, Marchenko is set to appear in 43 games this season. Playing a full season next year, his numbers should even out a bit more.
Episode 54 is here and the boys break down the Bruins adding Tyler Bertuzzi, Taylor Hall and Nick Foligno Injury updates, and Pastrnaks contract extension. Followed up with a tour around the NHL and breaking down the MOUNTAIN of trades that happened since last episode.DraftKings Sportsbook – Boston's hometown Sportsbook will be LIVE – soon – right here in Massachusetts! Bet local on all your favorite sports from the comfort of your own home with DraftKings. To celebrate, ALL new customers will receive up to TWO HUNDRED DOLLARS in BONUS bets when you sign up for DraftKings Sportsbook using code insidetherink! Soon you'll be able to bet local on money lines, spreads, props, and more with one of America's top-rated Sportsbooks – DraftKings Sportsbook!  Download the DraftKings Sportsbook app and sign up with code ITR to get up to TWO HUNDRED DOLLARS in BONUS bets to use once mobile sports betting hits Massachusetts. That's code insidetherink only at DraftKings Sportsbook.  If you or a loved one is experiencing problems with gambling, call (800) 327-5050 or visit (https://helplinema.org/) to speak with a trained specialist free and confidentially twenty four seven. 21+. Physically present in MA. Eligibility restrictions apply. Subject to regulatory licensing requirements. Eligibility and deposit restrictions apply. Opt in required. Bonus issued as free bets. Terms at draftkings.com/ma.