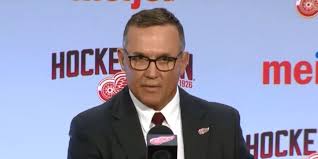 DISCLAIMER: I am not a doctor or scientist.

While Covid-19 has thrown the 2021-2022 NHL season into disarray already this season, could there be some positive(no pun intended) outcomes heading into the trade deadline?
We have all seen the expectation that contracting the Covid-19 virus will give you some sort of natural immunities moving forward, as well as the vaccination and boosters. But what could this mean for the trade deadline as teams are looking over players to acquire for a Stanley Cup run? Players and team staff alike have been speaking to the media more about the impacts of Covid on their teams, and many, including Steve Yzerman and Carter Hart, all share the same thoughts on less testing for players who do not show symptoms and let the virus run its course amongst the teams. While this is a roll of the dice, especially for players' families they come home to, the pulse around the league is wanting to loosen restrictions to keep as many of the top-flight talent on the ice as they can.
Could NHL teams be more apt to target players who have been vaccinated, boosted, and contracted the actual virus itself in hopes that the pandemic will not be a factor in their Cup pursuit? I am inclined to say yes. This will be a topic of discussion for some NHL teams. It has to be. Suppose you look at the statistics and see that players who have had the trio of Covid exposure are less likely to have complications again to land them on the Non-roster list as an NHL general manager. In that case, you'd be more apt to make a trade for the player knowing the odds are in your favor.

Ultimately, it is still too soon to tell, but I would love to hear your feedback in the comments below!