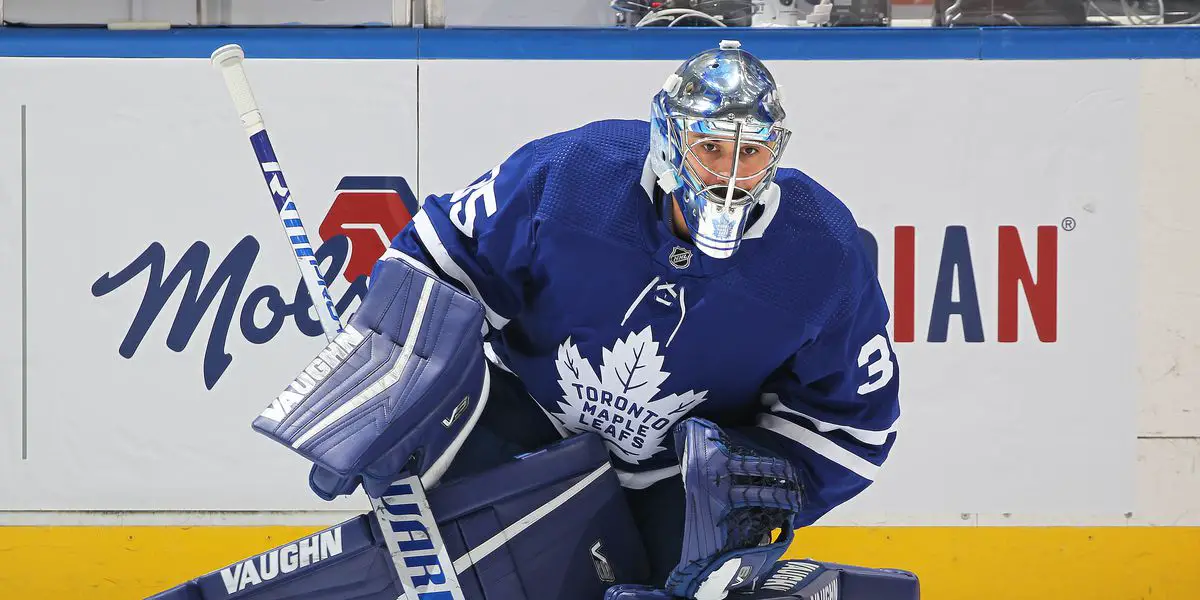 While Jonathan Toews and Patrick Kane are booking tee times and training, Kyle Davidson has a massive load of work to do before the Blackhawks can take the ice next season. The Blackhawks have glaring holes up and down the roster. None is more evident than the goaltender position. Every position is important, but only one position can win you games when you deserve to win. GOALTENDING. This year, the Eastern Conference finals have the two best goalies in the NHL, and the Rangers arguably don't make it this far without Igor playing out of his mind. It's clear now more than ever how vital a goalie is, and many NHL teams are starting to carry not just one starting-caliber goalie but two.
Now, the Blackhawks are not in a position to chase after the big fish in free agency as they look to rebuild; it's not about finding a goalie that will "steal" wins. Instead, they need a goalie that will help lead young players through the growing pains of a rebuild, a player that will be a reassuring voice for young players who will make mistakes as they adjust to the NHL.
Where do the Blackhawks stand in the net?
Kevin Lankinen
Kevin Lankinen is a pending unrestricted free agent, and after another disappointing season, both Chicago and Lankinen are probably looking for a fresh start. Lankinen played in 32 games this season, posting an 8-15-6 record (.891 SV% and 3.50 GAA). Besides his hot start in his rookie season, the NHL has been struggling for Kevin Lankinen. In his career, he has a save percentage of .901 and goals against an average of 3.23, which is not very good.
Collin Delia
Collin Delia, like Lankinen, is an unrestricted free agent. Chicago has made it evident that Delia is not their goalie of the future after signing Fleury in the offseason and sending Delia to the AHL, where he would find himself behind Arvid Soderblom in the pecking order. Delia played in eight NHL games this season, going 1-4-1 with a 3.85 GAA and an SV% of .899. Delia will likely be looking els where if he wants to play in the NHL.
Arvid Soderblom
Soderblom had a fantastic season in the AHL and was a significant reason the IceHogs could make it to the playoffs before falling to the Chicago Wolves. During his time in the minors, Soderblom would post a 2.76 GAA and an SV% of .918 over 38 games. However, Soderblom struggled mightily in the small sample size of NHL play. Over three games played, Soderblom would post a 5.01 GAA and an SV% of .863. Soderblom still needs time in the AHL to fine-tune his game before he's ready to take over the net for the Blackhawks.
The Prospects
Drew Commesso, Cale Morris, Ivan Nalimov, and Dominic Basse are just not ready. These goalies all need a few more years before they will be ready to be an NHL regular. Commesso is on the same trajectory as a Jake Oettinger, but Blackhawks fans have a few more years to wait before the American netminder pulls on the legendary Blackhawks jersey.
The clear answer in the net for Chicago is..
Petr Mrazek is the guy that should be at the top of Kyle Davidson's list. Mrazek is coming off a season in Toronto where he only played 20 NHL games. Mrazek did deal with a few injuries throughout the season. However, with the breakout of Jack Campbell, it's all but guaranteed Mrazek will be looking for a new city to play in next season. Toronto is scrambling for cap space and is willing to sweeten a deal for any Mrazek contract takers. With the rebuild in Chicago in full force, it makes sense to bring in a solid goalie but, more importantly, a goalie that can bring young goalies and players along. Mrazek shouldn't command a lot of money or term in free agency. But, with Chicago looking to stay competitive but still lose games, Mrazek is the guy. Why would Mrazek come to Chicago? It's simple to be a starting goalie in the NHL. Mrazek has only played in 32 games over the last two seasons. With Chicago not having a goalie on the roster, Mrazek would be guaranteed to get around 40-50 starts if he stays healthy.
Season 2 Episode 10: Is Patrick Kane The Greatest Blackhawks Player Of All Time
–
Cue The Dagger
In this episode, we discuss if Patrick Kane is the greatest Blackhawks player of all-time, Lukas Reichel's one NHL game, and his unbelievable shootout goal. We also break down Seattle's chances of making the playoffs, is hitting and fighting making a comeback? and much more NHL news and topics  #Blackhawks #ALLCAPS #NHL #SeaKraken #LetsGoBuffalo