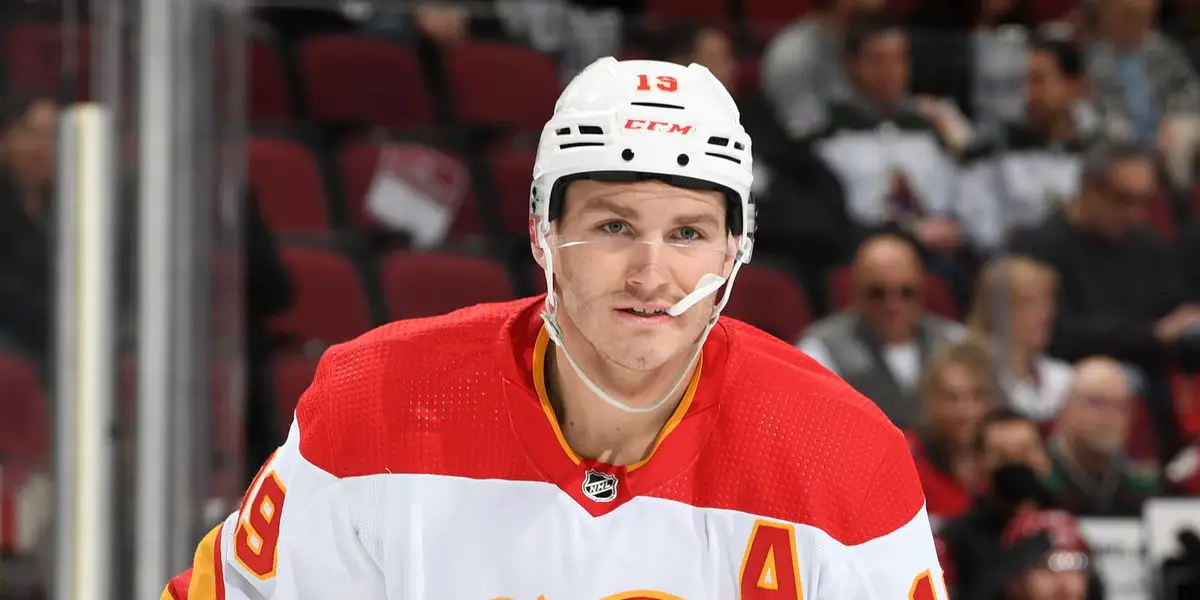 It has been over a week since the beginning of the free agency, and the Dallas Stars have made a couple of moves. They re-signed goaltender Scott Wedgewood to a two-year, one million dollar AAV contract. The Stars also re-signed Marian Studenic to a one-year, two-way contract. General Manager Jim Nill also made some additions to the roster. They added forward Mason Marchment on a four-year, 4.5 million AAV contract. As well as defenseman Colin Miller to a two-year, 1.85 million dollar AAV contract. These signings guaranteed that defenseman John Klingberg does not return to Dallas.
However, some other loose ends have not been tied yet, which has everyone asking why. Jake Oettinger and Jason Robertson, both restricted free agents, have not been signed. Both of these young players proved that they are the franchise's future, so the fact they haven't been locked down is puzzling. Fans can't help but ask themselves if there are issues or if Nill has something up his sleeve. Recent news of Matthew Tkachuk informing the Calgary Flames that he does not plan on signing in Calgary long-term, meaning he will likely be traded, has the hockey world buzzing. One has to wonder if signing Oettinger and Robertson gets put on hold to see if Dallas can fit Tkachuk in their roster.
Tkachuk is not only coming off a career year but also being a part of one of the NHL's hottest lines. In 82 games, he scored 42 goals and 62 assists and recorded 104 points. His expiring contract was a three-year, seven-million-dollar AAV contract. However, he has proved to be worth more than that, both offensively and defensively. Here is Tkachuk's extended player card provided by JFreshHockey for the 2021-2022 season.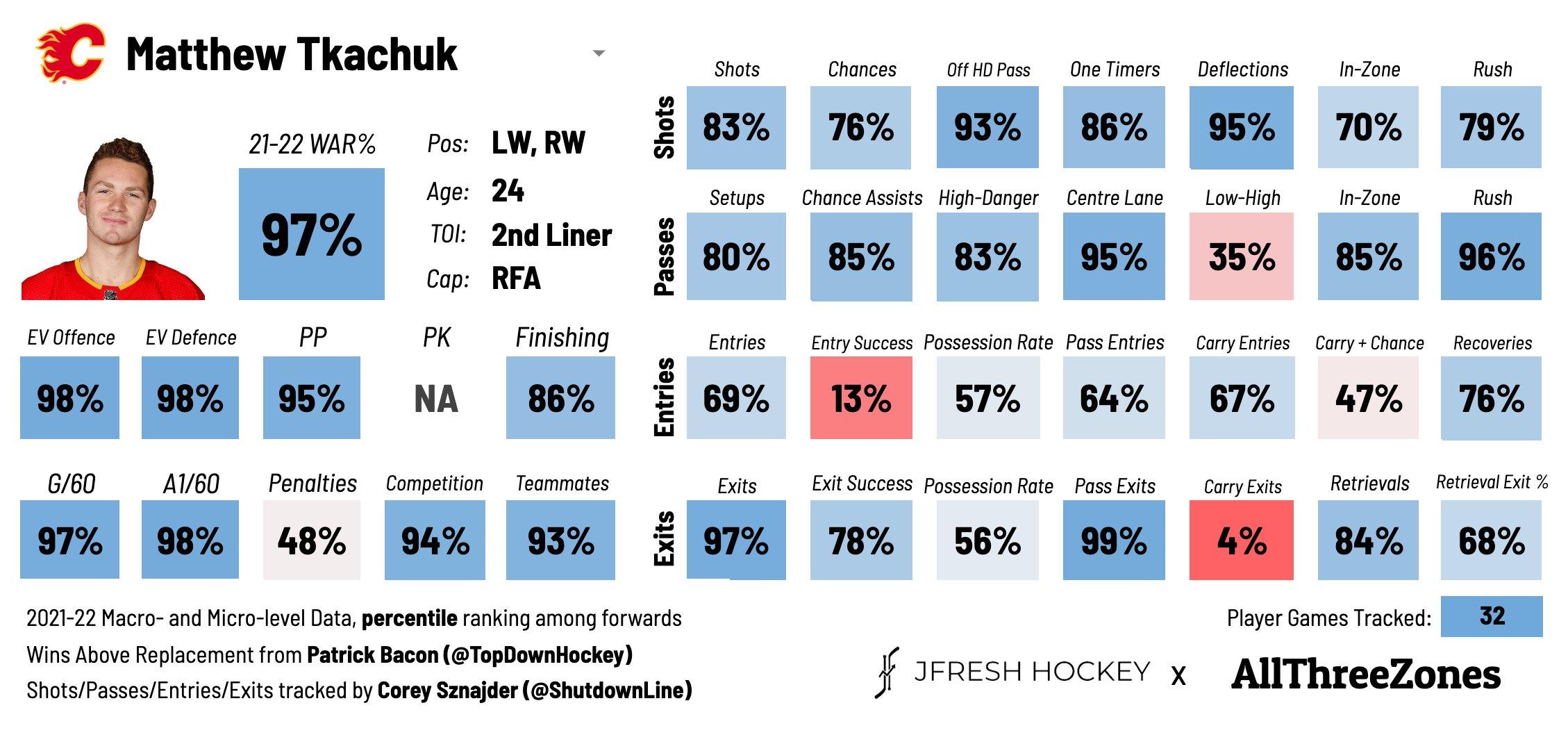 Potential Trades
One potential trade option Dallas could offer Calgary would be to trade Robertson for Tkachuk. Robertson is also coming off a career year. In 74 games played, Robertson scored 41 goals and 38 assists and recorded 79 points. And just like Tkachuk, Robertson was also on one of the most productive top lines in the NHL. Robertson would require a similar contract to Tkahuck, if not less, so the money could be there if the Stars wanted to go that route.
There is no guarantee that Tkachuk fits in with this line and produces the same as seen previously with a line that isn't Johnny Gaudreau and Elias Lindholm. However, the line of Robertson, Joe Pavelski, and Roope Hintz has proven to have chemistry and work well together. This was only Robertson's second season in the NHL compared to Tkachuk's sixth season. It appears that Robertson could potentially have a higher ceiling (assuming he produces similarly to this past season). But Tkachuk has a higher floor due to having established a productive career over the years. Any team would benefit from having either of these players on their roster, but for the Stars, sticking with the player that you know makes the most sense.
The other option could be a combination of things. The Stars could attempt to unload some cap space onto the Anaheim Ducks, who are under the cap floor. Two players they could hope to give to the Ducks would be Radek Faksa and Anton Khudobin. Assuming Anaheim is not on Faksa's no-trade list. Both of them combined would create over six million in cap space. However, if they are not included in the trade, the Stars must dig deeper in their future pockets. Without having Faksa in the trade, the Stars could offer Denis Gurianov, a player similar to Riley Damiani from the AHL, a prospect like Wyatt Johnston or Logan Stankoven, and a first-round 2023 pick. This would create around nine million dollars of cap space. Close to what would be needed to sign Tkachuk.
Another possible player thrown into the conversation as trade leverage has been Esa Lindell. He has a no-movement clause but a cap hit of 5.8 million a year. There are some issues with this proposal, though. He would have to waive his no-movement clause. Not only that, but the Flames are already heavy with left-handed defensemen. Removing him from the thin defensive line-up would also hurt the Stars. Moving Lindell doesn't seem feasible. There
There are several combinations of potential trade pieces we could offer Calgary if we want to sacrifice a little bit of the future for right now. Having our cake and eating it too is an option. If Nill could pull off this trade and keep Jason Robertson, the Stars would go from not having much offense to being an offensively potent team. A potential line of Tkachuk, Tyler Seguin, and Marchment could be the solid second line that the Stars desperately needed last season. Tkachuk's price tag is hefty, but it could be exactly what Dallas needs.
The boys are back after a long break but have plenty to talk about as the playoffs are in full swing. We go series by series, looking at how teams have fared so far and who will come out on top. Thanks for listening! Please rate and review our show on your favorite listening platform. Check out our partner's website at www.insidetherink.com for all your latest hockey news.