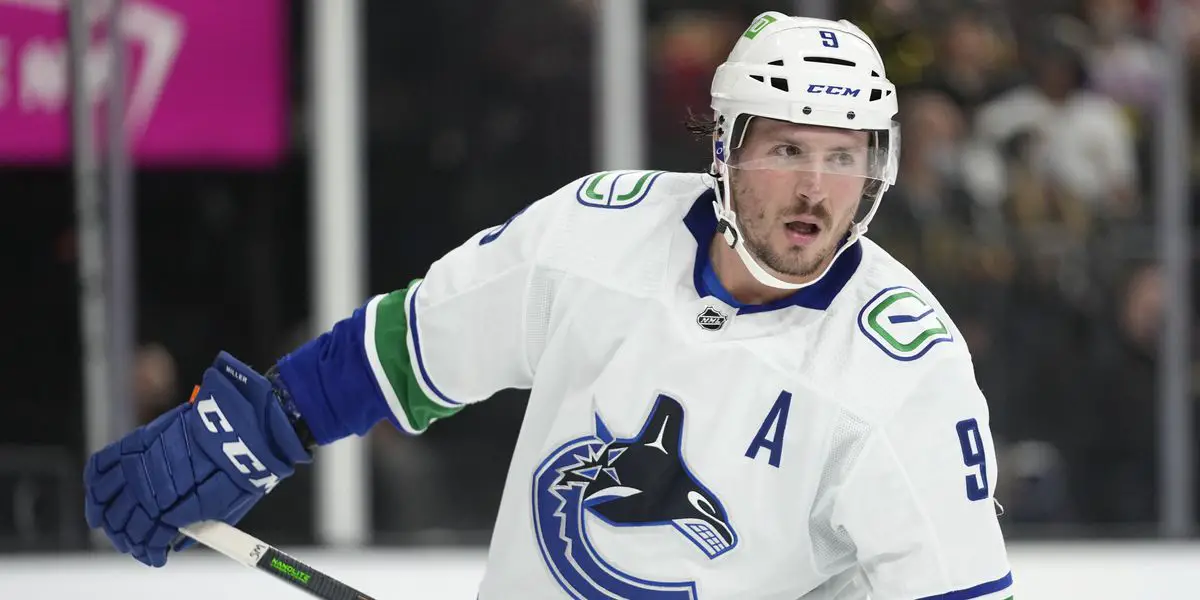 With the Stanley Cup Playoffs in full swing, teams that have missed the postseason are looking towards the summer, where there is the hope of change and hopefully future success the following season. This is familiar territory for the Detroit Red Wings, who haven't competed in the Stanley Cup Playoffs since 2016.
Sources have indicated that the Vancouver Canucks may be looking to move a big name forward, such as J.T. Miller or Bo Horvat, to help open up some much-needed salary-cap space. The Red Wings have an abundance of cap space going into the summer and are in need of big-name talent, especially at the center ice position. Let's break down how the two teams could help each other in a potential move.
Reasons For A Potential Trade
Cap Space
Looking at Vancouver's projected summer salary cap sheet, they have $12,873,333 to work with. While that may seem like plenty of space, the Canucks have key players who will be in need of new contracts. This summer, their restricted free agents include Brock Boeser, Juho Lammikko, and Matthew Highmore. The latter two should come in at a relatively low cost, but Boeser is coming off of a contract that paid him $5,875,000 and will likely be looking for a raise.
Over the next two seasons, the Canucks will also need to sign their franchise number one center, Elias Petterson, Nils Hoglander, and Vasili Podkolzin, who will both be coming off their entry-level deals, and the two players previously mentioned, J.T. Miller and Bo Horvat. Suddenly, $12 million doesn't seem like so much. With Horvat being their captain and only 27, I'd likely bet that he is more likely to be resigned than J.T. Miller.
The Canucks are likely to enter a retool phase in the next few seasons where they can add young pieces that can complement their young core of Elias Petterson, Quinn Hughes, and Thatcher Demko.
Now moving on to Detroit's projected salary cap sheet, it's the complete opposite of Vancouver's. The Red Wings have $36,376,944 in cap space and only have four restricted free agents (Filip Zadina, Jake Walman, Mitchell Stephens, and Olli Juolevi) who will all most likely come in at a relatively low cap hit.
The current core of the Red Wings will all need new contracts over the next two seasons but come July, and the team will be able to negotiate new deals with Tyler Bertuzzi and Dylan Larkin a year before they expire. Larkin seems anxious to get a deal done with Detroit as it was reported that he had switched agents and is now represented by Pat Brisson.
The summer of 2024 will see Lucas Raymond and Moritz Seider's entry-level deals expire, and both are on pace for a substantial raise, but even factoring in raises to Bertuzzi, Larkin, and potentially one of the Canucks' centers, the Red Wings will have plenty of cap space to work with.
Red Wings' Lack of Center Depth
The Red Wings took a swing on late-bloomer Pius Suter last summer, signing him to a two-year contract worth $3.25 million a year after Chicago chose not to qualify him. While Suter performed well as a defensive-minded center, his offensive production (15 goals and 21 assists) wasn't to the level of a playoff-caliber second-line center and would be better suited in a third-line role.
The Red Wings also have 2017 and 2018 first-round picks, Michael Rasmussen and Joe Veleno, who were drafted with hopes of potentially being able to slot in behind Dylan Larkin in the future. While both showed promise over the course of last season, it wasn't consistent across a full 82-game season.
While the Red Wings took a step forward this season, there were still plenty of areas of concern down the stretch, one of those being depth at the center position. During Yzerman's end-of-the-season media availability, he mentioned that he has put together a big list of potential free agents but stated that likely other teams would be interested in the same players. With the uncertainty of how free agency will shake out, getting ahead of the curve and trading for a player at a position of need, such as a top-six center, could be a worthwhile bet.
What Could a Package For Miller Look Like?
It was reported at last season's trade deadline that the only two untouchable players in Detroit were Lucas Raymond and Moritz Seider. Since then, the Red Wings drafted Simon Edvinsson sixth overall and Dylan Larkin was on pace for the best season of his career before needing abdominal surgery. With Edvinsson's development and, in all likelihood making the jump to the NHL next season and Larkin establishing himself as a top-line center at the age of 25, I would assume that both players wouldn't be moved in a trade. The Red Wings' amateur scouting staff has done quite well at finding quality prospects, especially on the defensive side, which is a position Vancouver is in need of.
Miller had the best season of his career to date during the 2021-22 regular season, scoring 32 goals and 67 assists, which ranked 9th among all NHL players this season. The 29-year-old has been no stranger to trade rumors throughout his career as he's already been traded twice, one of those involving Red Wings General Manager Steve Yzerman. Miller currently has one year left on a 5-year deal initially signed with Steve Yzerman and the Tampa Bay Lightning at a $5.25 million dollar cap hit.
Acquiring Miller would give the Red Wings two first-line caliber centers, which is a recipe for success looking back at previous Stanley Cup champions. J.T. Miller would be 30 when his current contract would expire, and while age curves teams should be wary about, it shouldn't be the end all be all. Miller is not a player who relies on a specific skill for his success, as he's able to adapt to any role or system he is in, similar to a player like Joe Pavelski, who just had the best season of his career at 37 years old. This would likely be Miller's final opportunity to cash in on a long-term contract and if the Red Wings were to acquire him they would have the cap space to make a deal work.
Potential Trade Package:
To Detroit: J.T. Miller
To Vancouver: Conditional 2023 first-round pick, a 2022 second-round pick, Filip Zadina, and William Wallinder
The condition on the first-round pick would be the Red Wings making the playoffs in 2023, the pick would still be of high value, likely in the 17-20 range, and if the Red Wings fail to make the postseason, the pick would be pushed back to 2024. Filip Zadina has yet to fully put all of his tools together across a full season and may be in need of a change of scenery. With the Canucks entering a bit of a retooling phase, a player who was drafted in the top-10 only four years ago is a worthwhile bet.
The Canucks are in desperate need of defensive prospects in their system, as they only have two drafted defensemen in the past five drafts, Jack Rathbone and Jett Woo, in the AHL. William Wallinder was named the SHL's 2021-22 junior player (U20) of the year, after finding his stride in December with Rogle, scoring 4 goals and adding 15 assists in 47 games. Wallinder would give the Canucks a prospect with potential top-four upside.
With Miller's age, being on an expiring deal, and Vancouver being in a cap crunch, the Red Wings could be able to take advantage of a team in need of flexibility and acquire one of the NHL's top producers this season at a reduced cost.
Trading for J.T. Miller would arguably be the biggest move that Steve Yzerman has made as Red Wings General Manager to date and would indicate that the team is looking to make a real push for the postseason. Yzerman is never one to show his hand when it comes to trades, so only time will tell whether or not the Red Wings are in the mix to make a big splash this summer.
In this episode, we recap the World Championships, highlighting Kubalik, Seider, Mazur. Next, we take a long look at the 2023 first round and which players will be available at 9th and 17th.