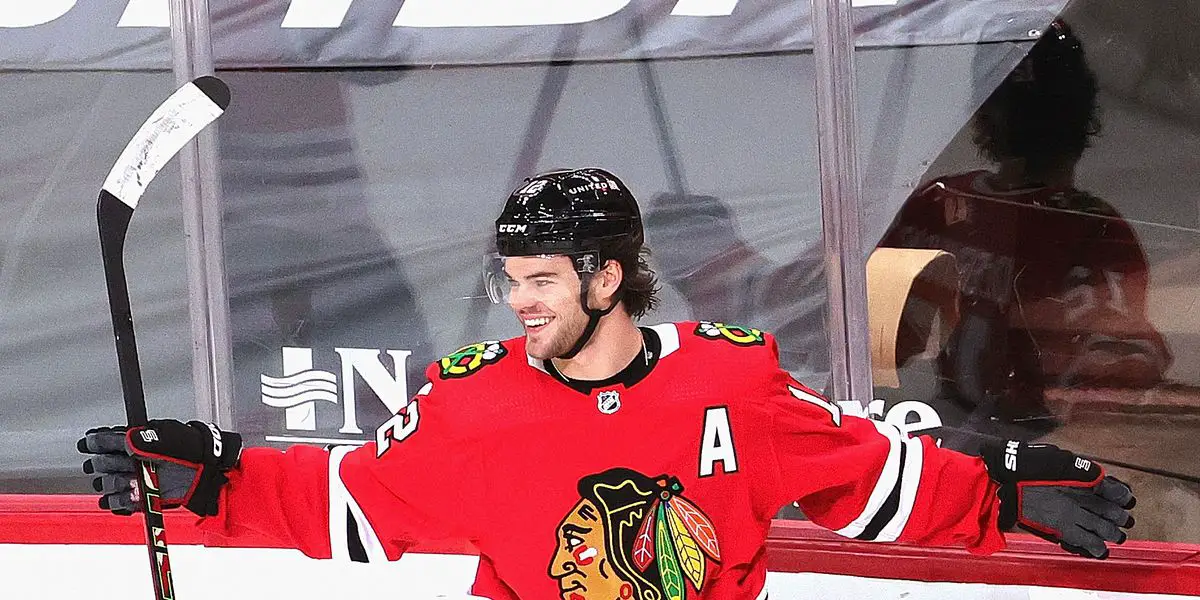 Chicago Blackhawks fans have been blessed to call Jonathan Toews, their captain since the 2008 season. Sadly, Toews is closer to the end of his illustrious career than the start of it. With Toews now missing some time with his concussion makes you wonder just who will wear the "C" following Toews?
If it is not Patrick Kane, the Blackhawks have a few options that it could be. Seth Jones is a number one defenseman and is signed for seven more years following this season. Jones wouldn't be a bad choice by any means, but he's only been in Chicago for a cup of coffee. The fan base is torn on him. This tension is from the huge package that went to Columbus in return for Seth Jones. Jones gives Chicago a number one defenseman that has been missing since Keith started to decline. His skating and play-making ability are out of this world. It did take him a few games to get his legs under him. Since it's been all systems, go for Seth Jones.
You have Kirby Dach and Lukas Reichel, who are both under twenty-two years old if you want to take the younger root. Dach has taken some time to develop his offensive game. He has shown that he is a responsible and mature game in his defensive zone. Dach has had a lot of pressure on and off the ice put on him. Which could be part of the reason his development has slowed. Dach recently talked about removing social media from his phone. Chicago needs to put all focus on his development and not add any more pressure. As for Lukas Reichel, he's only played two NHL games. Reichel has come over from Germany and just lit the American Hockey League on FIRE! Blackhawks fans already love him. Pump the brakes, though. Reichel is the only prospect that Chicago has the projects to be a top-six to a top-line type of player. The Blackhawks can not miss on him if they want to be a competitive team any time soon. Chicago has taken the right approach with him and is putting his development before anything. Reichel is young, and maybe if his career stays on this trajectory, he could become the next captain of the Chicago Blackhawks. Too bad for Reichel, the Blackhawks already have a player who is a better fit to wear the "C."
Alex DeBrincat. This should be obvious to everyone who follows the Blackhawks. After Kane and Toews, the face and identity of this team is DeBrincat. DeBrincat stepped into the league, from day one showed he's an elite top five sniper in the NHL. DeBrincat is a fan favorite and has the fantastic nickname "The Cat." DeBrincat is only twenty-four; he kills penalties and is willing to throw his body around even at his height. The Cat also wears an "A' on his shoulder, showing he's already taken on a leadership role. DeBrincat has shown that he may only be 5'7", but he can handle anything no matter the size or the amount of pressure it in tales. DeBrincat is also marketable, and he's been willing to do fun little things for the Blackhawks marketing. DeBrincat and his lady played a newlywed-style game and were both hilarious. DeBrincat just showed the world he's not shy to be outside the box with his Alan from The Hangover impersonation at the all-star game. DeBrincat is becoming a star on and off the ice making him the perfect and obvious choice to be the next captain of the Chicago Blackhawks.
Hopefully, Toews has plenty more years in Chicago, but if his time is to come soon, Chicago will be just fine. Alex DeBrincat is the perfect choice to take the "C" following Toews. Let's just hope Toews gets healthy soon and back on the ice.