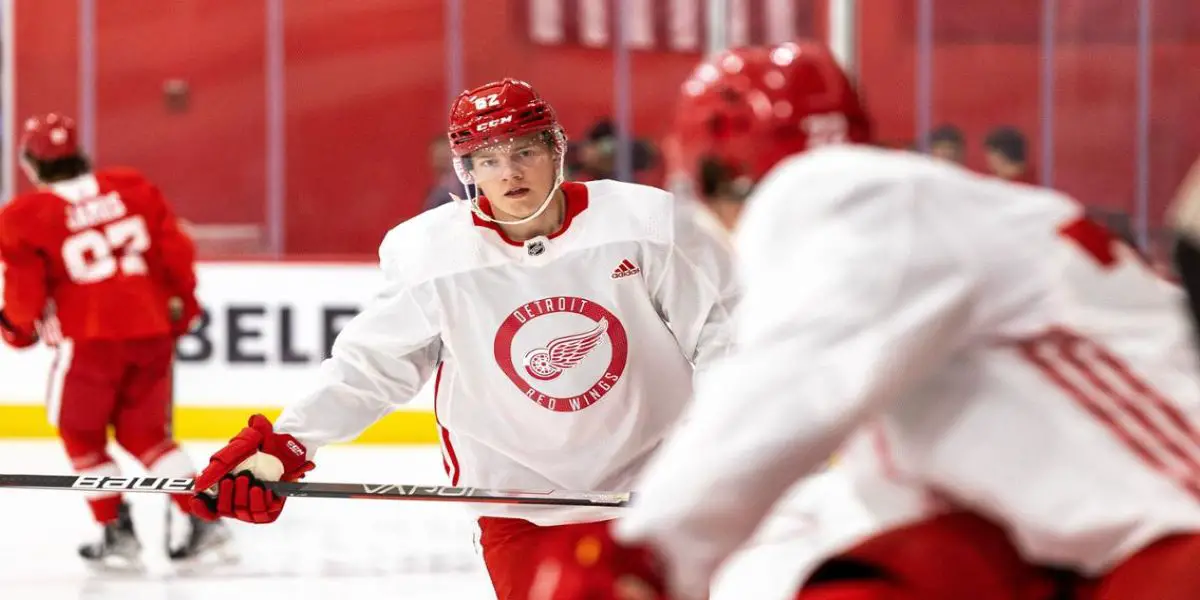 In 2020, the Detroit Red Wings were excited to draft Theodor Niederbach 51st overall in the NHL Entry Draft. Two years later, Niederbach is teetering out of the picture in Detroit and this week was demoted to the Allsvenskan, the second-highest league in Sweden.
Detroit general manager Steve Yzerman has always been high on Niederbach. After being drafted, Yzerman had this to say about the player: "Niederbach is a smart centerman from Sweden. Right-handed shot. Very talented, very skilled," Yzerman said on Oct. 7, 2020.
Up until this season, Niederbach played in the Frolunda organization. After he was drafted, Niederbach split the year between three teams and three leagues, scoring 19 goals and 49 points in 54 games. Most of those points were recorded for Frolunda in the J20 Nationell, the top junior league in Sweden. Niederbach also played for Sweden in the IIHF World Junior tournament scoring two goals in five games.
Last year was a learning year for Niederbach. He played the entire year for Frolunda in the SHL and scored nine goals, seven assists, and 16 points, and he had a -1 rating during the regular season. His goal total was tops among junior-age players in the SHL. He once again represented Sweden at the World Juniors and helped Sweden win a WJC bronze medal. In seven games, he scored one goal, three assists, and four points and had a +2 rating.
Wanted Something New
Niederbach wanted to try something new when he asked for a transfer to Rogle BK to start this season. He witnessed the development of Moritz Seider and William Wallinder, both Red Wings draftees, and decided that Rogle BK was the best location for him to continue to develop. Niederbach and Wallinder would be joined by the Red Wings most recent 1st round pick, Marco Kasper.
Niederbach played 17 games for Rogle BK to start this season, and as the season progressed, Niederbach's ice time diminished to the point where he was sometimes the 13th forward. Niederbach only scored one goal and a -6 rating for his efforts.
Heading to MoDo
Niederbach's development has been slowed to the point whereby he needs to play and regain his confidence. Rogle BK sent him to MoDo Hockey, a team that Niederbach is familiar with, as he played 15 games for them during the 2020-2021 season. This is not a loan, this is a demotion, and Niederbach is expected to play the remainder of the season in the Allsvenskan.
Niederbach's time in the SHL has been disappointing. In 88 games over the last three seasons, he has scored 13 goals and 22 points and has a -12 rating. Sometimes, playing only five minutes a game is not best for a young player.
Final Thoughts
Theodor Niederbach is only 20 years old and has plenty of time to develop into an NHL player. The Red Wings continue to maintain his rights until June 2024. He will play out the season in the Allsvenskan, and then Steve Yzerman will have to decide the best course of action to get Niederbach to the next level. After he was drafted, Yzerman believed that "He missed some hockey with an injury the previous year, so like most of the kids, he's going to take some time to mature and physically evolve. We're excited about his potential." Only time will tell if Niederbach can regain his confidence and sign an entry-level contract with Detroit.
In this episode, we recap the Traverse City Prospect Tournament and which players stood out. We spend the rest of the episode previewing the Red Wings' training camp and potential storylines to follow.