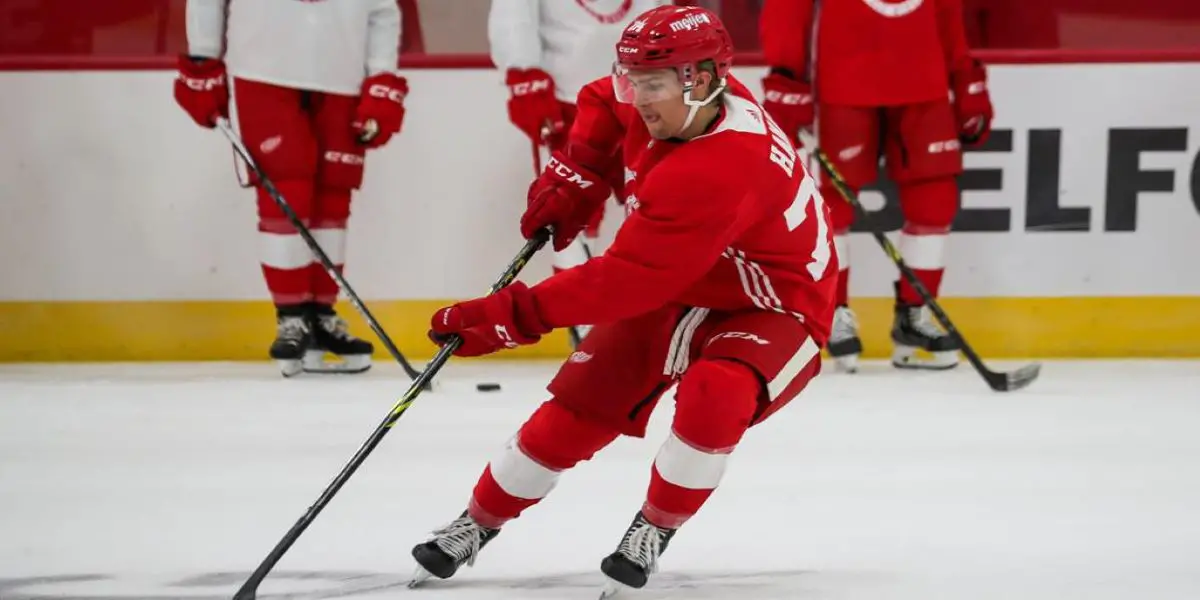 The Detroit Red Wings played their final game of the NHL Prospects Tournament in Traverse City on Monday afternoon. The Red Wings defeated Toronto 4-1 in another exciting game.
Scoring Summary
1st Period
Mitchell Martin opened the scoring for Detroit on a breakaway.
Eemil Viro scored what proved to be the game-winner late in the period. The score was 2-1 after one period.
2nd Period
Cross Hanas scored an insurance goal on a breakaway late in the second period to give Detroit a 3-1 lead going into the third.
3rd Period
This time, Riley Piercey scored his fifth tournament goal into an empty net to put Detroit up 4-1. Toronto outshot Detroit 23-17 for the game.
Stars of the Game
Sebastian Cossa played a strong game in goal, making 14 saves and keeping Toronto scoreless during the second half of the game.
Jan Bednar only allowed one goal during the game and was awarded the win.
Cross Hanas scored a breakaway goal that gave Detroit a 3-1 lead late in the second Period.
Game Notes
Donovan Sebrango, Seth Barton, and Drew Worrad were the alternate captains for Detroit.
Top goaltending prospect Sebastian Cossa played excellent in goal for the Red Wings. Cossa played two half games and did not allow any goals during the tournament.
Jan Bednar also played excellently during the tournament, allowing one goal against in two half games.
Free agent invitee Riley Piercey led the entire tournament with five goals. He will likely return for his OA year for Flint in the OHL.
Goaltender Andrew Oke did not suit up for Detroit. Other scratches were defensemen Tnias Mathurin and Albert Johansson and forwards Jake Uberti and Marcus Limpar-Lantz.
Up Next
Training Camp begins September 22 and runs through September 26. The annual Red and White game will be played on Sunday, September 25.
In this episode, we recap the Traverse City Prospect Tournament and which players stood out. We spend the rest of the episode previewing the Red Wings' training camp and potential storylines to follow.