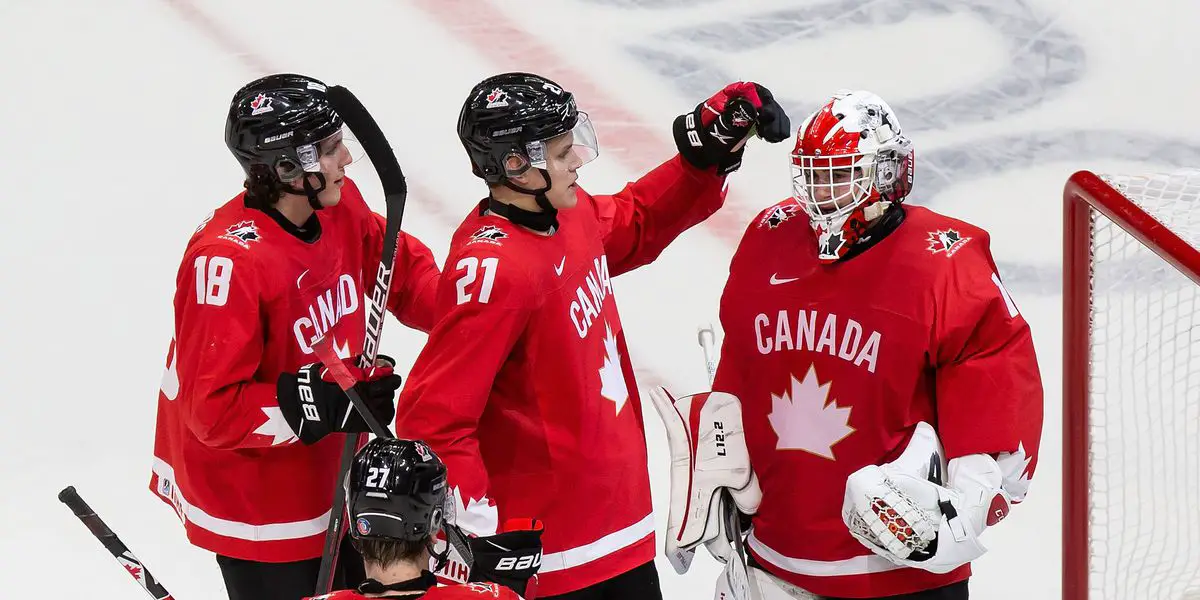 On Saturday, the Detroit Red Wings had seven of their nine prospects playing for medals at the IIHF World Junior Championships. Sebastian Cossa and Donovan Sebrango of Canada played against Eemil Viro from Finland in the gold medal game. Theodor Niederbach, Simon Edvinsson, and William Wallinder from Sweden played against goaltender Jan Bednar from Czechia in the bronze medal game.
In earlier action, Carter Mazur and Red Savage from Team USA lost their quarter-final match 4-2 to Czechia and did not participate for medals.
Here is the roundup of Red Wings prospects at the WJC.
Gold Medal Game, Canada (3) Finland (2)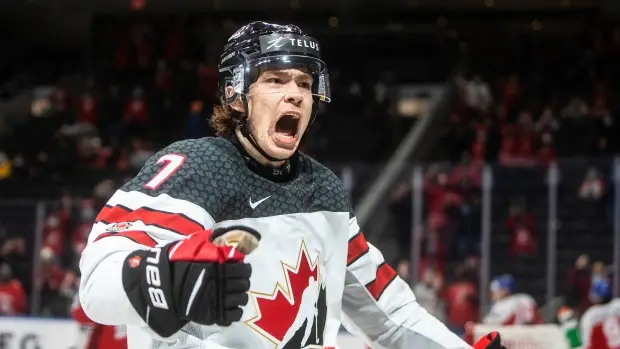 Donovan Sebrango went from playing two years in the AHL to winning a gold medal with Canada on Saturday night. The former 63rd overall pick from the 2020 NHL Entry Draft played on the top defensive unit, picked up two assists, and had a +7 rating in seven games while playing for Canada. Sebrango will attempt to make Detroit this year or, at the very least, will return for a third season in Grand Rapids (AHL).
Sebastian Cossa played one game against Latvia in the tournament. The former first-round pick of the Red Wings in the 2021 draft had one win, a 2.00 GAA, and a .917 SV% in the game. Cossa will likely be the backup goaltender in Grand Rapids (AHL) to start the season.
Eemil Viro played steady defense for the silver medal-winning team from Finland. The former 70th overall pick from the 2020 draft had one assist on the first goal for Finland in the gold medal game. In seven games, Viro also had a +1 rating for the tournament. Viro is jumping to North America and will likely start the year in Grand Rapids (AHL).
Bronze Medal Game, Sweden (3) Czechia (1)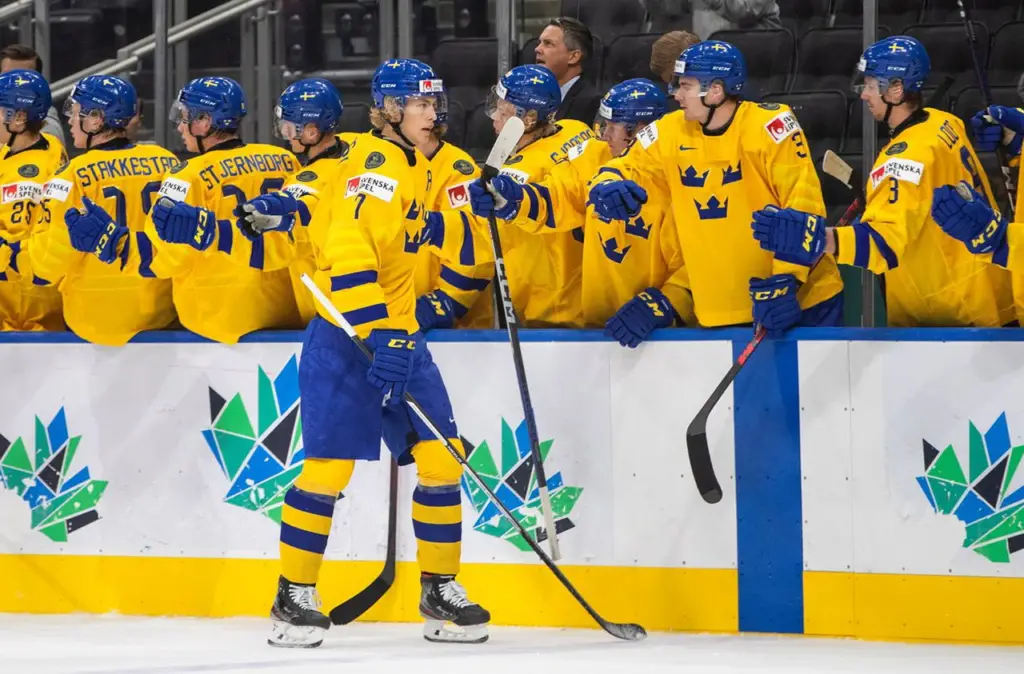 Theodor Niederbach had a really good tournament while playing for Sweden. The former 51st overall pick in the 2020 draft scored one goal, picked up three assists, four points, and had a +1 rating. Niederbach also assisted on the game-winning goal in the bronze medal game. Niederbach will make the switch to Rogle (SHL) this year.
William Wallinder also had a good tournament. The former 32nd overall pick from the 2020 draft picked up three assists in seven tournament games. Wallinder had an assist on the insurance goal for Sweden in the bronze medal game. He also had a +3 overall rating for the tournament. Wallinder will return for another season playing for Rogle (SHL) this year.
Simon Edvinsson had a steady tournament for Sweden. The former 6th overall pick from the 2021 draft had one goal, one assist, and a +2 rating in the tournament. Edvinsson will jump to North America this year and play for either the Red Wings or Grand Rapids (AHL) this season.
Jan Bednar played three games in goal during the tournament but did not see game action in the semi-final or final. The former 4th-round pick from the 2020 draft had a 1-2 record during the round-robin portion of the tournament. He also had a 4.00 GAA and a .851 SV%. Bednar will return to Acadie-Bathurst (QMJHL) for his overage year.
Team USA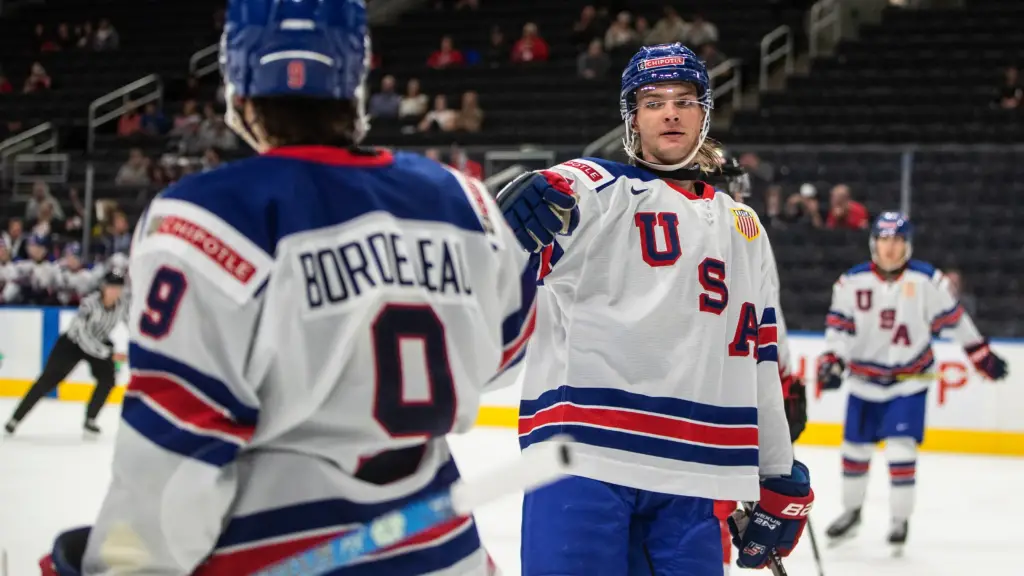 Carter Mazur is a Red Wings prospect to watch after he led Team USA in goals at the WJC. Originally a 3rd round pick by Detroit in the 2021 draft, Mazur has had a tremendous year going back to his freshman season at the University of Denver. Mazur was selected as the NCAA (NCHC) Rookie of the Year when he scored 14 goals and 38 points in 41 games. His team at Denver also won the National Championship. At the WJC, Mazur scored five goals and added two assists in five games before USA lost their quarter-final game to Czechia. Mazur will return for his sophomore season at Denver this year.
Red Savage also had a productive tournament scoring two goals and three points in five games. Savage was originally a 4th-round draft pick from 2021 and will be entering his second season at Miami University (Ohio). Savage also had a +5 rating, which was third on Team USA.
In this episode, we discuss the Red Wings finish to their four game roadtrip, winning in San Jose and Columbus and losing in the shootout to Anaheim. We dive deep into the games, breaking down Filip Hronek's hot start and what has been different this season. Seider and Copp finding their way, Bertuzzi and Walman return. And a look at the playoff picture in the Eastern Conference. Please rate and review our show on your favorite listening platform. Check out our partner's website at www.insidetherink.com for all your latest hockey news.