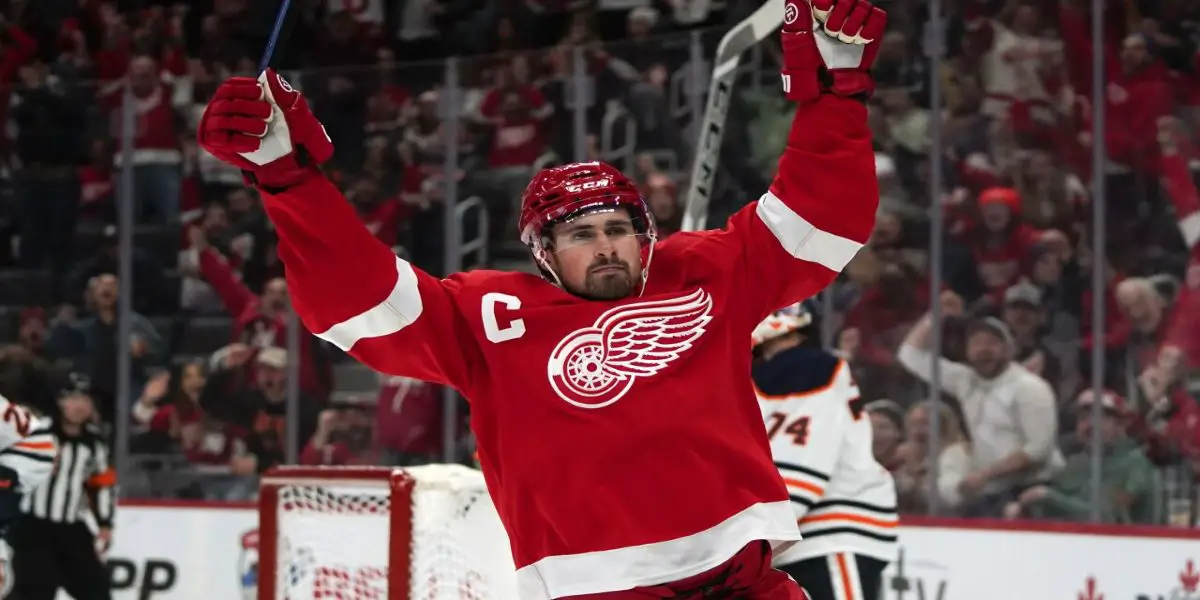 As the Red Wings' 2021-22 season wrapped last week, it marked the sixth season in a row where the Red Wings would not be competing in the Stanley Cup Playoffs. Still, looking back on the season, there were plenty of memorable individual performances that deserve recognition. Here are the Detroit Red Wings team awards winners for the 2021-22 season.
Best Forward
Dylan Larkin 
Starting with an easy one. After a tough 2020-21 season, Dylan Larkin was able to bounce back and prove that he is a true number one center in the NHL. Through 71 games played, Larkin scored 31 goals, 25 scored at even strength, which ties him with the likes of Nathan MacKinnon and David Pastrnak. He also added 38 assists for 69 points, only four short of his career-high, which he achieved during the 2018-19 season. 
Larkin was instrumental in the successful seasons of Tyler Bertuzzi and Lucas Raymond, the latter being a 19-year-old (now 20) rookie, which is the same age that the now 25-year-old captain broke into the league. Larkin showed his ability throughout this season to not only drive play offensively but also matchup against opposing teams' top lines and play a shutdown role.
Larkin missed the last six games of the season due to needing core surgery, but in his end of the season press conference, he confirmed he would be able to get a whole summer of training and be ready for the start of training camp.
Best Defenseman 
Moritz Seider 
It is pretty hard to argue in favor of any other defenseman on the roster and compare it to the season Moritz Seider just had. At just 20 years old (he turned 21 last month), Seider was able to step right into Detroit's lineup and become the team's number one defenseman. 
Coming into the season, Seider's defensive game was well documented from his previous season in the SHL, where he was named the Defenseman of the Year. Still, the question was how big of an impact he would have offensively. The answer was having the third-best offensive season by a rookie defenseman in Red Wings history, only behind Nicklas Lidstrom and Reed Larson.
Seider played all 82 games this season, finishing with seven goals and 43 assists for 50 points while averaging over 23 minutes per game, which is over two minutes more than any other rookie. Seider also ranks first amongst rookies in assists and fourth in points. 
It would be surprising if, after the season Seider has had, he isn't the winner of the Calder Memorial Trophy.
Best Goalie 
Alex Nedeljkovic
While there were some growing pains in Nedeljkovic's first entire season, he was still the best goalie on the Red Wings roster. After the season he had in Carolina and then being traded to Detroit, there was a lot of optimism surrounding Nedeljkovic and thought that the Red Wings might have just found their starting goalie for years to come. 
In 59 appearances this season, Nedeljkovic had a record of 20-24-9, a goals-against-average of 3.31, and a save percentage of .901. While those numbers are a significant drop-off from last season, Carolina has one of the best defensive systems in the NHL, and Detroit has one of the worst.
In his end of the year press conference, Nedeljkovic emphasized that he wants to be more consistent next season and give the team a chance to win every game. He showed in multiple games this season the ability to steal games, and with an improved defense next season, I'd imagine Nedeljkovic's stats will improve.
Most Improved
Michael Rasmussen 
Rasmussen finished the 2020-21 season strong after starting the year in Austria before returning to North America. He spent time bouncing between Detroit and Grand Rapids before earning a full-time role. 
This season, Rasmussen spent a large majority of the season as the team's third-line center and played a shutdown role with Adam Erne and Vladislav Namestnikov on the wings. It was apparent that the workload was too much for him as he spent most of his time on the ice in the defensive zone and wasn't able to generate any offense.
The coaching staff then moved Rasmussen to the wing, and Rasmussen looked like a completely different player. He was able to use his size and speed to drive to the Bret to create offense for himself, which is something Rasmussen hasn't done consistently in his career up until this point. In his last 16 games, Rasmussen found the back of the net seven times and added an assist, finishing with 15 goals and 12 assists for 27 points on the year, which is a career-high.
The biggest question for Rasmussen going into next season is what position he will play? While I did like what I saw from Rasmussen on the wing, I understand the want to have a 6'6 230, pound center, and down the stretch, he did play the middle and looked comfortable. I'm curious to see if Rasmussen can become a consistent powerplay threat from the net front and be able to score 20-plus goals next season.
Poised For A Breakout
Filip Zadina
Filip Zadina, at the beginning of the season, the hope amongst the fanbase was for the 2018 sixth overall pick to break out offensively in his first full season in the NHL. 
Unfortunately, that didn't happen, as in 74 games played this season, Zadina scored 10 goals and 14 assists, only five more points than he had last season in 25 fewer games. Zadina showed flashes throughout the season where he looked poised to go on a scoring run but never actually did. 
I do think that a shooting percentage of 5.1% at even strength is very low for a player of Zadina's talent and will regress to the mean next season. Zadina was one of the best on the Red Wings in terms of generating offense. From MoneyPuck, Zadina ranked 6th on the team in expected goals and On-Ice Shot Attempt % with 15.4 and 52%, respectively. Zadina was able to find chemistry late in the season when Jakub Vrana entered the lineup.
It felt as if the coaching staff was unwilling to give Zadina consistent opportunity in the top-six down the stretch, even though it seemed Zadina was beginning to find his game with players such as Dylan Larkin and Jakub Vrana. It's hard to imagine that a new head coach and increased opportunity could finally lead to a breakout season for Filip Zadina.
MVP
Dylan Larkin 
On top of all the reasons stated before, Dylan Larkin is the heartbeat of the Detroit Red Wings. While Larkin was named captain last season, it never really felt real until the home opener this season when Larkin was introduced as captain for the first time in front of a sold-out Little Caesars Arena crowd and former Red Wings captains.
No matter the score and even through injury, Larkin always is one of the hardest working guys on the team. Even through the tough times, he has shown that he is fully committed to being a Detroit Red Wing for the entirety of his career. With his commitment and another offseason of development and potential additions, this team is looking to take another step forward, and that all starts with number 71.
Please rate and review our show on your favorite listening platform. Check out our partner's website at www.insidetherink.com for all your latest hockey news.