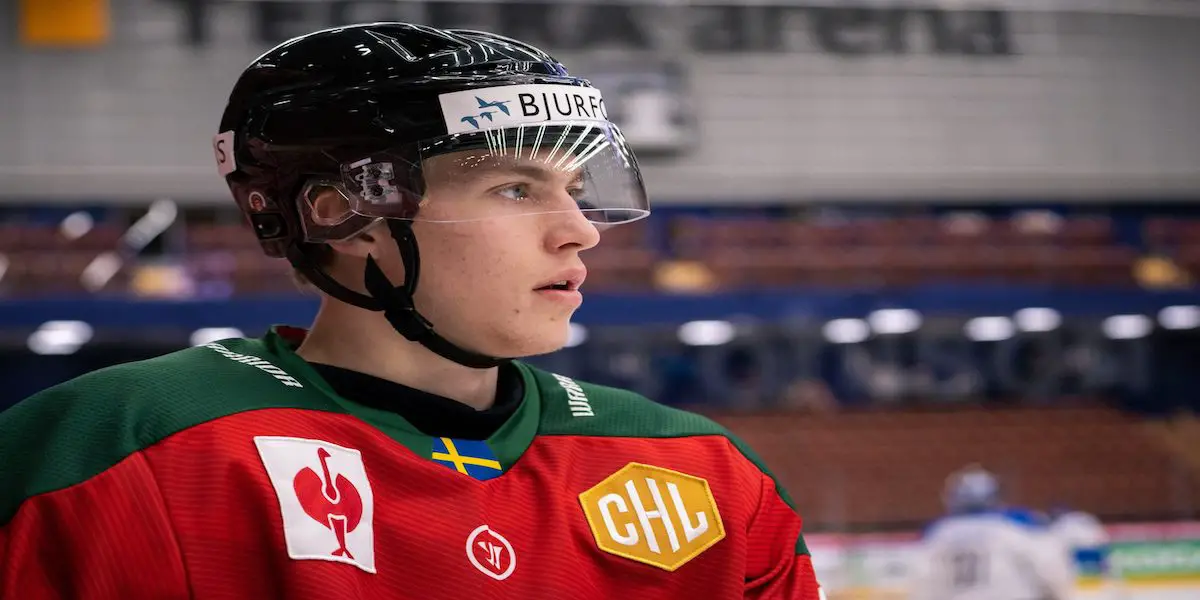 After the 2022 World Junior Under-20 Championship was initially canceled back in December, there was uncertainty about when and if the tournament would resume. Only a few months later, the IIHF announced the tournament would take place August 9th-20th at Rogers Place in Edmonton. With many picks over the past few seasons, the Red Wings pipeline is stocked with plenty of young talent.
Although 2022 eighth overall pick, Marco Kasper, won't be representing Austria in this tournament, the Red Wings still have the most representation with nine prospects. Here are all nine prospects and which countries they will suit up for in the 2022 U20 WJC.
United States
Carter Mazur
Mazur was taken 70th overall as a 19-year-old in the 2021 NHL Entry Draft and was considered one of Detroit's more significant reaches by many experts. But after a successful freshman campaign at Denver, winning the national championship, Mazur looks to be one of Detroit's best picks in 2021.
Mazur quickly acclimated himself to the NCAA with his tenacity and ability to score in the hard areas around the offensive zone. In 41 games played, Mazur potted 14 goals and added 24 assists, which ranked fifth on the Pioneers and second amongst all NCAA freshmen. Mazur was named the NCHC's Rookie of the Year, putting him with current NHLers such as Jaccob Slavin and Brock Boeser.
He will be a key contributor for Team USA as star player Matty Beniers has opted out of the tournament, giving Mazur a better opportunity higher in the lineup. Judging by USA's two preliminary games, Mazur looks to be getting that opportunity, playing on the top line with Landon Slaggert (CHI) and Thomas Bordeleau (SJS).
Red Savage
Easily the best name to come out of the 2021 NHL draft, if not any draft. Red, son of former NHLer Brian Savage, was a product of the U18 NTDP and was drafted in the 4th round at 114th overall.
As a freshman at Miami of Ohio, Savage has had a successful start to his collegiate career. Playing with his older brother, Ryan, Red had six goals and ten assists in 35 games. Savage was named NCHC Rookie of the Week on October 25th, where he recorded three helpers in two games versus Bowling Green. Savage will most likely be deployed in a bottom-six role with some time on the penalty kill.
Sweden
Simon Edvinsson
The Red Wings' top prospect, Simon Edvinsson, had an excellent season in the SHL playing for Frolunda, scoring two goals and 17 assists in 44 games. Edvinsson's season would be recognized amongst the rest of the league as he was nominated for the SHL Rookie of the Year and won the EliteProspects Award for the best junior-aged player in the SHL.
In the two games before the 2022 World Junior Championship was canceled, Edvinsson was arguably Sweden's best player, especially against Russia, where he even scored a breakaway goal. 
Heading into the WJC, Edvinsson is one of, if not the must-watch prospect in the tournament after the season he just had. Edvinsson will be relied on heavily at even-strength; his size and mobility will be an integral part of any success Sweden has. The tournament will be a perfect way for the 6'6 defenseman to gear up for the Red Wings' training camp and preseason, where he is expected to push for a spot on Detroit's opening night lineup.
Theodor Niederbach
Niederbach was also on the original roster for Team Sweden back in December and provided secondary solid scoring behind the likes of William Eklund and Alex Holtz. In the two games played, Niederbach scored twice, including a quick-release goal from the slot on Sweden's powerplay.
In 51 regular-season games with Frolunda, Niederbach scored nine goals and added seven assists. Niederbach had an up and down regular season with Frolunda in terms of deployment, which eventually led to his decision to move SHL clubs to Rogle, where he'll likely get more opportunities to play higher in the lineup.
Niederbach will be heavily relied on to carry the load for Sweden's offense, with star players William Eklund and Alex Holtz opting out of the tournament. Niederbach was slotted in as the second-line center and in the slot position for the first power play unit on Thursday.
William Wallinder
Initially left off of Team Sweden's WJC U20 roster back in November, Wallinder forced himself back into the conversation for the restart of the tournament after an excellent regular season.
Wallinder took a significant jump in his development In Rogle's system under head coach Cam Abbott, especially in transition. In 47 games with Rogle this season, Wallinder scored four goals and 15 assists and was voted the SHL's Top U20 player. With his size (6'4 190 lbs) and skating ability, Wallinder is a unique prospect and will likely be a regular for Sweden in August.
In a preliminary tournament matchup against Finland this past Thursday, Wallinder was on the third pair with Emil Andrae (PHI). Wallinder will look to be a regular for Sweden throughout the tournament, using the momentum of a strong SHL season.
Finland
Eemil Viro
Viro is one of my favorite prospects in Detroit's system. The 3rd rounder from 2020 has spent the last three seasons playing for TPS in Liiga. There's nothing flashy about Viro's game; his game consists of smooth skating and a great first pass.
This past season playing for TPS of Liiga, Viro scored three goals and added four assists in 52 games. He also equaled his regular season point total in the playoffs, recording five points in only 15 games.
Viro was an impact player in last year's tournament, even setting up this goal against rival Sweden. 
Viro will look to help Finland improve on their bronze medal in 2021 in an increased role. Look for Viro to see top-four minutes with a presence on the penalty kill.
Canada
Sebastian Cossa
It's no secret that Sebastian Cossa will have a chip on his shoulder heading into the tournament. After an up and down 2021-22 season and not even seeing in either one of Canada's two games before the tournament was canceled, Cossa will look to start on the right foot.
In 46 regular season games, Cossa had a record of 33-9-3, a save percentage of .913, and a goals-against-average of 2.28. It seemed Cossa at times was a victim of the Oil Kings' success, as in many games, he'd face less than 20 shots, and letting in a few goals can make a save percentage look deceiving. Cossa found his game in the WHL playoffs, where he helped Edmonton win the WHL championship, posting a record of 16-3 and a save percentage of .919.
Cossa continued his strong play in the Memorial Cup, including this sequence below, but Edmonton ran out of steam, only lasting three games.
Cossa will compete with fellow WHL goaltender Dylan Garand (NYR) for the starting role, who had a strong season with the Kamloops Blazers.
Donovan Sebrango
Sebrango was also on Canada's WJC roster before it was canceled in December, even scoring versus Czechia in the team's first game.
Spending the past two seasons playing in the AHL for Grand Rapids, the 20-year-old defenseman has developed a pro style much quicker than expected. In 65 games this season, Sebrango scored one goal and added six assists and was heavily relied on at many points as the Griffins struggled with injuries on the backend.
Playing two seasons in the AHL and three NHL preseason games, Sebrango has more pro experience than anyone on Canada's roster. His leadership was rewarded as Sebrango was named one of Canada's assistant captains, with Kent Johnson (CBJ) wearing the other "A" and Mason McTavish (ANA) serving as captain.
Sebrango will be relied on in defensive zone situations, likely playing a bottom-pair role with some time on the penalty kill.
Czechia
Jan Bednar
Bednar is a goalie prospect that has started to get lost in the shuffle of all the prospects that Detroit has drafted over the past few years. The 6'4 netminder has had an up and down start to his young career. He spent his draft year playing at the pro level, split between the Czech and Czech 2 leagues. 
In 47 appearances this season, Bednar had a record of 28-18 and a save percentage of .912, which is a significant improvement from last season. He also appeared in one game for Czechia, where he stopped 31 of 32 shots in a 2-1 overtime loss to Germany. Bednar and the Acadie-Bathurst Titan got swept in the second round of the QMJHL playoffs to fellow Red Wings prospect Oscar Plandowski and the Charlottetown Islanders. It wasn't for the lack of effort from Bednar, who earned Game Three's second star, stopping 32 of 34 shots.
Bednar will likely be the go-to guy in between the pipes at the tournament, and if Bednar can bring the same performance he had in the QMJHL playoffs, Czechia may be able to make some noise.
After an eventful trip up to Traverse City, the Red Wings have begun preseason action. In this episode, we recap Detroit's games versus Pittsburgh and Chicago while also pointing out top performers. We also give our biggest storylines around the rest of the preseason. Thanks for listening! Please rate and review our show on your favorite listening platform. Check out our partner's website at www.insidetherink.com for all your latest hockey news.