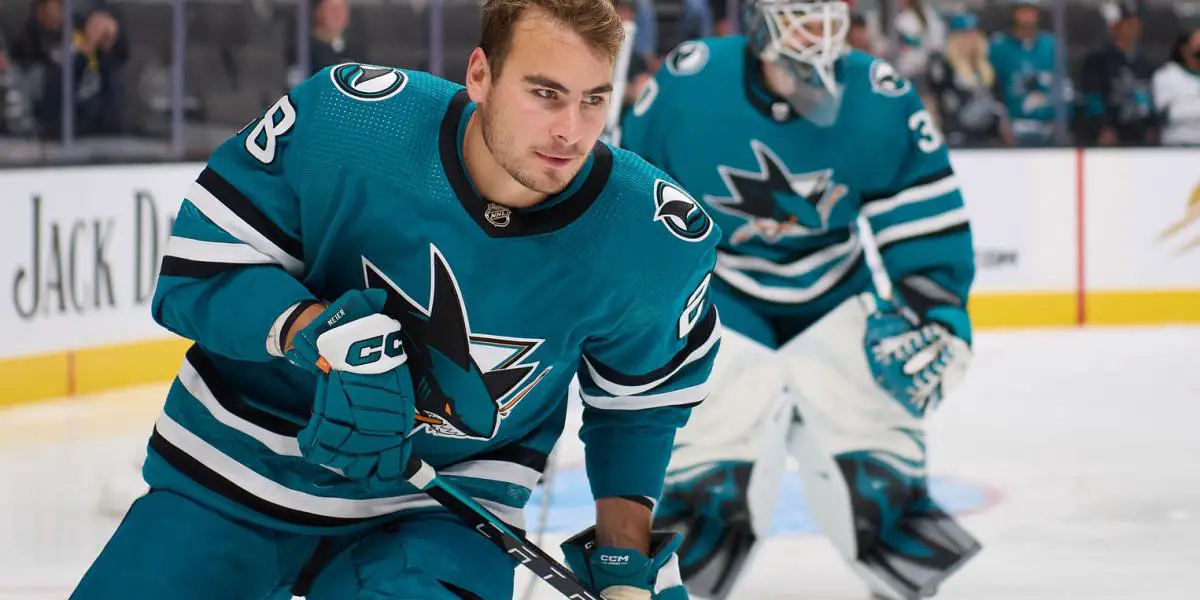 Over the weekend, it was widely reported the Timo Meier sweepstakes was coming down to two teams, the Vegas Golden Knights and New Jersey Devils. Just when you thought the Eastern Conference couldn't get any more loaded with talent! after the VGK traded for Ivan Barbashev of the St. Louis Blues, the Devils finally made their move. They landed Meier in what can only be described as a blockbuster deal.
NJD sent a conditional 2023 first-round pick, 2024 second and seventh-round picks, forwards Andreas Johnsson and Fabian Zetterlund, plus prospects Shakir Mukhamadullin and Nikita Okhotiuk to the San Jose Sharks. That package got them Meier, depth defenseman Scott Harrington, and prospects Zach Emond, Timur Ibragimov, and Santeri Hatakka. That's a whole lot of alphabet soup.
In terms of hockey trades, this has to be one of the better ones in recent memory, and I truly believe it helps both teams based on their needs and the directions they are headed. NJD had to do something to keep pace with the teams in the Eastern Conference, who continued to load up and do something they did. I like this trade even more for NJD if they extend Meier, but for now, that is reportedly not on the table or even being discussed. Maybe both sides want to wait and see.
As for the Sharks, they also did what they needed to do and landed a heck of a haul for Meier. At least, in my opinion, I'm sure many Sharks fans will disagree. But they added a couple of roster players who won't hurt the cause, and Zetterlund could end up being a very good top-6 forward if he stays on his current trajectory. I'm also interested to see how Mukhamadullin develops. He was the 20th overall pick by the NJD in the 2020 NHL Entry Draft and is currently playing in the KHL. He has six goals and 19 assists in 67 games, which is pretty decent for a 21-year-old still developing and finding his game. Mukhamadulin has great size and range and currently projects as a top-6 defenseman with an untapped upside.
I should also note that Sharks GM Mike Grier claims San Jose is not doing a full rebuild. Despite what he thinks, it is still going to be a process, and I'm sure a painful one at that, with plenty of ups and downs; players like Meier don't grow on trees, and replacing that kind of production won't be easy. That said, this deal is a step in the right direction and helps soften the blow a bit.
As stated and shown in the tweet above, Timo is a 1st line winger who packs an offensive punch and can finish a play on his own while elevating the games of those around him. So far this season, Meier has 31 goals and 21 assists for 52 points in 57 games played. He is also a -19, but for me, that has always been more of a team stat and undermines what Meier will bring to the Devils.
At 6'1″, 220lbs, Meier also doesn't shy away from the physical stuff and is very hard to knock off the puck. Come playoff time, these kind of guys tend to thrive, and I, for one, am very excited to see what he can add to an already pretty potent offensive attack in New Jersey.
At the end of the day, the Devils are a young team on the rise and have as good a chance as anyone in the East to contend for a Stanley Cup, so management did what they had to do and added one of the best players available at this year's deadline. Will it be enough? Who knows, but get your popcorn ready and buckle up folks; it's going to be a heck of a playoff season.
The boys are back after a long break but have plenty to talk about as the playoffs are in full swing. We go series by series, looking at how teams have fared so far and who will come out on top. Thanks for listening! Please rate and review our show on your favorite listening platform. Check out our partner's website at www.insidetherink.com for all your latest hockey news.