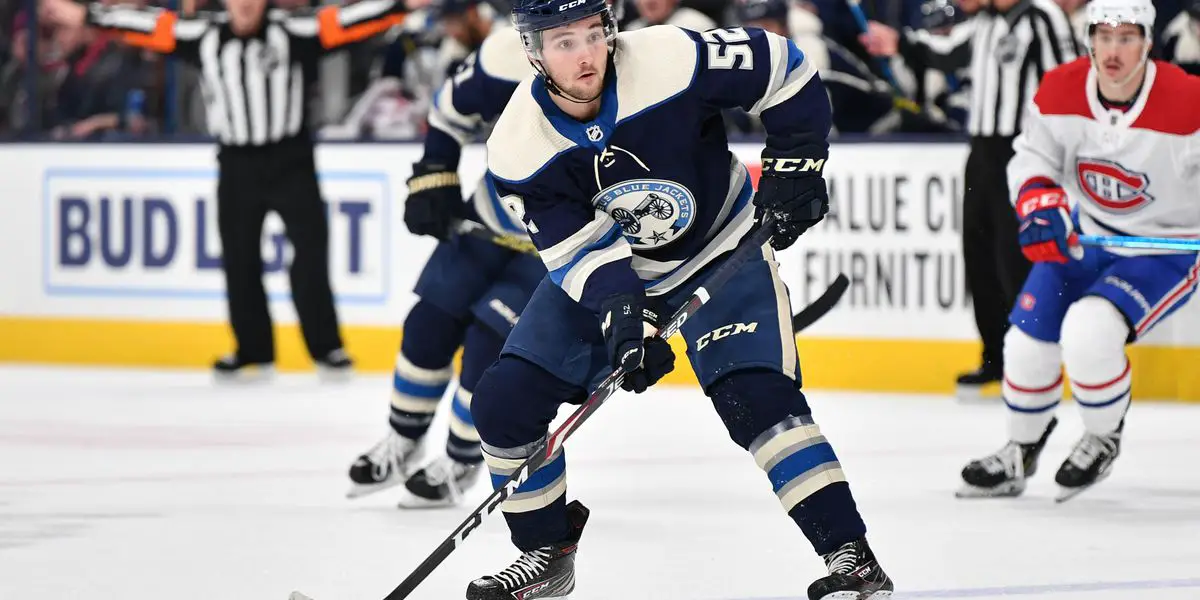 Needing both offensive punch and a forward responsible for the defensive end, the Columbus Blue Jackets made a curious choice by keeping Emil Bemstrom and sending Carson Meyer to the Cleveland Monsters. In what looks like a case of potential overproduction.
To say Emil Bemstrom had a bad training camp and preseason is an understatement. Bemstrom struggled to shoot the puck and had issues passing the biscuit. While he has never been a good defensive end player, it almost looked like he regressed over the summer.
On the other hand, Carson Meyer did everything Bemstrom did not and did it well enough to earn a roster spot. Yet, the Blue Jackets opted to keep Bemstrom, perhaps and most likely because Bemstrom would need to clear waivers.
While Emil Bemstrom had a nice offensive season last year (19 goals, 17 assists, 36 points), he struggled to help in the defensive end. In his defense, Bemstrom was not the only Blue Jacket forward who struggled with defense. Yet, for that reason, it makes sending Meyer to Cleveland even more baffling. Meyer is very effective in the defensive end and in the offensive end.
Carson Meyer did everything right to earn a roster spot and was demoted. Again, waivers were perhaps the reason why. That said, if the idea was to push the team to be more competitive and take the next step, it seems they kept the wrong player. After all, today's NHL is about two-way players; Bemstrom is pretty much one-dimensional.
It is safe to say that Meyer will be among the first Blue Jackets call-ups during the season, a small consolation given he outperformed his counterpart in training camp and certainly in preseason games. Going forward, the Columbus Blue Jackets will need more two-way players than one-dimensional ones.
The boys are back after a long break but have plenty to talk about as the playoffs are in full swing. We go series by series, looking at how teams have fared so far and who will come out on top. Thanks for listening! Please rate and review our show on your favorite listening platform. Check out our partner's website at www.insidetherink.com for all your latest hockey news.